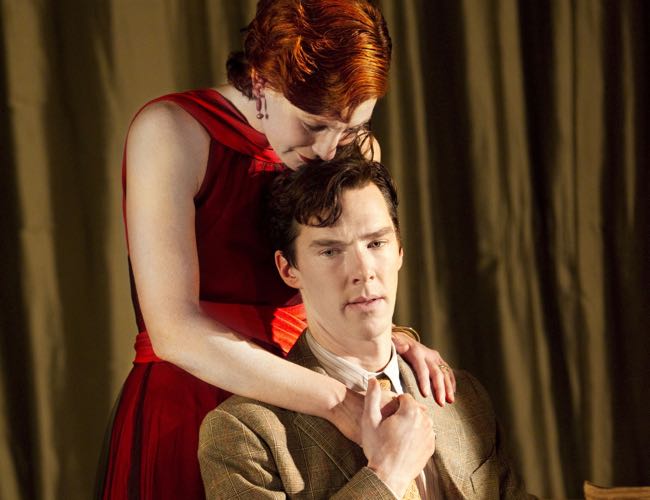 By Ray Bennett
LONDON – Portraying apparent wastrels who actually have genuine character and feelings is never easy but the National Theatre's production of Terence Rattigan's seldom produced 1939 play "After the Dance" succeeds wonderfully.
Rattigan's hit plays included "Separate Tables," "The Browning Version", "The Deep Blue Sea" and "The Winslow Boy" and he was also known for writing screenplays for glossy, star-studded 1960s films such as "The Yellow Rolls-Royce" and "The V.I.P.s."
"After the Dance" was well received when it first ran in the West End but its depiction of a generation that would rather drink and be merry than take seriously the business of living palled, as the shadow of World War II loomed larger.
It plays much more successfully now in director Thea Sharrock's sumptuous production with designer Hildegard Bechter's lavish setting of a posh Mayfair apartment and performers gifted in portraying gaiety and gloom.
Benedict Cumberbatch catches the arrogance and vulnerability of David Scott-Fowler, a handsome, rich and successful writer stuck and bored in the middle of his latest book and content to drink to the point of endangering his liver. As his equally careless and effortlessly beautiful wife Joan, Nancy Carroll (pictured top with Cumberbatch) shares his dissolute ways and gives every impression of enjoying them as much as he does.
The sobriety that is about to be imposed brutally upon a generation is represented by Helen (Faye Castelow), a willful young woman who goes out with David's cousin Peter (John Heffernan) and works as David's secretary. She falls in love with the writer and determines not only to replace Joan but also to force the man to sober up, ditch his party-going friends, and move to the country.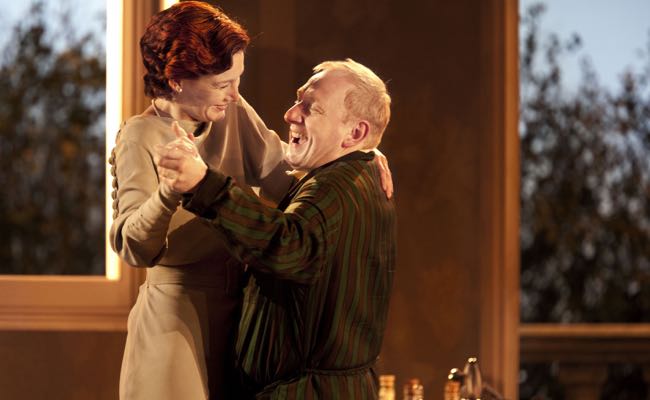 Rattigan is so skilled in his stagecraft that initial indifference to the fate of these characters gives way to a considerable investment in their wellbeing. He is very clever at seeing both sides of an argument and his characters are more credible as a result, including two hangers-on played by Adrian Scarborough (pictured with Carroll) and Pandora Colin, who get the funniest lines and deliver them blithely.
Castelow is almost scary as the determined young woman while Hefferman shows the younger man's stiffened resolve against his elders' hedonism, but it's clear they are in the right. Cumberbatch grasps skilfully the author's ambivalence about electing to be carefree while Carroll is heartbreaking as a woman who dares not show how much she loves her spouse for fear of boring him. Some of the light of the play goes out when she's not on stage.
Venue: National Theatre, runs through Aug. 11; Cast: Nancy Carroll, Benedict Cumberbatch, Faye Castelow, John Hefferman, Adrian Scarborough, Pandora Colin; Playwright: Terence Rattigan; Director: Thea Sharrock; Set designer: Hildegard Bechtler; Lighting designer: Mark Henderson; Music: Adrian Johnston; Sound designer: Ian Dickinson.
This review appeared in The Hollywood Reporter.