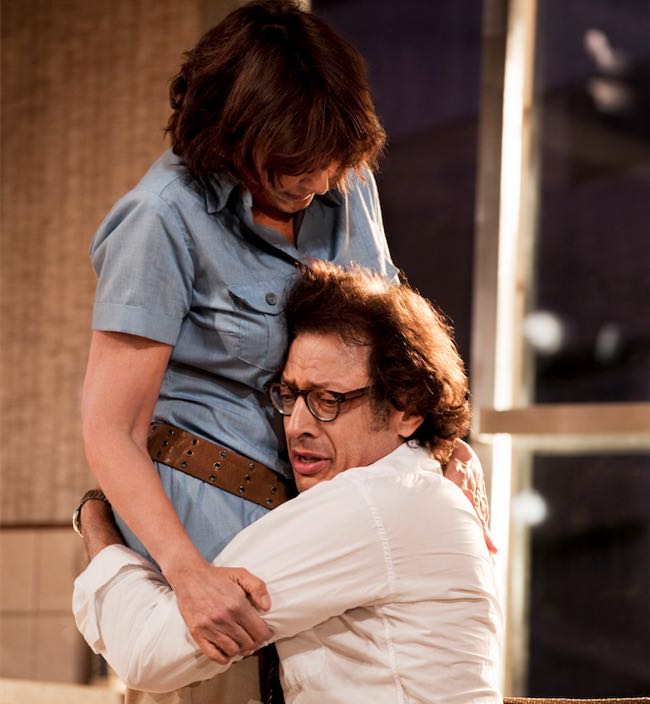 By Ray Bennett
LONDON – Neil Simon's 1971 play "The Prisoner of Second Avenue" is set against the economic slump of its day so given current circumstances the Old Vic's West End revival would appear timely. Instead, it feels merely dated with its awkward mix of drama and wisecracks, creaky stagecraft and a miscast Jeff Goldblum.
The lean and gifted actor was spellbinding as a scheming producer in "Speed-the-Plow" at the Old Vic a couple of years ago, but he's all wrong to play the kind of schlemiel for which Peter Falk, in the original Broadway production, and Jack Lemmon, in the 1975 film version, were perfect.
He plays Mel Edison, who we're supposed to believe has been an advertising account executive for 22 years but has little to show for it apart from two kids in college and a rundown rented apartment that he shares with long-suffering wife Edna, played by Mercedes Ruehl (pictured with Goldblum).
The Oscar-winning actress is more at home with Simon, having won a Tony Award in 1991 for "Lost in Yonkers," but she too appears ill at ease in "Second Avenue." Both stars are appealing, of course, and they win laughter with some of Simon's gags.
But Goldblum, despite stomping about in pajamas and an old bathrobe, banging on walls and shouting at the neighbors, fails to convince as a sad sack who's just been fired and is having a nervous breakdown.
Most of the fault lies with the play itself, which is structured poorly with characters used for their middle-class stereotype rather than anything resembling real people. There's nothing solid in the background and little substance so the family tragedy and the surface comedy do not hang together. Lines that might have been funny in New York 40 years ago fall flat in London today.
Director Terry Johnson, who earned a Tony this year for his slick production of "La Cage aux Folles," seems hamstrung by the single setting of one shabby apartment living room and the actors' movement is stilted and unconvincing.
In the second act, there's a gruesome scene involving Mel's rich older brother (Linal Haft) and three female relatives who discuss what it will cost to help Mel and Edna out of their financial predicament. Where the scene should snap and snarl, it's merely slack and dull, and it almost pulls the play down with it.
Goldblum and Ruehl push on to Simon's contrived happy ending, though, although the smiles it brings are less than wholehearted.
Venue: Vaudeville Theatre, runs through Sept. 25; Cast: Jeff Goldblum, Mercedes Ruehl, Linal Haft; Playwright: Neil Simon; Director: Terry Johnson; Set designer: Rob Howell; Lighting designer: Neil Austin; Music: Colin Towns; Sound designer: Gareth Fry; Videos: Jon Driscoll.
This review appeared in The Hollywood Reporter. Photo: Johan Persson