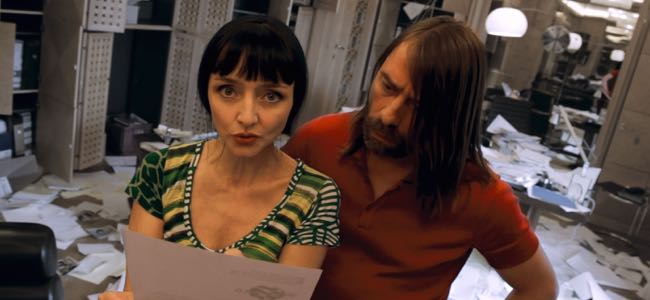 By Ray Bennett
KARLOVY VARY, Czech Republic – The premise of Frederic Sojcher's mockumentary "Hitler in Hollywood" is more amusing than the film turns out to be. It is that the United States government conspired with Hollywood to destroy the European film industry when it tried to displace Tinseltown during World War II.
"Pulp Fiction" actress Maria de Medeiros plays a director, ostensibly making a documentary about the life of French actress Micheline Presle (pictured with De Mederiros below), who stumbles upon a secret plot to prevent a major studio being created in Europe.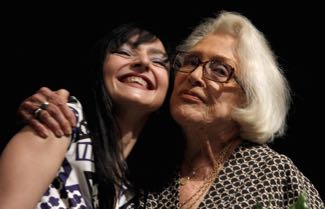 Movie buffs will be intrigued and entertained in a mild way by the film's conceits and participation of not only Presle but also a great many other big names from French filmmaking. But it lacks zest and could have been a great deal more outrageous. Attention will likely be limited to film festivals.
Actors including Francois Morel and Michael Lonsdale, actresses Nathalie Baye and Arielle Dombasle, plus Babelsberg filmmaker Volker Schlondorff, show up for interviews or to natter during cocktail parties.
De Medeiros is goofy and charming as she follows clues that take her across Europe in search of people involved in a lost Presle film and a Hitler-backed project labeled Hollywood Hits.
With her cameraman (Wim Willaert, pictured with De Medeiros, top) in tow, she scoots from Paris to Berlin to London and back, blithely walking into institutions labeled MI5 or Stasi Archives, to dig out lost documents and film footage.
There's a sinister pursuer who might be from the CIA and some witnesses who know of the conspiracy start to disappear or die, although of course they're all getting on.
Scenes at the Festival de Cannes, complete with former director Gilles Jacob, and a secret soundstage on the island of Malta that is down for some overdue bombing add some energy. There is also a neat running gag lampooning filmmakers' affectations in which De Madeiros and Presle are the only people in the frame shown in full color.
What might have been a delightful shot across the bow of domineering Hollywood studios, however, falls a bit short.
Venue: Karlovy Vary International Film Festival, Official Competition; Cast: Maria de Madeiros, Micheline Presle, Wim Willaert; Director: Frederic Sojcher; Screenwriters: Renaud Andris, Lionel Samain; Director of photography: Carlo Varini; Production designers: Frederic Delrue, Francouse Joset; Music: Vladimir Cosma; Editor: Ewin Ryckaert; Producers: Hubert Toint, Jean-Jacques Neira, Christophe Mazodler, Marrio Mazzarotto; Production company: Saga Film; Sales: Saga Film; Not rated; running time, 85 minutes.
This review appeared in The Hollywood Reporter.