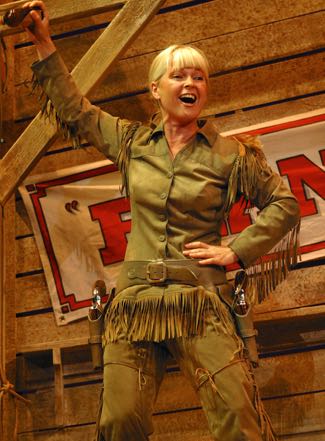 By Ray Bennett
LONDON – When Doris Day blew in from the Windy City as the buckskinned tomboy in the movie "Calamity Jane," she was ornery but toothsome and it didn't take much for handsome Howard Keel to figure out that under all that trail dust and chapped leather was a darned tootin', fine lookin' gal.
That was in 1953 and times have changed although not on the stage of the Shaftesbury Theatre. The denizens of Deadwood City still sing about the Black Hills of Dakota, ogle showgirls at the local saloon and listen to Calamity Jane's tall tales of fighting Injuns, shooting gunfighters and riding the pony express.
The show is "Annie Get Your Gun" and "Kiss Me Kate" all over again except the former had songs by Irving Berlin and the latter by Cole Porter. "Calamity Jane" has songs by Sammy Fain and Paul Francis Webster. At their high end, Fain and Webster could turn out Oscar-winning numbers such as "Love is a Many Splendored Thing" from the 1955 film of the same name, and "Secret Love" from "Calamity Jane." Webster won a third Oscar for the lyrics to Johnny Mandel's "The Shadow of Your Smile" from "The Sandpiper" in 1965.
"Calamity Jane" also boasts lively show pieces in "The Deadwood Stage (Whip Crack Away)" and "Windy City" and a lyrical ballad, "Black Hills of Dakota." After that it all gets a bit grim and with 11 other songs in the show, it's no wonder the movie is best recalled for Day's zestful performance and lovely singing.
In this stage version, most of the weight falls on Toyah Willcox, a former U.K. pop and soap star, and it's a testament to her sheer determination to ingratiate that she just about carries it. Employing an accent that combines cornpone with grits and bits of Strother Martin, Willcox bounces onstage and, leaving no surface untouched whether verticle or horizontal, keeps bouncing until the final curtain.
Ed Curtis' lighthearted and engaging production gives Willcox lots to bounce off including two leading men, Michael Cormick, a laconic, slow-moving Wild Bill, and Garry Kilby, as a handsome cavalry officer. Cormick wins the day and the singing honors with a fine tenor voice deep enough to suggest echoes of Keel's rich baritone.
Kellie Ryan is appealing as the maid who Jane brings back from Chicago to perform in Deadwood thinking she is a top showgirl and who promptly falls for Jane's beloved. Secret love doesn't stay secret for very long, though, and it's thanks to a cast of enthusiastic pros and the tireless Willcox that what should seem tired and dated ends up simply oldfashioned and charming.
Venue: Shaftesbury Theatre, runs through Sept. 20; Cast: Toyah Willcox, Michael Cormick, Kellie Ryan, Garry Kilby, Duncan Smith, Abigail Aston, Phil Ormerol, Ahmet Ahmet; Music: Sammy Fain; Lyrics: Paul Francis Webster; Adapted for the stage by: Charles K. Freeman; Based upon the motion picture produced by: Warner Bros.; Director: Ed Curtis; Designer: Simon Higlett; Choreographer: Craig Revel Horwood; Lighting Designer: James Whiteside; Sound designer: Simon Whitehorn for Orbital; Musical director: Robert Cousins; Presented by Tristan Baker.
This review appeared in The Hollywood Reporter.