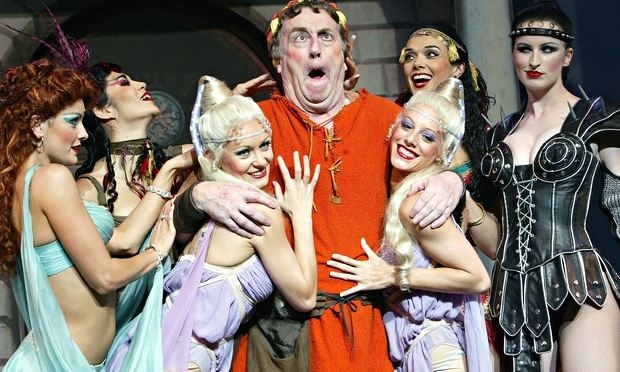 By Ray Bennett
LONDON – A shaggy dog story needs a captivating storyteller if it's not to founder, and "A Funny Thing Happened On the Way to the Forum" is the shaggiest.
With music and lyrics by Stephen Sondheim and book by Burt Shevelove and Larry Gelbart, it's a knockabout farce in the vaudeville tradition verging on British panto.
Director Edward Hall has done a terrific job of staging what amounts to a French farce in Roman dress full of randy old men and delectable young women and driven by jokes as old as the coliseum.
It's a swiftly paced romp stuffed with leering gags, salacious posing and silly pratfalls, and the National does its usual excellent job of making everything work around the edges.
To make it a complete success, however, it needs at its center a comic wizard who can make all the shaggy old jokes zing again. It needs a Zero Mostel or a Frankie Howerd, who respectively starred in earlier productions on Broadway and the West End.
Desmond Barrit (pictured), who plays the show's ringmaster, a slave named Pseudolus, is a thoroughly accomplished actor and he doesn't put a foot wrong. It's not his fault that he lacks the spark of comic genius that would set the show alight and hold the whole thing together.
It's left to an energetic ensemble of veterans to deliver on the opening number's promise of "Comedy Tonight!" Sam Kelly, as Senex, the henpecked husband looking for a last fling, Hamish McColl as the slave Hysterium, and David Schneider as Lycus, the buyer and seller of courtesans, all bring energy and flair to their performances and keep the laughter flowing.
Vince Leigh makes an appealing Hero, whose desire for the luscious virgin Philia (Caroline Sheen) complicates the lust of every other man who wants her, including Senex and the bombastic warrior Miles Gloriosus, played with splendid swagger by Philip Quast. The beautiful Sheen best captures the sardonic humor in Sondheim's typically clever lyrics, singing "Lovely" with a gorgeous blankness as if the job of being simply smashing was the absolutely best job in the world.
The troupe of dancers and singers who play the Proteans and courtesans, who have provocative names like Panacea, Gymnasia and Vibrata, are all lithe and talented and enter gleefully into the playfully sexy spirit of things.
The gags are all performed with a likeable nudge-nudge wink-wink and only toward the end of its two hours does the absence of a real clown begin to slow the show down. Still, there's enough crowd-pleasing fun to keep audiences happy between the National's more serious offerings.
Venue: National Theatre, runs through Nov. 2; Cast: Desmond Barrit, Sam Kelly, Isla Blair, Vince Leigh, Hamis Mcoll, David Schneider, Caroline Sheen, Jane Fowler, Lorraine Stewart, Philip Quast, Harry Towb; Music and lyrics by Stephen Sondheim; Book by Burt Shevelove and Larry Gelbart; Director: Edward Hall; Choreographer: Rob Ashford; Set designer: Julian Crouch; Costume designer: Kevin Pollard; Orchestrations: Michael Starobin; Music supervisor, MD, dance arranger: Martin Lowe; Lighting designer: Paul Anderson; Sound designer: Paul Groothuis.