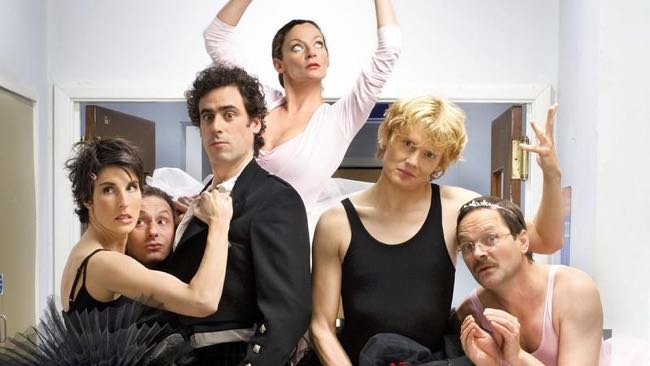 By Ray Bennett
LONDON – Victoria Pile's outrageously silly and deliciously vulgar hospital comedy "Green Wing" picks up where it left off for its second season now running on Channel 4.
The show has the shape of a typical television medical drama but its mockery is much more than a simple spoof. Pile and her team go deep into Larry David and Ricky Gervais territory and attain a level of delirious surrealism to match the best of Steven Wright.
It employs fast and slow motion, dream sequences, slapstick and musical numbers to develop the Monty Python philosophy of "and now for something completely different" to another plane with single-gag blackouts and sketches that stay somehow within the boundaries of a plot-structured show.
The first episode of the new 8-part series found Mac (Julian Rhind-Tutt, second right) in a coma and, given the nature of the show, he was immediately dubbed Coma Boy while his assortment of weird and whacky colleagues took turns trying to awaken him.
Their methods ranged from the lovingly benign by Caroline (Tamsin Greig, left) to the seriously invasive and twisted by Sue (Michelle Gomez, rear). One attempt involved placing a harmonica in his mouth and pressing down on his chest in order to provide accompaniment for a blues song.
Dr. Statham (Mark Heap, right), perhaps the most disturbed member of staff, contrived to play a miniature game of ping-pong with the unconscious Mac while his totally self-absorbed friend Guy (Stephen Mangan, third left) brought in a kitten and threatened to kill it with a huge revolver if Mac didn't wake up. Then the behavior got worse.
Still, Mac emerged from his coma, although his memory wasn't what it was and Caroline seems destined to encounter more obstacles to her romance while Sue's desperate measures toward a similar end are guaranteed to complicate things. Future episodes promise even more wildly imaginative tomfoolery.
While guaranteed to offend many due to the sexual jokes and four-letter words, the humor is savvy and inventive, and pleasingly free of the grotesques and bullying caricatures that mar shows such as "Little Britain."
The players are all first-rate comedy performers and with its sharply focused self-awareness and a kind of lunatic innocence, "Green Wing" is on its way to becoming a classic.
Airs: UK: Fridays, Channel 4; Cast: Dr. Caroline Todd: Tamsin Greig, Julian Rhind-Tutt, Stephen Mangan, Pippa Haywood, Mark Heap, Michelle Gomez, Karl Theobald (second left), Sarah Alexander, Oli Chris; Created, produced and devised by Victoria Pile; Directors: Dominic Briggstocke, Tristam Shapeero; Writers: Victoria Pile, Robert Harley, Oriane Messina and Fay Rusling, Gary Howe and Richard Preddy, James Henry and Stuart Kenworthy; Director of photography: Rob Kitzman; Production designer: Jonathan Paul Green; Editors: Lucien Clayton, Billy Sneddon; Original music: Trellis; Executive producer: Peter Fincham.
This review appeared in The Hollywood Reporter.