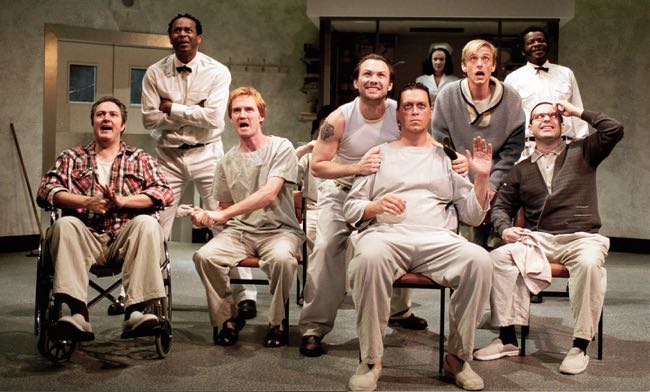 By Ray Bennett
LONDON – Behind the glass of her all-seeing booth, Nurse Ratched's honeyed voice whispers a single word into the public address system: "Medication." It sends a chill down the spine as the insidious power of Ken Kesey's loathsome creation becomes clear in Dale Wasserman's splendid play based on "One Flew Over the Cuckoo's Nest."
This is a crackerjack revival of the work that is best remembered in the form of Milos Forman's multi-Oscar-winning 1975 movie. Jack Nicholson was one of the winners, and he stamped his personality as indelibly on the role of rebellious Randle Patrick McMurphy as Kirk Douglas had a decade earlier on Broadway.
It takes a brave actor to step into those shoes but not only does Christian Slater (centre top picture) step boldly up to the plate, he also knocks it out of the park. Slater's West End debut is a huge success as, with the equally inspired Frances Barber as Ratched (pictured in the background in both pictures with, below, Slater and Lizzie Roper), he leads a splendid cast through a tightly coiled and fiercely energetic production.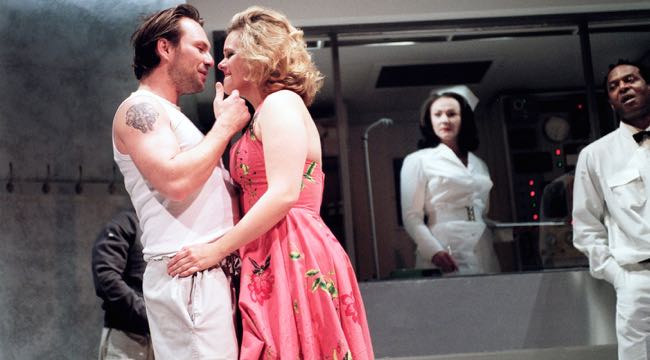 Katy Tuxford's clinical design sets the scene from the start, aided by vivid work by lighting designer Chris Davey and composer and sound designer Matt Clifford. It's tough to pull off a play about a psychiatric ward of clearly wounded men that strives for laughs as well as deeply felt drama, but playwright Wasserman does it.
Directors Terry Johnson and Tamara Harvey keep it moving quickly as the patients who have learned to accept the cruel ministrations of their dominatrix nurse react to the arrival of a cheerfully rowdy newcomer.
McMurphy has been committed for treatment instead of going to jail, and he fully expects to soon be back on the street, drinking and carousing and generally misbehaving. When he learns that Nurse Ratched has the major say in whether that happens, his instinct for confrontation and rebellion takes on another dimension.
Kesey and Wasserman are dealing with major issues of freedom and the corrosive influence of conformity. The play deals with its suffering inmates with compassion and makes them humorous as well as pathetic. The players are all equal to the task, with Owen O'Neill as Harding, Phil Nichol as Cheswick, Gavin Robertson as Scanlon, Dave Johns as Ruckly and Ian Coppinger as Martini all creating distinct and memorable characters.
Brendan Dempsey is imposing as Chief Bromden, McMurphy's inspiration and his savior, and Mackenzie Crook ("The Office") gives the faltering courage of stuttering Billy Bibbitt great depth.
Nurse Ratched is often seen in her glass booth with the lighting set so that her heavily made-up face resembles a mask from Noh theater. Barber makes her both eerily seductive and hideously frightening in a wonderfully measured performance.
Slater silences any doubters who thought he might decide just to play Jack. He brings enormous charm and physical grace to the boisterous and disorderly McMurphy and makes the character his own.
Venue: Gielgud Theatre, runs through Jan. 26; Cast: Christian Slater, Frances Barber, Mackenzie Crook, Brendan Dempsey, Stephen K. Amos, Felix Dexter, Lucy Porter, Owen O'Neill, Phil Nichol, Gavin Robertson, Ian Coppinger, Dave Johns, Tim Ahern, Lizzie Roper, Katherine Jakeways, Playwright: Dale Wasserman, based on the novel by: Ken Kesey; Directors: Terry Johnson, Tamara Harvey; Set designer: Katy Tuxford; Lighting designer: Chris Davey; Costume designer: Dagmar Morell; Music/sound designer: Matt Clifford; Presented by Nica Burns for Theatershare Plc., Max Weitzenhoffer and Ian Lenagan.
This review appeared in The Hollywood Reporter.