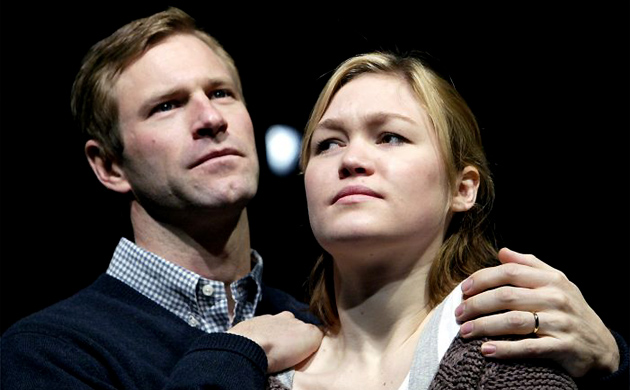 By Ray Bennett
LONDON – David Mamet seems like he would be the kind of scholarly poker player who, when someone hauls in a big pot through intuition and luck, chides the player for staying in with that hand.
Mamet writes clever and thought-provoking plays and he stacks the deck cheerfully, using his knowledge of feints, bluffs and tells to keep his audience off-balance. In "Oleanna," the set-up is seven-card stud with one Queen wild.
The early cards suggest an everyday encounter between a confused young student and a caring professor. Carol (Julia Stiles) comes to the teacher's study to beg for help. She says she doesn't understand anything, not the book he wrote and nothing in his class. "I don't know what it means and I'm failing. I'm stupid," she says, sobbing.
John (Aaron Eckhart) is distracted by phone calls from his wife as they are in the middle of buying a new home. He's up for tenure and his career is going well. He teaches education and he has all the confidence and arrogance of a successful middle-class male.
He hardly sees the condescension in the way he tries to mollify his student as he promises to tear up her marks, urges her to visit him again in his study, and steadies her shoulders as she sobs.
But then Mamet ups the ante and the wild Queen shows up. Carol accuses the professor of everything from elitism to sexism to sexual harassment. John stands to lose not only his shot at tenure but also his house and his job.
Here, the playwright uses cards that shouldn't be on the table, however, as it's inconceivable that a male teacher once accused of improper behavior by a female student would ever again be alone with her. But Mamet wants to build the pot and if Carol and John are to go head-to-head, they need private confrontations.
The play builds to a clash that when it was first produced in the early '90s caused audiences to yell out at the actors and led to fierce male/female arguments afterwards. Mamet's craftsmanship is so good, however, that the tone of the play is very much in the hands of director and actors.
Here, director Lindsay Posner takes the middle road and inclines to neither side. Julia Stiles is completely convincing as Carol as she emerges from dowdy submissiveness in the first act to great authority later when she quotes from the copious notes she's taken and invokes the power of the group that supports her. Aaron Eckhart plays the first act in a very easygoing manner and it's only as the conflict builds that it becomes apparent how subtle and detailed his earlier work is.
If "Oleanna" ends up more as a conversation piece than anything deeply involving it has to do with the mechanical way Mamet uses words. He gives his actors half-words and staccato syllables and expects them to sound as if they're arguing, but the sound is of rhetoric, not two people engaging. They repeat phrases such as "Do you see?" that seek no answer. They talk a lot without saying much. At times you wish someone would simply tell them to shut up and deal.
Venue: Garrick Theatre, runs through July 17; Cast: Aaron Eckhart, Julia Stiles; Playwright: David Mamet; Director: Lindsay Posner; Designer: Christopher Oram; Lighting designer: Howard Harrison; Sound designer: Mic Pool; Costume supervisor: Sue Coates; Presented by Edward Snape for Fiery Angel Ltd., Clare Lawrence and Anna Waterhouse for Out of the Blue Productions, Broadway Partners by arrangement with Really Useful Theatres.
This review appeared in The Hollywood Reporter.