By Ray Bennett
LONDON – "The Holy Terror" is neither holy nor a terror although it is wholly terrible, being partly a satirical blast at book publishing that misfires on all cylinders and partly a dissection of a man's descent into paranoia and madness that doesn't bear scrutiny.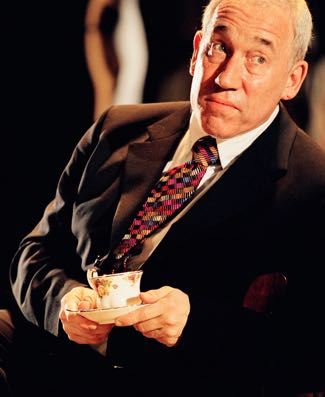 It's difficult to imagine why writer Simon Gray wished to so completely revise his 1987 play, "Melon," that starred Alan Bates and was quite well received when its targets appear already dated. You don't have to know much about British publishing of the 1980s to suspect that Thatcherite era of greed to be one of ruthless excess. Mystifyingly, Gray sets up his play in the form of a speech by ex-publishing wizard Mark Melon to a meeting of the Chicester or Cheltenham, he's not sure which, Women's Institute. We then see episodes of his rise and fall as it were in flashback but the device serves no purpose other than to provide a quick fade for each scene.
Simon Callow (pictured) plays Melon and his miscasting is evident quickly as this personable actor who has so well established himself as a jolly bachelor uncle is asked to play a sleek shark in the deadly shallows of publishing. In business, Melon tells the gathered ladies, "I knew not only whom to fire but how, which meant quickly."
Melon throws himself into the task of ridiculing the old-time publishing chief (Robin Soans) and cutting to the quick his roster of writers. They strive mightily but fail miserably to be amusing, from an oddball from the Highlands whose prose is in some weird Scottish patois to the predictable housewife author of erotica to a bland lister of lists who turns his hand to a treatise on masturbation.
Melon not only "bonks" the office poppets and seduces the female writers but tries to entertain the Women's Institute by making "bonking" out to be an onomatopoeia, so lame are the jokes.
By the second act, Melon has carved his way to the top and the only way to go is down. Being a ceaseless cheat himself, he develops the irrational belief that his faithful wife has been cheating on him. This becomes an obsession to the point that it drives him into therapy and finally electric shock.
The last part of the play is devoted to Melon's assorted treatments and increasingly hysterical encounters with his doctors and bewildered wife. If the psychiatric scenes were not so stridently unfunny, Melon's fate might engender some sympathy but even Callow cannot generate any. It all goes to his blameless wife Kate, endearingly played by Geraldine Alexander, who remains safely above the fray.
As the play careers into disarray, Callow appears to redouble his efforts to save it, dancing, chortling, and hurling himself to the floor. He becomes so red-faced and sweaty that you fear for his own health rather than anything that happens to Melon. It's a shame that such a big-hearted performance is wasted on such a trying piece of work.
Venue: Duke of York's Theatre, runs through Aug. 7; Cast: Simon Callow, Robin Soans, Lydia Fox, Tom Beard, Matt Canavan, Beverley Klein, Geraldine Alexander; Playwright: Simon Gray; Director: Laurence Boswell; Design: Es Devlin; Lighting: Adam Silverman; Music: Simon Bass; Sound: Fergus O'Hare. Presented by Theatre Royal Brighton Productions, Laurence Boswell Productions, Richmond Theatre Productions and Ambassador Theatre Group.
This review appeared in The Hollywood Reporter.