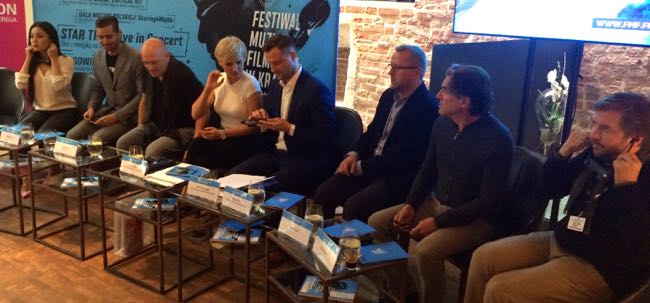 By Ray Bennett
KRAKOW – The 8th Krakow Film Music Festival kicked off today with morning masterclasses and a noon media conference in which artistic director Robert Piaskowski welcomed around 800 artists who will play at 10 concerts during the event.
He thanked Krakow Festival Office Director Izabella Helbin and Krakow Mayor Jacek Majchrowski for their support and praised the composers and musicians who will, he said, "reflect the changing artistic landscape that surrounds us".
Helbin said she was very happy that "the great stars of film music have accepted our invitation" to attend the event: "Every year, it's a better festival. There is no main thread this year, it's a festival of diversity with music from videogames, television and film."
Piaskowski said that tonight's videogame concert at Kijow Centrum in Krakow, featuring the U.S. orchestral rock band Critical Hit, had sold out in three hours: "We could put on three videogame concerts and they would be sold out."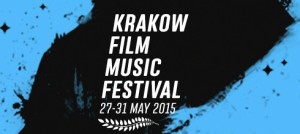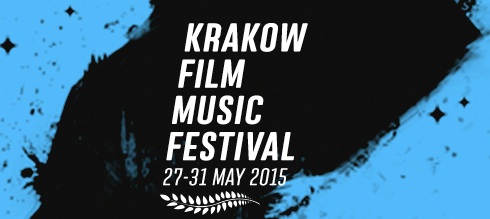 Critical Hit co-founder Michael Gluck said the show will reflect the growth in videogame music from the earliest games to current productions and games not yet released with 20 pieces. The original games lacked the technology to have more than one melody, he noted, but then the technology became more accommodating to greater sophistication. Critical Hit, he said, is "the Trans-Siberian Orchestra of videogames".
Cellist Tina Guo, who also plays electronic cello and has been with Critical Hit for three years, said she was not a frequent gamer "but I did play 'Super Mario' and 'Zelda' when I was a little Chinese girl". Guo played on Hans Zimmer's scores for "Sherlock Holmes" and "Gladiator" and she has just released a video of her version of "Now We Are Free (Gladiator Main Theme)".
Piaskowski noted that for the Polish Music Gala: Scoring4Wajda on May 28 the festival had to recreate orchestral scores for classic Polish soundtracks "to regain our cultural heritage". Andrzej Wajda and some other composers will be guests of honour at the show, which will feature cues by Wojciech Kilar, Zygmunt Konieczny, Krzysztof Komeda, Andrzej Markowski, Krzysztof Penderecki, Pawel Mykietyn, and Andrzej Korziński. The performance features the Polish National Radio Symphony Orchestra in Katowice with the Choir of Karol Szymanowski Philharmonic in Krakow conducted by Alexander Leibriech.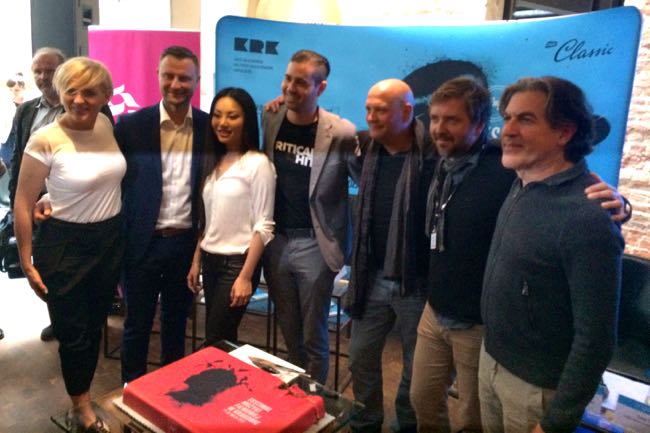 The Shakespeare in Concert event on May 29, Piaskowski said, will be "for many of us a dream come true". It will feature music by Miklós Rózsa, Prokofiev, Ennio Morricone and Patrick Doyle plus Jocelyn Pook and Stephen Warbeck, who will both be there.
Elliot Goldenthal, who will be the recipient of the first Kilar Award at this year's KFMF, has created for the concert a 40-minute suite that combines music from his ballet "Othello" with themes from the movies "Titus", "The Tempest" and "A Midsummer Night's Dream" directed by his partner Julie Taymor, who will be on hand with Goldenthal for the performance.
Christian Schumann will conduct the Beethoven Academy Orchestra and the soloists will include Reeve Carney, who originated the role of Peter Parker in Taymor's Broadway show "Spider-Man". Piaskowksi said Carney will sing "Full Fathom Five", the song performed by Ben Whishaw in Taymor's "The Tempest".
The artistic director noted the FMF4Kids concerts "The Gruffalo" and FMF Youth Orchestra on May 30, and the "Star Trek" live orchestral concert on May 31, and said he was delighted that KFMF will present the world premieres of several television show themes in the International TV Series Gala, also on May 30.
Canadian composer Trevor Morris said he was pleased to return to the festival after two years to introduce his music from "The Borgias", "The Tudors" and "Vikings". American composer Daniel Licht said it would be the first time his music for ("Dexter") had been performed by an orchestra but he also has brought along the saws and knives and other found instruments that he uses for the score.
Asked at the media conference if he had found a difference between his home nation of Iceland and America, Atli Örvarsson ("Chicago Fire") observed drily that he found the weather in Los Angeles to be different. He noted that Icelanders of his generation had been introduced to rock and roll through the U.S. Army base in Iceland but he said "the biggest influence is the landscape and energy of Iceland itself".
Other TV composers who will be at the concert include Jeff Beal ("House of Cards", "The Dovekeepers", HBO Overture"), John Lunn ("Downton Abbey"), Lukasz Targosz ("The Pack"), Cliff Martinez ("The Knick") and Ramin Djawadi ("Game of Thrones").