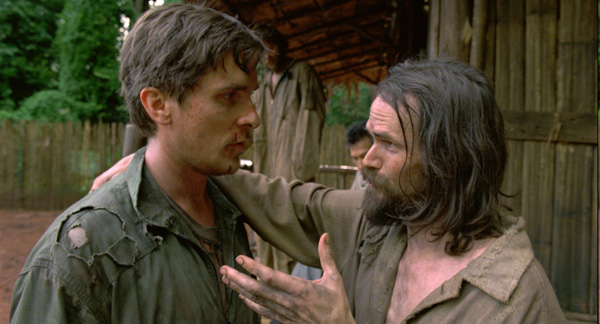 By Ray Bennett
Filmmaker Werner Herzog was in a playful mood Monday evening in a Q&A following a BAFTA screening of his new movie "Rescue Dawn" at the Curzon Soho in London.
An often harrowing but ultimately uplifting real life tale starring Christian Bale as an American POW in Laos in the mid-1960s, the film has a surprising number of comic moments.
Arriving after the film had ended, Herzog asked if the audience had laughed. Interviewer Mark Kermode said yes and he added, "And in all the right places."
The director promptly corrected him: "The audience never laughs in the wrong place. Audiences have an instinctive intelligence about that. If they do laugh unexpectedly it's because there is something wrong with the film."
One of the funniest lines in the picture comes when Bale's character, Dieter Dengler, who was born in Germany during World War II, describes how he fell in love with the idea of flying after he was shot at by an Allied fighter pilot. Steve Zahn, as a fellow prisoner, says, "Funny, some guy tries to kill you and you want his job."
Bale's vivid description echoes the scene in Steven Spielberg's "Empire of the Sun" when the kid he plays watches planes from the roof of a bombed building. When asked about it, Herzog said that had nothing to with it, the scene derived only from Dengler's memoirs, which were seen in Herzog's documentary 1997 documentary "Little Dieter Needs to Fly." Still, fans of what remains Spielberg's finest picture will make the connection.
Bale and Zahn, and a frighteningly skinny Jeremy Davies (pictured with Bale), are terrific in a film that did not really get a shot at the U.S. box office in the summer.
It opens in the U.K. on Nov. 23. Peter Zeitlinger's cinematography in the jungle is outstanding as is Klaus Badelt's sturdy and spiritual score with contributions from Dutch cellist and Herzog regular Ernst Reijseger.