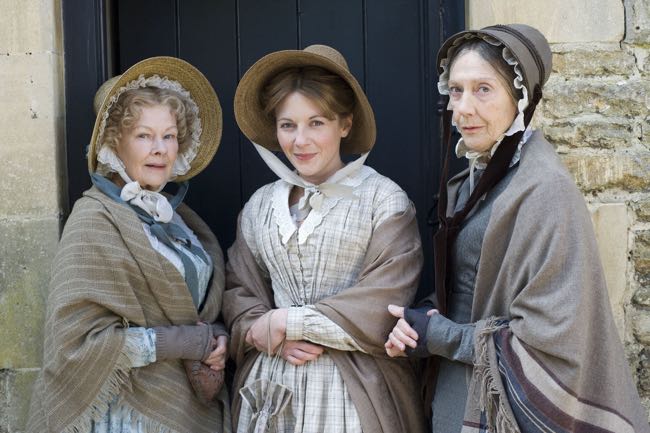 By Ray Bennett
LONDON – As pretty as an English village green in summer and as bracing as a winter's meadow brook, the BBC-TV's new five-part period drama "Cranford", which starts on Sunday, is an instant classic.
Starring some of the cream of British acting talent, the show is adapted from three novels by Elizabeth Gaskell. Her tales of the village of Cranford, not far from Manchester, in the mid-1800s have been rendered with loving precision by a cast and crew in top form.
Like jewellers who find the most brilliant lights in little gems, in this case gems of dialogue and expression, the series features a wonderful cast of British actors including Judi Dench, Lisa Dillon and Eileen Atkins (pictured), Imelda Staunton, Francesca Annis, Jim Carter, Philip Glenister and Michael Gambon.
It's as sharp as an old lady's glance from behind curtains and as exquisitely lacerating as the lash of a Victorian spinster's tongue. Made by Chestermead for the BBC and WGBH Boston, it's a guaranteed audience pleaser with lovely photography that features beautiful English costumes, sets and locations.
Filmed mostly in and around Lacock and West Wycombe, where the mansion is Lady Ludlow's house, the series also features scenes shot at Dorney Court, the Hambleden and Ashridge estates.
Produced by the BBC and WGBH Boston in association with Chestermead, the series has been given a magical touch by creators Sue Birtwistle and Susie Conklin. Heidi Thomas' dialogue is a constant delight, and director Simon Curtis draws performances from his cast to match the best they have ever done.
Dench and Atkins set the tone immediately as two proper spinster sisters, Matty and Deborah Jenkins, who welcome into their village home young Mary Smith (Lisa Dillon), whose family in Manchester is in crisis.
The village has other newcomers in the form of Capt. Brown (Jim Carter) and his two daughters, Jessie (Julia Sawalha) and her unseen older sister who is seriously ill. Her fate will involve the Jenkyns sisters more than they would prefer but that duty obliges.
Young Dr. Harrison (Simon Woods) also is a fresh face in the village and he brings with him some new medical procedures that will help shake up old habits when carpenter Jem Hearne (Andrew Buchan) fractures his arm badly and faces amputation.
Meanwhile, at the big house, Lady Ludlow (Francesca Annis) is planning her annual garden party with the help of estate manager Mr. Carter (Philip Glenister) and she is very selective about the girls she hires to help. Staggered to discover that one applicant can read and write, Lady Ludlow declares: "She is equipped beyond her station; the proper order of the world will be undone."
Hovering everywhere is the village gossip, Miss Pole (Staunton), who keeps all informed in timely fashion. In the second episode, Gambon's Mr. Holbrook will arrive to upset Miss Matty's world and there is the threat of a new railway line that will come to change the village even more. Viewers will hardly be able to wait.