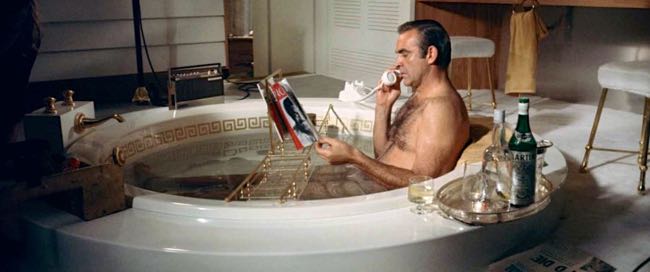 By Ray Bennett
LONDON – Sean Connery nudged my arm as a waiter hovered with a tray of champagne, and said, "They have Scotch, you know."
We were on the terrace on Elton John's house on the cornish that overlooks Nice in the South of France. The pop star's film company, Rocket Pictures, was hosting a fancy spread for a mix of top-liners and mid-level film people during the Festival de Cannes in 1999. A handful of trade reporters was invited to, and I was one of them.
Connery was the first familiar face I spotted when I emerged from the elegant home onto the terrace with its fabulous view of the Côte d'Azur, so I joined him and two men I did not recognise.
"Did you see the goals?" I asked.
"The golf?" the Scotsman said.
"No, the goals."
I explained that I had just watched an English football game in which Manchester United had beaten Tottenham Hotspur to win the Premier League.
He was all ears. When the other two men strolled off, I offered my hand and introduced myself. The actor has an infamous dislike of the press so I decided immediately to reveal that I worked for the editorial department of The Hollywood Reporter.
"They asked us not to write about this event," I said, "but I thought you would like to be aware that's who I am."
Connery gave me that James Bond stare and took my hand. "There are not many who would have said that," he said. "Where are you from?"
We chatted for a while as the crowd grew larger with more famous faces including Catherine Zeta Jones, who was there with Connery for "Entrapment".
After he alerted me to the Scotch, Connery and I shared when the whisky arrived and he took my arm to introduce me to a newcomer: "Ray, have you met Pedro Almodovar?"
The Spanish filmmaker, who was there with "All About My Mother", joined us in a conversation about Terry Gilliam's ambitions to make a film of "Don Quixote".
"You should make it," Connery told Almodovar."
"If you'll play Don Quixote," the filmmaker said. "But I heard there was a project with you in the works. With Robin Williams as Sancho Panza."
Connery looked fit to burst. "No! No! No!" he exclaimed.
I didn't meet the star, who turns 85 today, again until 2010 during the Edinburgh Film Festival when he unveiled a plaque on the site of his Fountainbridge home to mark his 80th birthday.
Like the place I grew up in Ashford, Kent, his building was demolished years ago. Like me, though, he grew up in circumstances in which a bath was a weekly event.
When I was very young, our bathtub was in the kitchen and we had to fill it with water heated on an old-fashioned Edwardian coal-fired copper ladle by ladle. Connery's family did much the same. He had a younger brother, so he was the third one into the bathwater. I had an older brother, so I came last.
Connery said that when he became successful and travelled the world, whenever he checked into a luxury hotel, the first thing he did was take a luxurious bath. From the first time I went on a movie junket to New York, that's been my habit too.
On my first trip to Cannes in January 1999 for the MIDEM music event, I checked into the Hotel Martinez at the top of La Croisette, poured a bubble bath, opened a split of champagne, and sank into the suds.