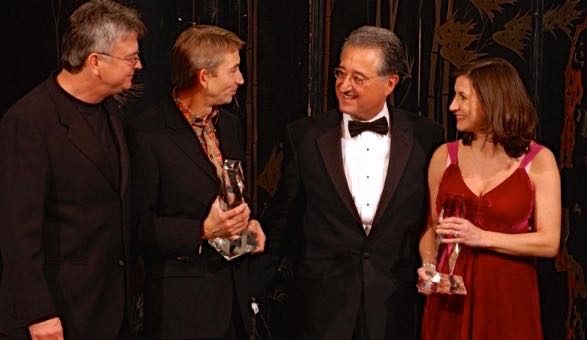 By Ray Bennett
LONDON – Mark Hollis's "It's My Life", recorded originally by the band Talk Talk in the 1980s and a recent hit for No Doubt, was named song of the year at the Broadcast Music Inc. (BMI) 2005 London Awards ceremony Tuesday night (Nov. 29).
Hollis, who was a band member of Talk Talk, was on hand to pick up the award that is named for Robert S. Musel, a longtime consultant with BMI in the United Kingdom. The song, published by Universal Music Publishing Ltd., won BMI pop awards in London in 2004 and Los Angeles earlier this year. Hollis is pictured with BMI Senior VP Phil Graham (left), BMI President & CEO Del Bryant and Universal Music Publishing's Sarah Leber.
Steve Winwood was honoured as a BMI Icon for his 40-year career as a solo artist and with the Spencer Davis Group, Traffic and Blind Faith at the Dorchester Hotel event. Previous recipients include Van Morrison, Paul Simon, Carlos Santana and Dolly Parton.
Annual awards presented by BMI president and CEO Del Bryant and BMI senior vp Phil Graham included College Song of the Year, which went to "Run" by Snow Patrol band members Iain Archer, Nathan Connolly, Gary Lightbody, Mark McClelland and Jonny Quinn. The song is published by Big Life Music Ltd. and Kobalt Music Publishing Ltd.
"Listen to Your Heart", written by Per Gessle and Mats Persson and published by Jimmy Fun Music, won the Dance Award. The song, which originated in 1989 as a hit for Roxette, was remade by Belgium-based D.H.T. and proved a Top 10 hit in the U.S. and a ringtone favorite.
Topping the list of the evening's Million-Air Awards was "Every Breath You Take" by Sting, published by GM Summer and EMI Music Publishing Ltd., which passed the eight-million airplay mark in the past year.
Van Morrison's "Brown Eyed Girl", Universal Music Publishing Ltd, reached seven million and "(I Can't Get No) Satisfaction" by Mick Jagger and Keith Richards and "Layla" by Eric Clapton and Jim Gordon, Warner/Chappell Music Intl. Ltd., each surpassed six million.
Elton John and Bernie Taupin received seven Million-Air awards, the most of the night, for "Don't Let the Sun Go Down on Me" (five million airplays); "Goodbye Yellow Brick Road" and "I Guess That's Why They Call It the Blues" (four million apiece);  "Bennie and the Jets" (three million); and "Saturday Night's Alright for Fighting", "Something About the Way You Look Tonight" and "Sorry Seems to Be the Hardest Word" (two million each).
Film music awards went to Harald Kloser for "Alien vs. Predator" and "The Day After Tomorrow", George Fenton for "Hitch", Harry Gregson-Williams for "Man on Fire" and "Shrek 2", and Rolfe Kent for "Mean Girls" and "Sideways".
The Who's Pete Townshend picked up three TV Awards for "CSI", "CSI: Miami" and "CSI: New York". Other TV Awards went to Christopher Franke for "The Amazing Race 7", Stewart Copeland for "Desperate Housewives", Dain Blair for "Extreme Makeover: Home Edition", Carim Clasmann and Galia Durant for "Grey's Anatomy", and Robert Del Naja, Grantley Marshall and Andrew Vowles for "House".
The event at the Dorchester Hotel marked the 65th anniversary of the U.S. royalty collection organisation's inception. Its London awards honour European artists whose recordings have received the most airplay in the United States and are represented by their home country collection organisations including the Performing Rights Society in the U.K.