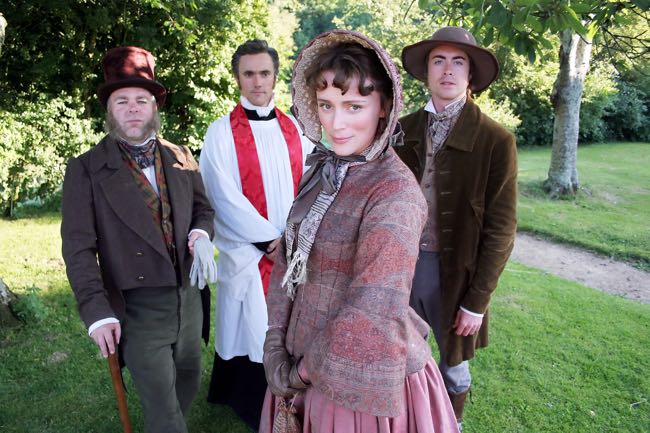 By Ray Bennett
LONDON – ITV's screen adaptation of "Under the Greenwood Tree" misses the point of Thomas Hardy's slim but evocative novel by a country mile so that if it was a bland and predictable rural English tale they wanted they might as well have started from scratch.
Set amid the familiar rustic folk of Hardy's mid-19th century Wessex, the story is of a pretty young woman who is new to the village and the three men who court her. The novel, however, takes its time with marvelous descriptions of the people and traditions of the place with its severe class divisions and limitations.
New schoolteacher Fancy Day (Keeley Hawes) quickly captures the attention of (from left above) rubicund but wealthy Shiner (Steve Pemberton), fussy but worldly Parson Maybold (Ben Miles) and lowborn but handsome Dick Dewy (James Murray)
Screenwriter Ashley Pharoah and director Nick Laughland quicken the pace hamfistedly, alter the chronology of the story, eliminate or change characters, and rob the tale of its wry and wise insights into the universal ways of young men and women when they are caught up in love.
Anyone familiar with the book will be hugely disappointed. The revamp is played pleasantly and filmed prettily on Jersey in the Channel Islands but it is so lightweight it barely holds the attention.
Ecosse Films produced the film for ITV1 in association with WGBH (Boston) and BBC America. It airs in the UK on ITV 1 at 9 p.m. on Dec. 26.
This review appeared in The Hollywood Reporter.