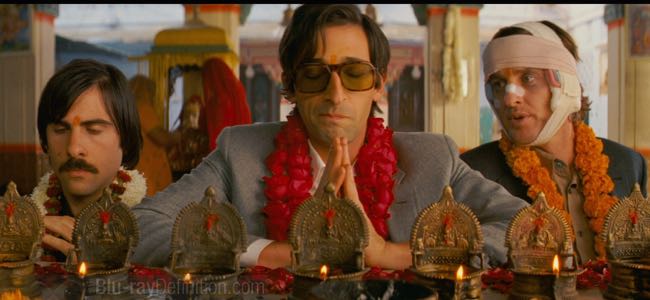 By Ray Bennett
VENICE – The whimsical and insightful charm that Wes Anderson and his filmmaking pals have displayed in such films as "Rushmore" and "The Royal Tenenbaums" curdles ruinously in the Indian sun that shines so brightly in their smug and self-satisfied new film "The Darjeeling Limited."
Owen Wilson, Adrien Brody and Jason Schwartzman star as brothers on what is supposedly a spiritual journey to the sub-continent. Their father has been dead for a year and their mother (a cameo from Anjelica Huston), who has found religion in the sub-continent, discourages a visit and warns of a man-eating tiger in the vicinity, although it is never seen.
The eldest brother, Francis (Wilson) has planned a detailed itinerary, however, that will allow them to see their mother and on the way hit all the key Indian sources of spiritual renewal on brief railway stops aboard the titular train. If it's Rajasthan, it must be enlightenment.
What ensues is like a third-rate Hope and Crosby picture with no big laughs and nothing to say as the completely self-involved threesome ride the rails in a circle back to their dull and uninteresting lives.
"The Darjeeling Limited" will need all the help it can get to find audiences beyond the stars' committed fans.
The pretensions surrounding this production begin with a 13-minute short film titled "Hotel Chavalier" that was screened ahead of the main feature at the Venice International Film Festival. It will be shown at other festivals and on the Internet, and be included on the eventual DVD, but it will not play in theaters when the picture is released.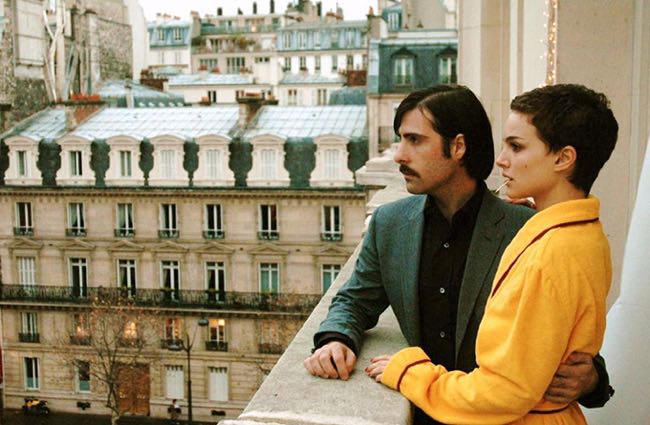 Set in a hotel in Paris, the short film shows a brief encounter between the youngest brother, Jack (Schwartzman) and his on-and-off girlfriend (Natalie Portman). It has no significance except that Portman looks sensational and it's a platform for the great 1960s anthem "Where Do You Go to My Lovely?" by Peter Sarstedt.
The feature begins with middle brother Peter (Brody) catching the train at the last minute and joining his siblings in their first-class carriage. Childhood rivalries and irksome personality ticks immediately surface, although they all agree on the need for cigarettes and the best of India's over-the-counter medications.
The Darjeeling Limited is a train especially mocked up for the film, a hybrid of the old U.S. 20th Century Limited and the Orient Express with regional patterns and colors, and not remotely like the air-conditioned models of modern India. The boys jump off and on quite a bit and run up small hills trying to communicate with ancient spirits.
While Francis and Peter needle each other, Jack has sex with the train's attractive Indian stewardess (Amara Karan), no doubt because Schwartzman had a hand in the screenplay. They visit bazaars and temples, and in one excruciating sequence are involved in an incident on a swift-moving river in which a little boy is killed.
They stay for the funeral but appear oddly unmarked by the experience, being keen to get on with their search for mom. Huston shows up late in the picture as a kind of nun to explain why she didn't go to their father's funeral, the circumstances of which are revealed in a stilted flashback.
There's an interesting soundtrack with lots of excerpts from the scores to films by Satyajit Ray and Merchant Ivory along with some Kinks and Rolling Stones tracks. The colors are beautiful and well captured by cinematographer Robert Yeoman.
But when current affairs are in such a parlous state, it's almost unforgivable to make a film about stupid American men traveling abroad with not the slightest awareness of or reference to anything that's going on in the world. The film is overly pleased with itself and the characters are way too self-absorbed. There's never a man-eating tiger around when you need one.
Venue: Venice International Film Festival; Cast: Owen Wilson; Adrien Brody; Jason Schwartzman; Amara Karan; Wally Wolodarsky; Waris Ahluwalia; Irrfan Khan; Barbet Schroeder; Camilla Rutherford; Bill Murray; Anjelica Huston; Director: Wes Anderson; Writers: Wes Anderson & Roman Coppola & Jason Schwartzman; Director of photography: Robert Yeoman; Production designer: Mark Friedberg; Music: From the films of Satyajit Ray and Merchant Ivory; Costume designer: Milena Canonero; Editor: Andrew Weisblum; Producers: Wes Anderson, Scott Rudin, Roman Coppola, Lydia Dean Pilcher; Executive producer: Steven Rales Production: Fox Searchlight, American Empirical Pictures; No MPAA rating; Running time, 91 minutes.
This review appeared in The Hollywood Reporter.