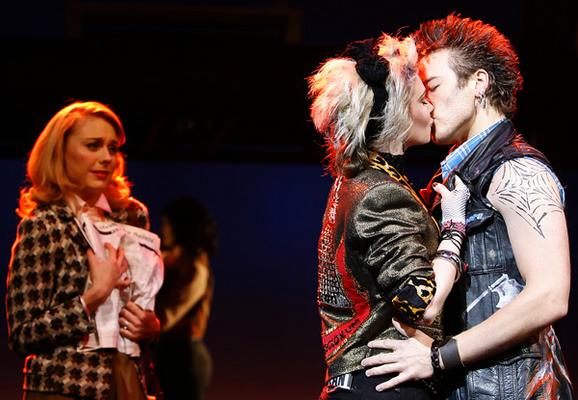 By Ray Bennett
LONDON – Pumped up and shrill, the sound system almost overwhelms some decent performances of classic Blondie songs in the new stage musical based on the film "Desperately Seeking Susan."
It's not a bad idea at all to set screenwriter Leora Barish's tale of an unhappy suburban wife searching for more interesting times amid the tawdry nightlife of Lower East Side Manhattan in the 1970s punk era. Memories of Madonna in Susan Seidelman's 1985 movie are not far removed from the punk images in the songs of Deborah Harry and her crew.
The 18-song score includes Blondie hits such as "Heart of Glass," "Call Me" and "The Tide is High", however, are jammed into the story without much attention to whether or not they fit the storyline. In shows like "Mamma Mia," by contrast, the storyline is built around the songs, but that's not true here.
It makes for some odd transitions so that the songs and the drama seem to operate on separate planes.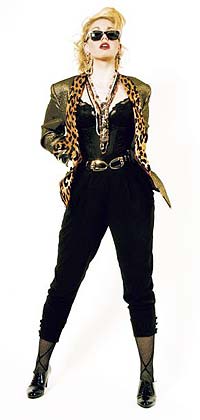 Still, director Angus Jackson speeds things along and while Andy Blankenbuehler's choreography is not inspired, it's a help that there are two conveyor belts at different levels to enliven the chases.
Sex, drugs and rock 'n' roll plus a drop of murder keep everything on a more or less adult plane and Peter Michael Marino's book manages to imply the dubious merits of life in the fast lane as well as in the suburbs.
Tim Hatley's costumes help considerably and the lead performers are kept especially busy changing outfits. Emma Williams (left), who played Truly Scrumptious in the West End production of "Chitty Chitty Bang Bang," is exactly that as sexy Susan, the free-living character played by Madonna in the movie. She looks great, moves well and has a terrific voice that would only benefit from a less strident sound system.
The same goes for Kelly Price as the hungry housewife (Rosanna Arquette in the film). She has the less flashy role but by the end of the show, after her character has been thrown in jail and sawn in half by a conjurer, she picks up steam.
The whole cast put in a lot of effort to deliver Blondie's famous numbers and it's not their fault that comparison with the originals suffers due to the producers' evident wish to pierce every ear drum in the theatre.
Venue: Novello Theatre, runs through April 19; Cast: Kelly Price; Emma Williams; Leanne Best; Mark McGee; Alec Newman; Jonathan Wrather; Steven Houghton; Music & lyrics: Blondie; Book and concept: Peter Michael Marino, based on the MGM film written by Leora Barish; Director: Angus Jackson; Choreography: Andy Blankenbuehler; Set and costume designer: Tim Hatley; Lighting designer: Hugh Vanstone; Sound design: Bobby Aitken, Brian Beasley; Presented by Susan Q. Gallin, Ron Kastner, Mark Rubinstein, Old Vic Prods.
This review appeared in The Hollywood Reporter.