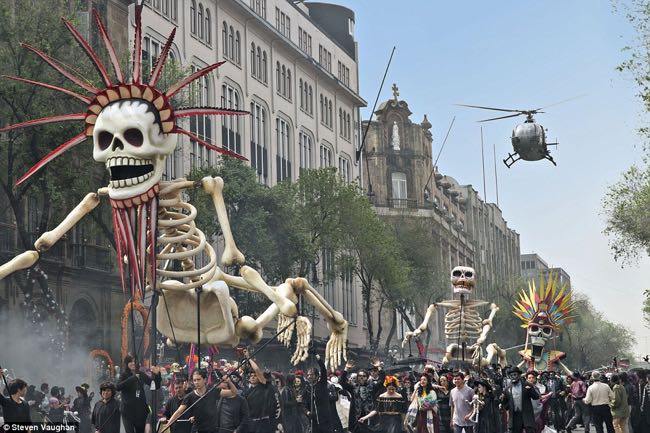 By Ray Bennett
LONDON – The latest James Bond film, "Spectre", has grossed around $800 million around the world, so it's clear that the filmmakers know what sells. It's just a shame that it's not really a James Bond film.
Director Sam Mendes and his crew deliver plenty of smash, bang and wallop but it becomes simply flash and clatter devoid of the dash and cavalier spirit the 007 legend requires.
The film piles on fights, chases and explosions after a show-off tracking shot that follows Daniel Craig as Bond as he strides through colourful celebrants at the Day of the Dead holiday in Mexico City.
Huge buildings crash to the ground around him and he ends up in a vicious fight in a helicopter that swirls dangerously against a green screen while computer generated extras flee for their lives in the background.
Many sequences hark back to episodes in previous Bond films but they're all overcooked and under-done. There's a fight on a train that lasts longer and involves more damage than the clash Sean Connery and Robert Shaw had in "From Russia With Love" but it has none of the tension or danger. The best line the writers can come up with for the heavy as he falls to his death is, "Shit."
A car race on mountain roads is just dull and Bond's serendipitous discovery of a small plane that he can fly from a snow-bound enclave to rescue his leading lady echoes earlier stunts but with no surprises.
The big mistake Mendes has made is to think that anyone wants reality in a James Bond picture. He's a fantasy figure. He has no time for introspection. He has no mummy issues. He's there to be charming, handsome, reckless, and ruthless with a licence to kill the bad guy. If reality is introduced then questions have to be asked such as how this crude and inarticulate man ever became a Commander in the Royal Navy, and why is he allowed to steal expensive cars paid for by the taxpayer?
Another problem is with the cast. Daniel Craig so obviously doesn't want to be there that he simply closes down. He's a fine actor and he must know by now that he wasn't born to play 007. He plays the most glamorous secret agent in movies as a charmless thug. Instead of an elegant, graceful and cultured hero who can save the day when required, his Bond is an uncouth hooligan.
It's impossible to believe that the recently bereaved and very classy Italian widow played by the peerless Monica Belucci would give this muscle-bound chump in an ill-fitting suit the time of day, let alone boff him at the first go. As the main Bond girl, especially if she were a doctor as her character supposedly is, Léa Seydoux would take one look and wonder what this ancient geezer wants with her.
Ben Whishaw, Rory Kinnear and Naomie Harris bring energy to their thankless roles as 007's backup crew but every time Ralph Fiennes steps onscreen as the new M, it's a reminder of what a first-class Bond he would have made.
Andrew Scott adds menace to his cardboard villain but Christoph Waltz, as the main villain, Blofeld, also appears to regret that he took the job. With lame gadgets with which to threaten 007 and silly dialogue, he appears to be frustrated that he has none of the ornate and over-the-top verbiage that Quentin Tarentino gives him to chew the fat out of, and he looks seriously bored.
Even more bloated than "Skyfall", at 148 minutes, the film also demands of composer Thomas Newman a relentless and repetitive score that pales sadly in comparison to his superbly moderated music for Steven Spielberg's "Bridge of Spies". The great melodies, exciting crescendoes and sly wit of Bond scores by John Barry and David Arnold are missed terribly. Not to mention a great song. The title number here by Sam Smith and James Napier is inoffensive but unmemorable.
With any luck, Daniel Craig will go in search of the greener pastures he deserves and another director will decide that James Bond needs to return to the halcyon days when a 007 film was like a fabulous meal rather than fish and chips with mushy peas.
Director: Sam Mendes; Writers: John Logan, Neal Purvis, Robert Wade, Jez Butterworth; Director of photography: Hoyte Van Hoytema; Production designer: Dennis Gassner; Music: Thomas Newman; Costumes: Jany Temime; Editor: Lee Smith; Producers: Barbara Broccoli, Michael G. Wilson; Production: B24, Columbia Pictures, Danjaq, Eon Productions, MGM, Sony; UK rating: 12A; running time, 148 minutes.
Photo: Steven Vaughan