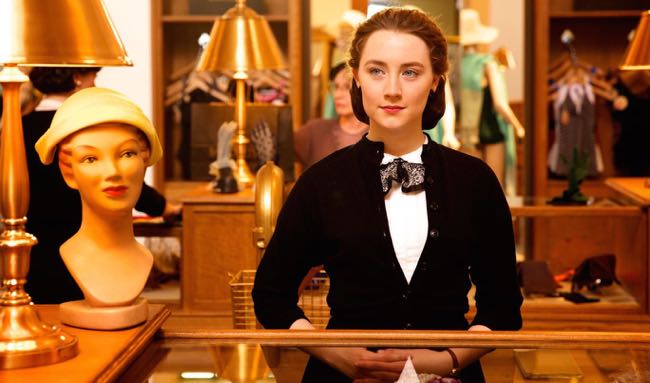 By Ray Bennett
LONDON – A finely nuanced performance by Saoirse Ronan as a young Irish ex-pat in New York is one of the many pleasures of John Crowley's warm and entertaining "Brooklyn".
Adapted insightfully from Colm Tóibín's lauded 2009 novel by author and Oscar-nominated screenwriter Nick Hornby, the film portrays the pulls and tugs of emigration as experienced by a young Irishwoman in 1950.
Ronan (pictured) plays Eilis Lacey, who lives with her adoring older sister Rose (Fiona Glascott) and their meek mother (Jane Brennan) in the prim town of Wexford on Ireland's southeast coast. With only lookalike rugby players as marriage prospects and in a depressed economy, Rose decides that Eilis should go to America where a kindly priest (Jim Broadbent) arranges a job and a place to live.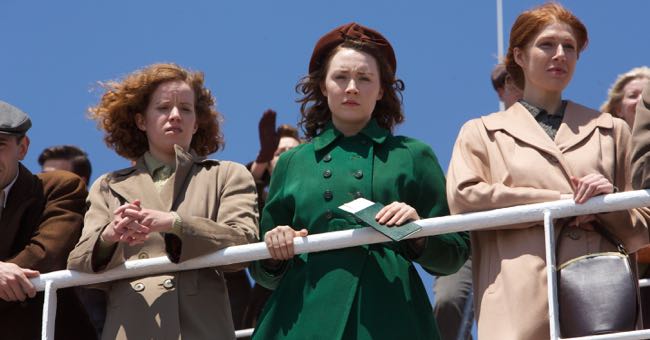 With deft and subtle strokes, director Crowley ("Intermission", "True Detective") and writer Hornby capture the claustrophobia of life in the small Irish town where young women are cowed by men who make all the decisions and too often judged by older women shrivelled into envy and resentment.
Eilis's sea voyage to New York breathes fresh air into the whole film as she is tastes freedom for the first time and is given helpful advice by a young woman who made her escape earlier and is returning confidently to her new home.
Life comes down to earth in Brooklyn, though, as Eilis shares digs with other young women at a boarding house run by Mrs. Kehoe (Julie Walters). She is strict and the girls can be catty but she learns from them as well as from her sophisticated supervisor at the upscale department store where she gets a job as a sales assistant.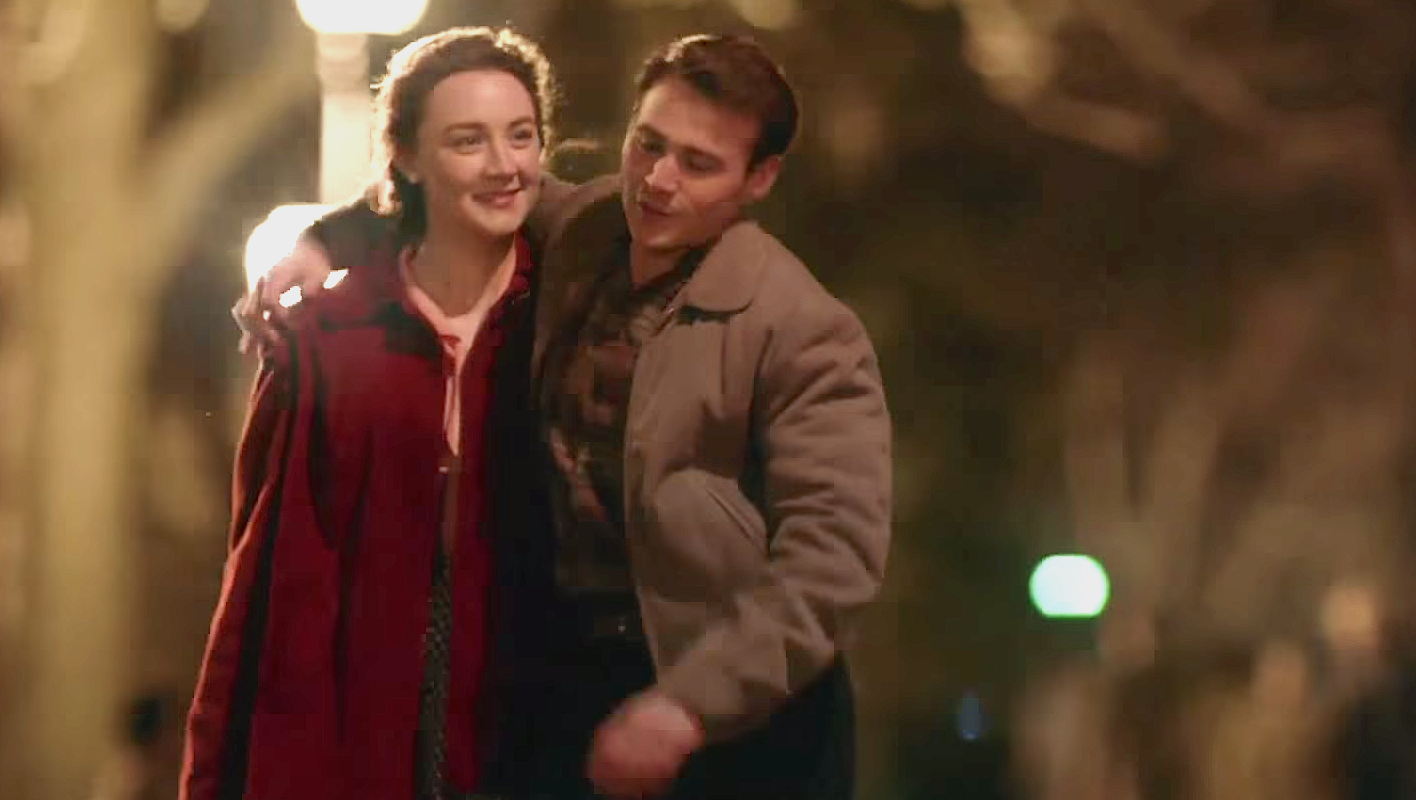 Homesickness almost derails her until the priest signs her up for night school and she meets an energetic Italian lad, Tony (Emory Cohen, pictured above) at the weekly dance. The two fall in love and marry impulsively, and Eilis appears to be bound for a settled new life when fate intervenes from home.
She returns to Wexford to deal with the crisis but she does not reveal that she is married. The community closes in around her once again and a former beau, well-off Jim (Domhnall Gleeson) courts her in earnest.
The film takes it's time pleasingly to set the stage for the hurdles Eilis must face without a shred of melodrama or sentiment. Cohen's eager Italian could be a bad one for all we know, and Gleeson's decent approach might cause heartache. The lure of America could be false but the comfort of home still has the ability to wound.
François Séguin's production design and Yves Bélanger's cinematography are just fine but the director wisely makes the most of close-ups of Saoirse Ronan, who conveys the young woman's conflicting emotions with utter conviction. It's a performance that will draw awards nominations with no complaints if she is a big winner.
The supporting cast is exemplary with standouts including Walters as the shrewd but kindly landlady, Jessica Paré ("Mad Men") as the supervisor who schools Eilis in modern femininity, and Cohen as a warm, brash and open but potentially threatening beau.
Composer Michael Brook drapes the picture in themes and melodies that carry a gentle Irish lilt but help Ronan's highly sympathetic character to a safer shore.
Still in theatres across the U.K., the film will be released on Blu-ray and DVD by Lionsgate UK on Feb. 29.
Cast: Saoirse Ronan, Domhnall Gleeson, Emory Cohen, Julie Walters, Jessica Paré, Jim Broadbent; Director John Crowley; Writer: Nick Hornby based on the novel by Colm Tóibín; Director of photography: Yves Bélanger; Production designer: François Séguin; Music: Michael Brook; Costumes: Odile Dicks-Mireaux; Editor: Jake Roberts; Producers: Finola Dwyer, Amanda Posey; Production: Wildgaze Films, Parallel Film Productions, Irish Film Board, Item 7; Distributors: UK Lionsgate, US 20th Century Fox; Rtaing: UK 12A, US PG-13; running time, 111 minutes.