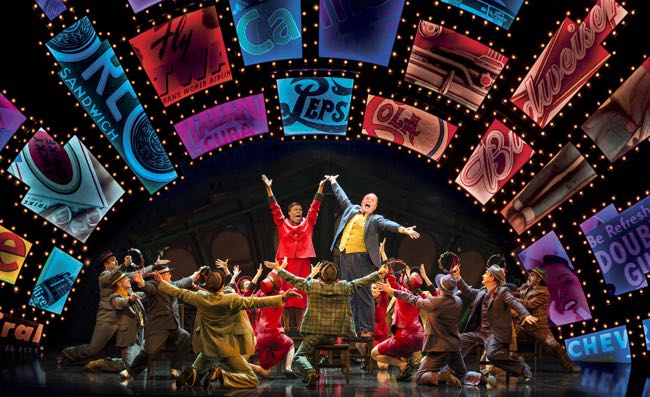 By Ray Bennett
LONDON – If you like musical theatre, beg, borrow or steal a ticket to see the Chichester Festival Theatre's dazzling production of Broadway classic "Guys and Dolls", which opens at the Savoy Theatre on Jan. 6 and runs to March 12.
The good news is that it will then tour the United Kingdom. A critical and popular hit at Chichester, the show was presented in a few other cities and so in previews in the West End from Dec. 10 it is already pitch perfect.
One of the greatest (if not the greatest) American musicals, "Guys and Dolls" combines brilliantly sardonic and romantic songs by Frank Loesser (whose other numbers include "Baby, It's Cold Outside", "On a Slow Boat to China" and "Standing on the Corner") with a smart and witty book by Jo Swerling ("It's a Wonderful Life") and Abe Burrows ("How to Succeed in Business Without Really Trying").
Both lyrics and dialogue are filled with wry observations about relations between the sexes in a combination of rueful pessimism and cheerful optimism and not a hint of false sentiment. Directed with flare and pace by New York theatre veteran Gordon Greenberg, the entire cast delivers with top-flight performances and the spare stage is made colourful by Peter McKintosh's evocative background, sets and costume design.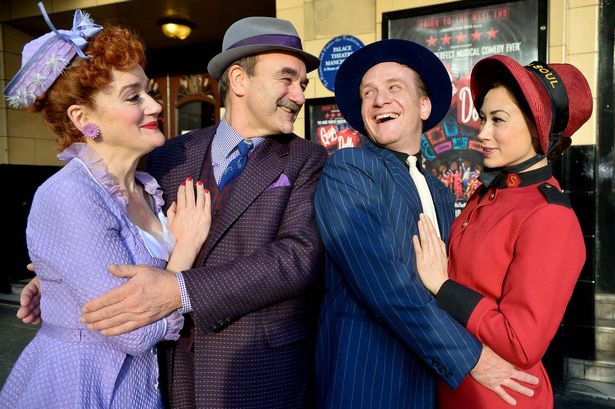 Drawn from the tales of journalist Damon Runyon, the show is set amongst colourfully named gamblers, hookers, small-time crooks and hustlers, and other benign sinners in New York during Prohibition. The set-up is simple: Nathan Detroit (David Haig) needs $1000 to stage his floating crap game so he makes a bet that flamboyant Sky Masterson (Jamie Parker) cannot persuade prim Salvation Army Sgt. Sarah Brown (Siubhan Harrison) to fly with him for a night in Havana.
Nathan has also gamblers, cops and hoodlums to deal with, not to mention Miss Adelaide (Sophie Thompson, pictured above left with Haig, Parker and Harrison), to whom he has been engaged for 14 years.
David Haig might seem an unusual choice for the character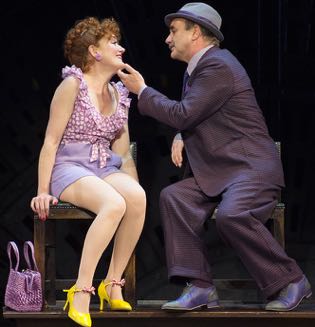 played by Frank Sinatra in the 1955 movie, but he is a splendid farceur ("The Country Wife" onstage, "The Thick of It" on TV) and he sings well too. His "Four Weddings and a Funeral" co-star Sophie Thompson (pictured with Haig left) is a delight as long-suffering dancer Miss Adelaide with hilarious body-language and a voice that sinks with frustration and soars with outrage and hope. Her delivery of "Miss Adelaide's Lament" with the unforgettable lyric "just from waiting around for that plain little band of gold, a person can develop a cold" is a joy.
Jamie Parker ("The History Boys"), who sings like Sinatra, makes Sky Masterson electric and handsome and there is genuine chemistry with Siubhan Harrison as the woman who seeks his soul but wins his heart. Harrison sings like an angel and gives the melodic "Like a Bell" a merriment that goes "ding, dong, ding, dong, ding". She also is a master of physical comedy and the chaotic dance number "Havana" in which the drunken Sarah mixes it with Cuban beauties is a marvel of choreography and performance.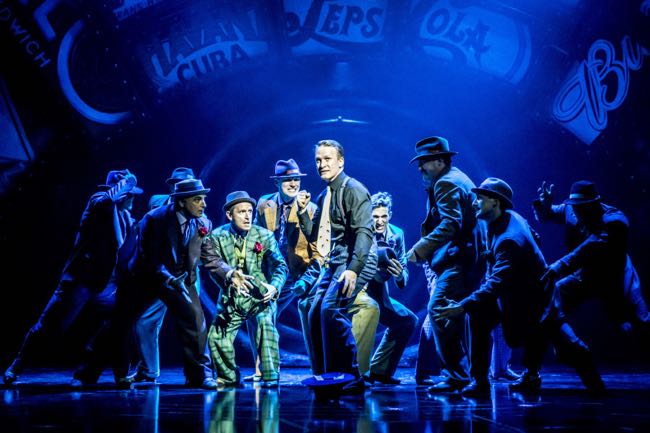 The great songs keep coming from "The Oldest Established (Permanent Floating Crap Game in New York)" to "A Bushel and a Peck", "I've Never Been in Love Before", Take Back Your Mink", "Luck Be a Lady" and the rip-roaring show-stopper "Sit Down You're Rockin' the Boat" led by Gavin Spokes, in a crowd-pleasing turn as Nicely-Nicely Johnson (top picture).
Read more about the production here
Venue: Savoy Theatre, London; Cast: Sophie Thompson, David Haig, Jamie Parker, Siubhan Harrison, Gavin Spokes, Ian Hughes; Music & lyrics: Frank Loesser; Book: Jo Swerling, Abe Burrows, based on the story and characters of Damon Runyon; Director: Gordon Greenberg; Designer: Peter McKintosh; Choreography: Carlos Acosta, Andrew Wright; Sound designer: Paul Groothius; Lighting designer: Tim Mitchell; Production: Chichester Festival Theatre; runs to March 12 and then tours the U.K.