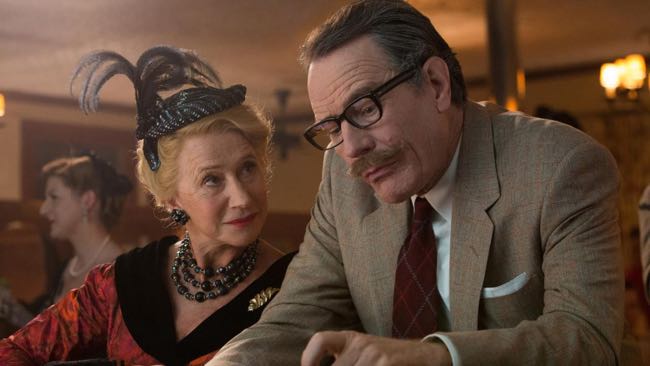 By Ray Bennett
LONDON – The infamous treatment of filmmakers in Hollywood during the communist witch hunt of the 1940s and 1950s should have made for a powerful movie but Jay Roach's "Trumbo" misses the target.
The film is a showcase for theatrical performances by Bryan Cranston as wealthy screenwriter and self-declared communist Dalton Trumbo and Helen Mirren (pictured with Cranston) as scandal-monger Hedda Hopper with showboat contributions from John Goodman as a producer of B-movie schlock and David James Elliot as John Wayne.
Trumbo was the highest-paid screenwriter in Hollywood in the 1940s when he and nine other filmmakers declined to testify about alleged communist ties before the House Un-American Activities Committee and went to jail for almost a year. Besides the Hollywood Ten, many others in the film business were blacklisted and faced professional and financial ruin.
The film suggests that Hopper alone was responsible for the mistreatment of writers, actors and directors whereas there were many so-called journalists who behaved shamefully, particularly rival gossip columnists Louella Parsons, Walter Winchell and The Hollywood Reporter founder Billy Wilkerson, none of which are mentioned. The Reporter 65 years later issued a formal apology for its involvement in the Red Scare, as it was called.
The studio chiefs, with their eyes on the bottom line and the possible reaction of small-town America, also behaved cravenly although the film prefers to depict an unlikely scene in which Hopper, a noted anti-Semite, insults and threatens the notoriously tough-minded Louis B. Mayer in his own office and spews epithets at him.
"Trumbo" depicts the screenwriter as arrogant and selfish but it also lionises him as it makes Hopper an almost pantomime villain. He wrote some good pictures – "Cowboy", "Career", "Lonely Are the Brave", "The Fixer", "Johnny Got His Gun" (which he also directed and based on his own novel), and "Papillon". He also wrote a ton of mostly forgotten sentimental tosh such as "A Guy Named Joe" (remade by Steven Spielberg as "Always"), "Kitty Foyle" and "The Sandpiper".
When the big studios stopped hiring him, Trump went to work immediately turning out potboilers for exploitation pictures. The film shows him and his family moving house as he downsizes and accepts low wages. In fact, Trump moved his family to live cheaply in Mexico City and turned out 18 scripts over two years at around $1800 per script, which in today's money would give him around $320,000 over two years.
The point is made because writers could at least earn a living even if they had to move to another country. Many moved to the U.K. Actors had a different problem and the film does a grave disservice to Edward G. Robinson, whom it depicts as naming names to HUAC. He never did although he did retract association with communist groups.
A generous supporter of liberal causes, Robinson gave to hundreds of organisations including some that espoused communism at a time when the Soviet Union was a western ally and before many learned that the worker's paradise was a monstrous dictatorship. He was the first American celebrity to visit U.S. troops after the Normandy invasion and marched in civil rights protests.
Michael Stuhlbarg plays him with great sympathy in "Trumbo" but a scene in which the self-righteous Trumbo berates Robinson for selling out in order to increase his large collection of fine art is a gross libel.
Much is made in the film about the two Academy Awards that Trumbo was unable to pick up because he was blacklisted and used either a front or a phoney name as a screen credit. One was for "The Brave One" (1956) and the film implies that he won the screenplay award whereas he actually won for the category of best screen story, one that was abandoned the following year.
The other was for "Roman Holiday" (1953) and the Trumbo family are shown enjoying the laughter of a movie audience during the famous scene in which Gregory Peck sticks his hand inside a sculpture and pretends it's been bitten off. Reports suggest  that the scene was not in Trumbo's script and that Peck stole the gag from comedian Red Skelton. He did not warn co-star Audrey Hepburn, whose spontaneous reaction did much to earn her that year's Academy Award for best actress.
Production design and costumes in "Trumbo" conjure up the time period nicely and Theodore Shapiro's score does the job. Diane Lane is under-used as Trumbo's wife Cleo although Elle Fanning makes a striking impression as their sometimes unhappy eldest daughter.
Director Jay Roach is known best for the "Austin Powers" films plus "Meet the Parents" and "Meet the Fockers" but in "Trumbo", his taste for over-the-top characterisations along with slim respect for the truth serve to undermine what should have been an important film.
Opens: UK/Feb. 5 (Entertainment One); Bryan Cranston, Helen Mirren, Diane Lane, Michael Stuhlbarg, Edward G. Robinson, Louis CK, John Goodman, John Getz, Elle Fanning, Richard Portnow, Alan Tudyk, David James Elliot; Director: Jay Roach; Writer: John McNamara based on the book by Bruce Cook; Director photography: Jim Denault; Production designer: Mark Ricker; Music: Theodore Shapiro; Costume designer: Daniel Orlandi; Editor: Alan Baumgarten; Producers: Kevin Kelly Brown, Monica Levinson, Michael London, Nimitt Mankad, John McNamara, Shivani Rawat, Janice Williams; Executive producer: Kelly Mullen; Production: Groundswell Productions, ShivHans Pictures; Rated: US/R, UK/; running time: 124 minutes.