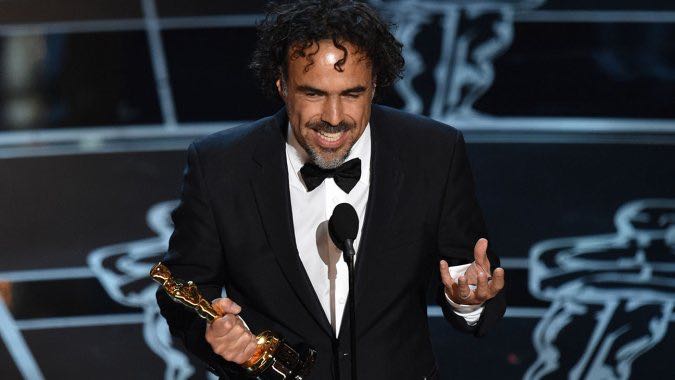 By Ray Bennett
LONDON – In the discussion about diversity in the top prizes of the Academy Awards, the depth of the problem for the Academy is clear as in the 14 awards from 2001 to last year, on the AMPAS database I could find only one Latin American (Benicio Del Toro) nominated for 70 acting spots and only two black men (America's Lee Daniels and the U.K.'s Steve McQueen) and two female directors (Sophia Coppola and Kathryn Bigelow) were among the 70 nominees for best director.
It is worth noting, however, that the Oscar for best director has gone to white American men only four times in the 21st century and not once in the last seven years. White U.S. men won six of the 14 best actor awards out of 39 nominations; white U.S. women won eight out of 36 for best actress; white U.S. men had six wins from 46 for best supporting actor; and white U.S. women picked up five from 39 for best supporting actress.
Alejandro G. Iñárritu (pictured) and Alfonso Cuaron, both from Mexico, won as best director in the last two years; Taiwan's Ang Lee won twice; two British directors (Danny Boyle and Tom Hooper) won plus Roman Polanski from Poland, Peter Jackson from New Zealand, Michel Hazanavicius from France, and Kathryn Bigelow from the U.S. Directors from Australia, Brazil, Canada, Germany, Norway and Spain also were nominated.
White Americans dominated all four performance categories but U.S. minorities and foreign nationals had the most success in the best supporting actress award. Black  actresses had four wins (Jennifer Hudson, Mo'Nique, Octavia Spencer, Lupita Nyong'o) from nine nominations whereas white U.S. actresses had five wins (Jennifer Connelly, Renée Zellweger, Melissa Leo, Anne Hathaway, Patricia Arquette) from 39 nominations. White U.K. actresses won three (Catherine Zeta-Jones, Rachel Weisz, Tilda Swinton) from 10; Australia had one (Cate Blanchett) from five and Spain had one (Penelope Cruz) from two. Other nations represented were Iran, Ireland, Japan, and Mexico.
White U.S. men had 39 nominations for best actor but they picked up six Oscars (Adrien Brody, Sean Penn twice, Philip Seymour Hoffman, Jeff Bridges, and Matthew McConaughey); white British actors claimed 14 nominations with four wins (Daniel Day Lewis twice, Colin Firth, Eddie Redmayne); black actors were nominated 10 times with three wins (Denzel Washington, Jamie Foxx, Forest Whitaker). The remaining award went to France's Jean Dujardin). Other nations represented were Australia, Canada, Mexico and Spain.
White Americans claimed 50% of the best actress nominations with eight wins (Charlize Theron, Hilary Swank, Reese Witherspoon, Sandra Bullock, Natalie Portman, Meryl Streep, Jennifer Lawrence, Julianne Moore); White British actresses had 18 nominations with two wins (Helen Mirren, Kate Winslet); Australians had six nominations with two wins (Nicole Kidman, Cate Blanchett); there was one black win (Halle Berry) out of four nominations and Marion Cotillard won out of three nominees from France. Other nations represented were from Canada, Colombia, Mexico and Spain.
White American males picked up 46 of the 70 nominations for best supporting actor over the period with just six wins (Chris Cooper, Tim Robbins, George Clooney, Alan Arkin, Jared Leto, J.K. Simmons); White British actors had one win (Jim Broadbent) from seven nominations; Austria's Christoph Waltz was nominated twice and won twice; one black American (Morgan Freeman) won from five nominations; Canada had one win (Christopher Plummer) from two as did Australia (Heath Ledger), and Spain's single nominee (Javier Bardem) also won. Other nations represented were Ireland, Japan, Somalia and Sweden.
Top Academy Awards nominations in 21st century: 2001-2014
Best Actor
US white: 39 (6 wins)
UK white: 14 (4 wins)
Black: 10 (3 wins)
French 1 (1 win)
Australian: 3 (0 wins)
Canadian: 1 (0 wins)
Mexican 1 (0 wins)
Spanish 1 (0 wins)
Best actress
US white: 35 (8 wins)
UK white: 18 (2 wins)
Australian: 6 (2 wins)
Black: 4 (1 win)
French: 3 (1 win)
Canadian: 1 (0 wins)
Colombian: 1 (0 wins)
Mexican: 1 (0 wins)
Spanish: 1 (0 wins)
Best supporting actor
US white: 46 (6 wins)
UK white: 7 (1 win)
Black: 5 ( 1 win)
Austrian: 2 (2 wins)
Australian: 2 (1 win)
Canadian: 2 (1 win)
Spanish: 1 (1 win)
Irish: 1 (0 wins)
Japanese: 1 (0 wins)
Somalian: 1 (0 wins)
Swedish: 1 (0 wins)
US hispanic: 1 (0 wins)
Best supporting actress
US white: 39 (5 wins)
UK white: 10 (3 wins)
Black: 9 (4 wins)
Australian: 5 (1 win)
Spanish: 2 (1 win)
French: 1 (0 wins)
Iranian: 1 (0 wins)
Irish: 1 (0 wins)
Japanese: 1 (0 wins)
Mexican: 1 (0 wins)
Best Director
US white men: 40 (4 wins)
UK white men: 8 (2 wins)
Mexican: 3 (2 wins)
Taiwanese: 2 (2 wins)
New Zealand: 2 (1 win)
US women: 2 (1 win)
French: 1 (1 win)
Polish: 1 (1 win)
Canadian: 4 (0 wins)
Australia: 1 (0 wins)
Brazilian: 1 (0 wins)
German: 1 (0 wins)
Norwegian: 1 (0 wins)
Spanish: 1 (0 wins)
US black men: 1 (0 wins)
UK black men: 1 (0)