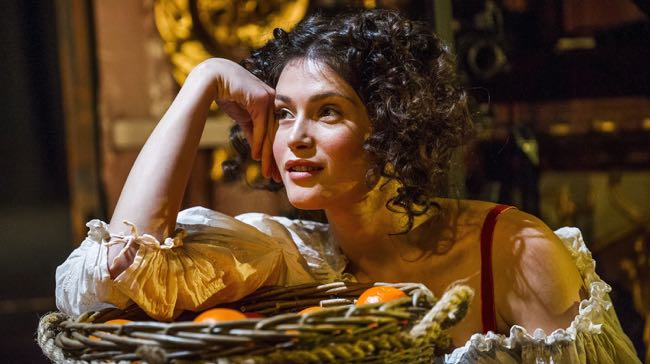 By Ray Bennett
LONDON – Jessica Swale's thoroughly entertaining play "Nell Gwynn", about the strumpet turned actress who beguiled a king of England and became a queen of the London stage, is filled with laughter and music and a few tears and best of all Gemma Arterton in the title role.
Fresh and sparkling, Arterton plays Nell as a strong-willed and confident woman with a wicked sense of humour that allows her to stand up to bossy, blustering men, even the randy King Charles II (David Sturzaker, pictured with Arterton below). One minute she's all elegant beauty, the next a fall-about clown. Her face dissolves from classic poise to a saucy grin to a sexy pout and back again. And she sings like an angel.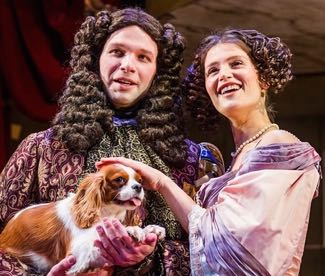 Arterton displayed her voice pleasingly in the wonderful and too short-lived David Arnold musical "Made in Dagenham" and she is deliciously witty in Stephen Frears's "Tamara Drew", Neil Jordan's "Byzantium" and Anne Fontaine's "Gemma Bovery". She puts it all together here.
The play is not a one-woman show, however, as Swale gives the entire cast good lines with many opportunities to shine and under the direction of Christopher Luscombe with the sumptuous design and costumes of Hugh Durrant, "Nell Gwynn" is a rollicking crowd-pleaser.
Charles II was known as the Merry Monarch after he was restored to the English throne in the year 1660 after the puritan rule of Oliver Cromwell came to an end with the death of the republican leader. The restoration heralded a period of hedonism and the king had a rare old time as he roistered and fathered a dozen children with seven mistresses although not his wife.
Two sons were born to Nell Gwynn, whom diarist Samuel Pepys described as "pretty, witty Nell". She fled the brothels of Cheapside to sell oranges in Covent Garden and as Swale's play begins, she catches the eye of noted actor Charles Hart (Jay Taylor). He is not only attracted to her but also he senses that her startling beauty, boldness and quick wit would shine on the stage.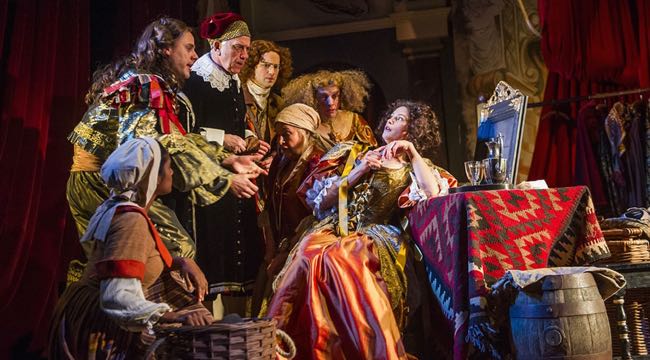 Soon, Nell is leading lady of the King's Company and from then on it's a  backstage yarn about a redoubtable troupe of players who struggle to please demanding audiences as their star becomes the king's mistress. There are lots of very funny lines about show business and politics with many topical references and plenty of bawdy humour, especially in Nigel Hess's clever and melodic songs.
As the men in her life, Taylor and David Sturzaker, as the king, are handsome and vulnerable and both shine in their many comic moments. Michelle Dotrice, as a seamstress, often steals the show with great physical comedy and sly timing and there are finely honed comedic performances by the rest of the cast.
Swale reportedly is writing a script based on the play and the casting director's job will be made easy, especially in the case of Gemma Arterton as "Nell Gwynn" establishes her as a star of the highest order.
Venue: Apollo Theatre, London; runs through April 30; cast: Gemma Arterton, Jay Taylor, David Sturzaker, Michelle Dotrice, Michael Garner, Greg Haiste, Peter McGovern, Anneika Rose, David Rintoul, Nicholas Shaw, Peter McGovern, Sasha Waddell, Sarah Woodward; Playwright: Jessica Swale; Director: Christopher Luscombe; Designer: Hugh Durrant; Music: Nigel Hess; Choreographer: Charlotte Broom; Lighting: Nick Richings; Sound: Jeremy Dunn; Musicians: Emily Baines, Sharon Lindo, Richard MacKenzie, Nicholas Perry; Production: Shakespeare's Globe, presented by Nica Burns, Eleanor Lloyd Productions, Paula Marie Black; running time: 2 hours 30 minutes including 20-minute intermission.
Photos by Tristram Kenton