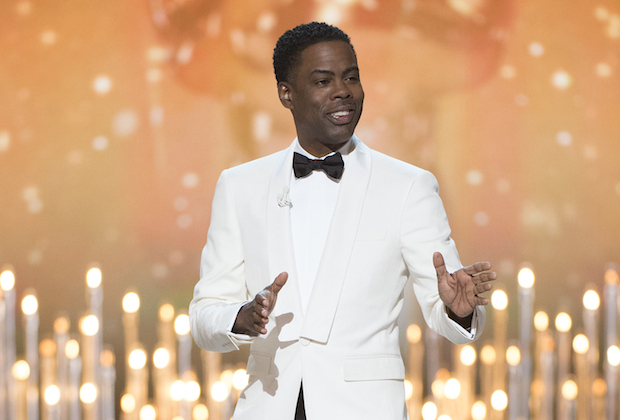 By Ray Bennett
LONDON – There were not many surprises at the 88th Academy Awards on Sunday but we did discover a few things about Oscar, predictions, balloting, marketing, music, and sentimental choices.
1/ Hollywood will always protect the brand.
Host Chris Rock (pictured) was bold and very funny as he addressed the big film industry topic of diversity. It was all done very well. For the Academy, it also was completely self-serving.
It meant that Rock, one of the most insightful and gifted standup comics, had little time to develop gags about wider issues such as the international migrant crisis, climate change, the monstrous Republican presidential campaign and Congress's antics over a new Supreme Court Justice.
Those and other topics were touched on later by winners but it would have been good to hear Rock's take on them to match his sardonic comment that the evening's In Memorium segment would feature black people who'd been shot by police.
The comedian certainly addressed the issue of racism, he made good points and he was funny, but in the end it was all about Oscar's image.
2/ SAG predicts winners.
The success of Leonardo DiCaprio, Brie Larson and Alicia Vikander at the 88th Academy Awards showed once again that the Screen Actors Guild Awards are the clear indicator of who will win at the Oscars as all three of them had won the SAG prize.
Only once in the last 16 years has any actor who has not been at least nominated for a SAG Award won an Oscar, and not in the last 11 years. Only four actors have won as best actor, three actresses as best actress and four as best supporting actress without winning the SAG Award.
The exception is best supporting actor. Seven actors since 2000 have now won as best supporting actor without winning the SAG Award. Idris Elba won the SAG Award this year for "Beasts of No Nation" but Mark Rylance picked up the Oscar for "Bridge of Spies". Elba was not nominated, most likely because his film is essentially a TV movie made by Netflix and it was released for just two weeks in 31 theatres in the U.S. to qualify for the Oscars.
The SAG cast award is a good indicator of what will win best picture at the Academy Awards. With the Oscar success of "Spotlight", it has now honoured the eventual best picture Oscar winner nine times out of the last 16.
Only four films in that time have won best picture when the director did not win the Directors Guild Award and only three filmmakers have been named best director having not already won the DGA Award and not this year as DGA winner Alejandro G. Iñárritu won the Oscar for "The Revenant".
Only five films have won the Oscar for best picture – which goes to the film's producer or producers – having not already picked up the Producers Guild Award, and not in the past nine years. This year's "Spotlight" win was the first since "Little Miss Sunshine" in 2006.
3/ Balloting favours runners-up.
"Spotlight" benefitted from the Academy's preferential voting system for best picture (introduced in 2009) in which members rank their choices. Many would have put it at the top of their list, but those who favoured big winners "The Revenant" and "Mad Max: Fury Road" clearly named "Spotlight" as their No. 2 choice and so it triumphed as did "12 Years a Slave" in 2013, "The Artist" in 2011, and "The Hurt Locker" in 2009.
4/ Movie marketing isn't as good as the industry thinks it is.
Host Chris Rock had a funny bit in which he went to L.A.'s Compton district to ask black folk if they'd seen any of the largely white films up for an Oscar. Not only had they not seen them, they hadn't even heard of them.
5/ The Academy is tone deaf.
It allowed only three best song nominees to be performed and then voted for the one ("Writing's On the Wall" from "Spectre") that had the least to do with the movie it was in. The incidental music choices were ill-considered although many tunes did serve to remind that there used to be great songs in movies. But then they decided that one honorary Oscar wasn't enough for Ennio Morricone, so they gave him another one for the awful "The Hateful Eight".
6/ The Oscars are not always as sentimental as we think they are.
Many expected that Sylvester Stallone would pick up the best supporting awards for still banging away at Rocky. Many veterans have won in the past including James Coburn, Jack Palance, Don Ameche, Martin Landau and Christopher Plummer but Stallone left empty-handed.