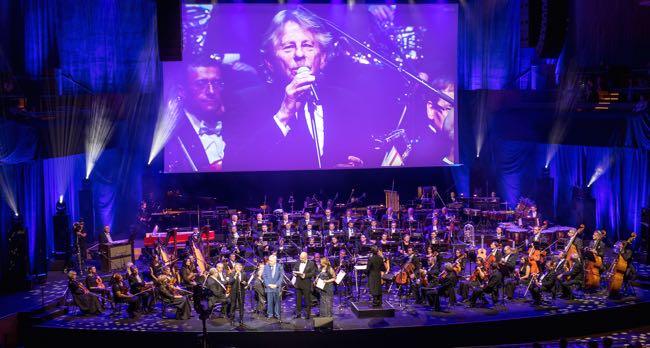 By Ray Bennett
KRAKÓW – The plaintive trumpet solo that Jerry Goldsmith wrote for Roman Polanski's 1974 film "Chinatown" hovered like a blessing over a concert of music from the Polish director's movies to kick off Kraków's annual Film Music Festival on May 25.
Legendary Polish jazzman Tomasz Stańko performed the theme with the mix of hope and disillusionment that reflects the film and would have delighted the late Hollywood composer as much as American trumpeter Uan Rasey's original.
Polanski was on hand with frequent collaborator Alexandre Desplat, winner of the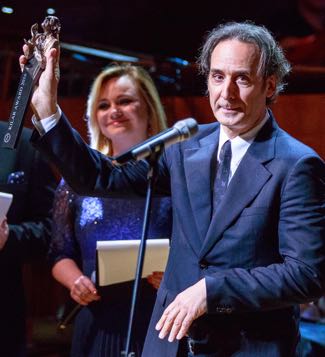 festival's second Kilar Award (left with concert host Magda Miśka-Jackowska),  as Belgian maestro Dirk Brossé conducted the Polish National Radio Symphony Orchestra (photo below).
A lyrical and sweeping suite from "Tess" (1979) opened the 140-minute programme followed by an ominous suite by Philippe Sarde from the 1976 thriller "The Tenant" and after French-born local-boy Polanski was introduced to rapturous applause, Stańko stepped forward with his trumpet and the success of the evening was assured.
Producer Robert Evans said in his autobiography that he called on Goldsmith to write the film's music after preview audiences reacted badly to the original score by classical composer Phillip Lambro. Robert Townson, however, tells a different story.
The record producer and concert promoter, who runs the Varèse Sarabande label and was very close to Jerry Goldsmith, tells me that it was Polish composer Bronislau Kaper who saw a screening at Polanski's house and told the director he needed to ditch the music, which had a distinctive Chinese flavour due to Lambro's impression of the film's title.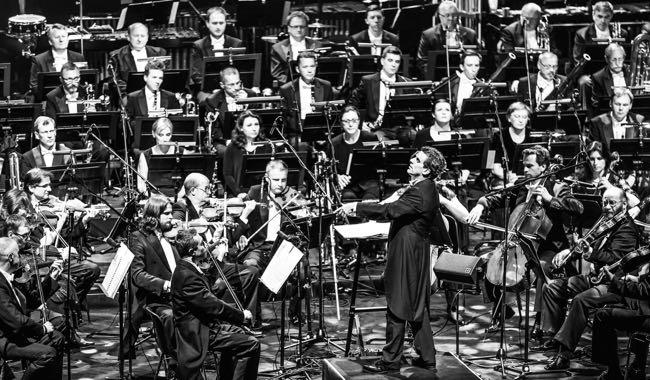 Four pianos, four harps, two percussionists, a string section and a trumpet were Goldsmith's immediate selection when he was brought in at the last minute and wrote 23-minutes of music in nine days. Clips played above the orchestra at the 2,000-seat ICE Kraków auditorium as Brossé demonstrated once again that it was the right decision as the mix of instruments conveyed the film's deepening mystery, the trumpet melody floating above a score that is sinister, melancholy and haunting.
The plangent "Moving to the Ghetto" cue from Polanski's Oscar-winning "The Pianist" (2002) by the late Polish legend Wojciech Kilar, for whom the Kilar Award is named,  followed and Tomasz Stańko added his exquisite tones to frequent Polanski collaborator Krzysztof Komeda's  "Ballada for Bernt" from "Knife in the Water" (1962).

Kilar's stark "Paulina's Theme" from"Death and the Maiden" (1994) led to a cue by Desplat from "Venus in Fur"  (2013) that began playfully and then went off-kilter to pulsate with danger, and Kraków Opera star soprano Wioletta Chodowicz sang beautifully on Kilar's ethereal "Vocalise" from "The Ninth Gate" (1999).
After an intermission, the show resumed with a genuine treat for lovers of great jazz as  Stańko joined the wonderfully impressive Obara International Quartet for a joyful 30-minute suite of themes by Krzysztof Komeda.
Polish composer and alto saxophonist Maciej Obara led his foursome – Dominik Wania on piano, Ole Morten Vågan on bass and Gard Nilssen on drums – with Stańko on themes from the feature films "Cul-de-Sac" (1966) and "The Fearless Vampire Killers" (1967) and the 1958 short, "Two Men and a Wardrobe".
The five men performed Komeda's eclectic and expressive music – sometimes aching, then frenzied and thrilling – with a finesse that was so disciplined that even though they played from a score, it sounded like sublime improvisation.
A suite by Ennio Morricone from the Harrison Ford thriller "Frantic" (1988) was all tense strings, French horns and the inevitable guitar with a touch of Gallic mystery. Stańko returned for Komeda's baleful lullaby from "Rosemary's Baby" (1968) and the venerable musician, now 73, had to be persuaded to return for a standing ovation.
Kilar's percussive and propulsive "Roberto's Last Chance" from "Death and the Maiden" preceded two more Desplat suites. Typically playful at first, the music from "Carnage" (2011) soon heated up to reflect the picture's escalating conflicts while his intricate score for "The Ghost Writer" (2010) engaged the full orchestra and a deep bass guitar as it accelerated towards the film's assassination scene, shown in the clip onscreen.
The audience were on their feet immediately to applaud Brossé, the orchestra and the soloists, and they turned to acclaim Polanksi and Desplat in the balcony as director and composer tore their bouquets apart to toss roses out into the crowd.
The festival runs through May 31.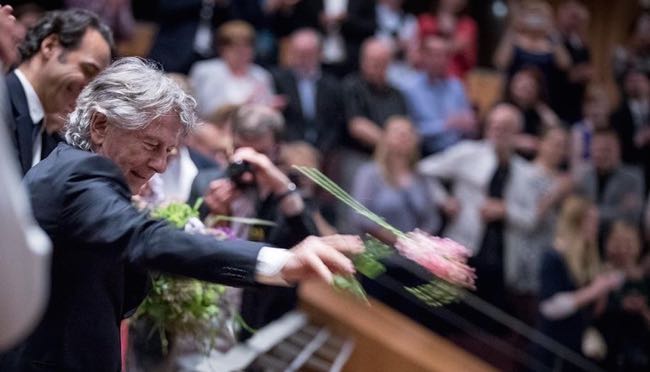 Photos: Wojciech Wandzel, www.wandzelphoto.com