By Ray Bennett
LONDON – When Donovan, who turns 70 today, announced in Cannes that the internet is the new Sixties, my story about it made headlines around the world. When I ran into the folk-rocker later at a BMI gathering in London, he told me it had given him  the greatest publicity he'd had in years. "I'm going to get you a knighthood," he said.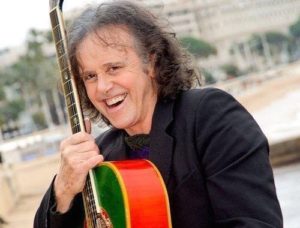 Here's how the story came about. One of the main rules of journalism is to never bury the lead (what we call lede). That mistake by others allowed me to claim those headlines. We were at the MIDEM music convention in Cannes in 2009.
He made his remark about the internet and the Sixties at a press conference to promote the DVD release of a biographical documentary, "Sunshine Superman: The Journey of Donovan", a MIDEM showcase, and an upcoming world tour.
This is what he said: "The dream of the '60s, of me and John Lennon and the others, was: How do we speak to everybody on the planet at the same time? The first answer was via satellite but that didn't connect to everyone. Then John would say, 'How about telepathy?' Then we forgot about it until now we realise that the Internet fulfils that dream of communicating with everyone. I'm not afraid of the Internet because that's the dream we had. The Internet is the new '60s as far as I'm concerned."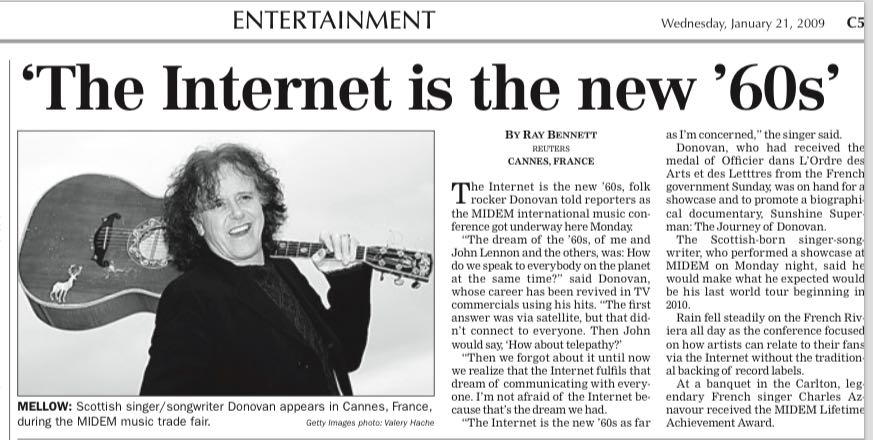 I knew, however, that before I arrived, Donovan had been awarded the Medal of Officier dans L'Ordre des Arts et des Letttres from the French government and there had been a press conference,
I asked him if he'd made the Sixties comment before and he said he had to reporters who'd covered the French award. But when I checked their stories, they had made the award the lede and buried his comment. No one picked up on it.
I made it my lede and filed my story to The Hollywood Reporter, which was then the default entertainment service for Reuters News Agency, and rapidly it reverberated globally. Even my old newspaper The Windsor Star in Canada picked it up.
Oddly enough, I had written about Donovan (with colleague Peter Cook) for another of my old newspapers, The Gravesend Reporter in England, when he first emerged in the Sixties. He played a set at an old Gravesend pub called The Admiral Duncan, long-gone, I'm sure. Pete and I were not impressed at the time but I became a huge fan.
So, happy birthday, Donovan! Where's me gong?
Photo of Donovan in Cannes: contact music.com