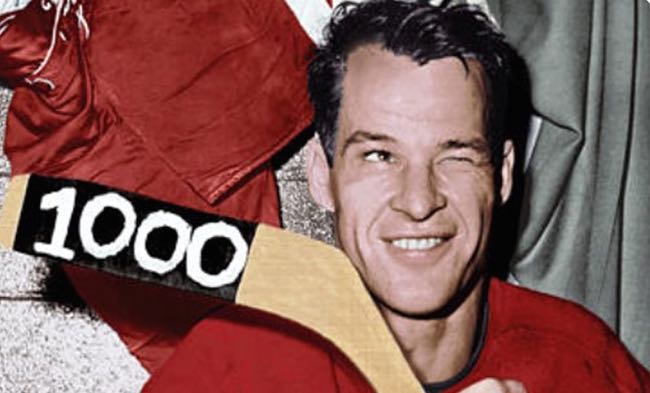 By Ray Bennett
LONDON – In Canada, Gordie Howe, who has died aged 88, has long been revered and will always be remembered as Mr. Hockey, the greatest ever ice hockey player. I will always remember the day he made out that we were pals.
It was some time in the early Seventies. I was a reporter on The Windsor Star newspaper and although most of my colleagues thought of me as just off the boat from England, I had earned a reputation for being strangely savvy about North American sports.
When Canada played the U.S.S.R. in 1972, I knew nothing about hockey but I knew that the Canadian team was made up of superstars and the Soviet team was not. The clash reminded me of the 1953 football match between the stars of England and the nobodies of Hungary.
The Magyars came to Wembley Stadium, where England had never lost to a team from overseas, and walloped us 6-3. Overnight, the Hungarian players became every English schoolboy's idol and we knew every name. When the captain, Ferenc Puskás, was reported killed during the Hungarian revolution in 1956, it made the front page of every newspaper in England. Five days later, we learned that he was still alive and he went on to huge success in football with Real Madrid and lived a long life.
In Windsor in 1972, I tried to make a bet that the U.S.S.R. would beat Canada in the first game of what would become an epic series of matches. It was on the basis that the Russians played as a team, just as the Hungarians had, while Canada was made up of all-stars. The other reporters scoffed at my ignorance and wouldn't take my bet. To their horror, the U.S.S.R. beat Canada in Canada 7-3.
Another time, one of the sports nuts on the copy desk named Benny Grant finally caved in to my pestering and accepted a bet on which NFL team would get closest to the Super Bowl that year. He picked the Oakland Raiders. I subscribed to Playboy magazine in those days (for the pictures, of course) and it had a terrific sportswriter named Anson Mount. I read his predictions for the season and he said that recent newcomer Cincinnati Bengals would be a dark horse that year. At season's end, the Bengals had shaded the Raiders and with a shake of his head, Benny parted reluctantly with 20 bucks.
Which brings me to Gordie Howe.
A dozen or so reporters and editors from the newspaper went across the river to Detroit to watch a major league baseball game at Tiger Stadium. I drove over with a guy named Marty Knack, who was a sportswriter for the Star and covered hockey. As we walked along one of the stadium hallways toward our seats, he spotted the publicist for the Detroit Red Wings.
Standing with him was a man whom even I recognised, the tall, rugged-looking athlete with a genial smile who was the legend Gordie Howe, who had led Detroit to four Stanley Cup championships and to first place in regular season play for seven consecutive years (1948–49 to 1955–56), a feat never equaled in NHL history.
The publicist introduced Marty and me to the great man but I do not recall what we chatted about, probably how well Mark 'The Bird' Fidrych was pitching. We said goodbye and with big grins on our faces, Marty and I went up into the stands to join our friends.
Before we could brag about who we'd just met, a hubbub spread through the immediate crowd and people stood up, straining to get a look at who had emerged into the stadium. Howe and the publicist made their way down the steps to their seats and the star shook some hands.
As they went past our row, Gordie Howe turned and, to the utter amazement of our colleagues, called out, "Hi, Ray! Hi, Marty!" I responded, "Hey, Gordie, good to see ya."
It was one of the finest sporting memories of my life and, until now, I never did explain how one of the greatest sportsmen in history came to know my name.
I ran into Howe again many years later in Los Angeles at a media event for a TV show starring the next great Canadian hockey star, Wayne Gretzky. Long retired but still a vigorous, intimidating man, Howe was eminently approachable and we stood at the back of the studio watching Gretzky work.
I related the story of his prank at Tiger Stadium. He just smiled and I knew it wasn't the first or last time he had done something like that. I'm just happy one of those times involved me.
Here's an obituary of Gordie Howe in Macleans