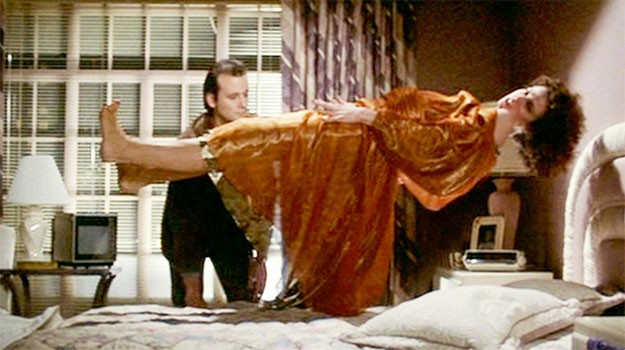 By Ray Bennett
LONDON – Bill Murray not only got all the big laughs in the original "Ghostbusters", he also got the girl and he told reporters at the New York junket for the film in 1984 that it was all Dan Aykroyd's fault.
Aykroyd, who has had a lifelong interest in the supernatural and has been a card-carrying Fellow of the American Society for Psychical Research, had hammered out ideas for "Ghostbusters" as a blue-print. He and the rest of the cast and the director were on hand at the Park Plaza Hotel for the film's press launch. He said, "I always like to work that way: get the raw material down, throw it in there and see what other people's thoughts are."
Producer and director Ivan Reitman took the pitch to Columbia Pictures and they liked it, but he said, "I didn't let them read Danny's draft script because they would have jumped off a tall building."
Reitman thought Aykroyd's idea was wonderful but the script would be impossible to produce: "It would have cost hundreds of millions of dollars to make. It took place partially in outer-space and was filled with special effects."
Harold Ramis, who was co-writer on Reitman's "Meatballs" and "Stripes" and directed his own script for "Caddyshack", came in to work with Aykroyd and co-star. Ramis said, "It's become a very natural process for all of us because as far back as 'Second City', which for me is 1969, we've had a lot of practise collaborating with people."
Ramis liked the core of Aykroyd's idea: "The whole concept of professional ghost exterminators really worked for me: taking something that is so special and exotic as the supernatural and then playing a really mundane workmanlike attitude around it."
In the final script, Aykroyd and Ramis are committed ghostbusters and Murray's character more or less goes along for the ride.  As their ghostbusting careers skyrocket, they take on not only slimy green apparitions but ugly inter-dimensional creatures and evil deities from the past. It's left to Aykroyd and Ramis to explain to the audience what's going on while Murray gets most of the laughs.
Ramis said, "We racked our brains to come up with a consistent cosmology that would make sense because we had to make this leap from ghosts, which are one thing, to inter-dimensional creatures recurring on some kind of karmic wheel. Dan and I worked out our own conception of time and space that would account for what happens."
Aykroyd was amazed and delighted by the reaction of audiences: "They follow the story and our mythology, this whole crazy, silly think. I mean, ghosts? Come on, now. But we make them take it seriously and they're kind of rapt throughout the whole exposition."
His major concern was where the laughs would come from, and that's where Bill Murray came in: "Bill's our point man; his whole attitude is scepticism. We saw him as the mouthpiece, the guy who delivers the punchlines simply because he does it so well."
Murray had a different take on it: "I ended up with a lot of lines because Aykroyd is lazy. He and Harold wrote the script and I had all the lines like 'Let's go', all the sleazy lines, too, and the dumb lines. I had the most lines because they really like days off. Danny likes to drive around and Harold likes to sit at home."
Aykroyd said that Murray became the romantic lead in the film opposite Sigourney Weaver (pictured) because "Bill works well with women that way. I might have been a little stiff."
Murray said, "I think it was a mistake on Dan's part because Sigourney is pretty good fun. She's got style. She's a big drink of water and she's really very funny when you make he laugh. She gets goofy when she laughs."
Murray did not, however, enjoy working with special effects he couldn't see: "It's kind of difficult and kind of boring. You get into a lot of things like, 'OK, there's a sheet of flame in front of you. Look scared.' I did the same thing every time. 'Duhh!' They'd say, 'Great! Print it.' I couldn't believe it. They'd say, 'More scared!' and I'd go, 'Duhhhh!'. They'd say, 'Perfect.'"