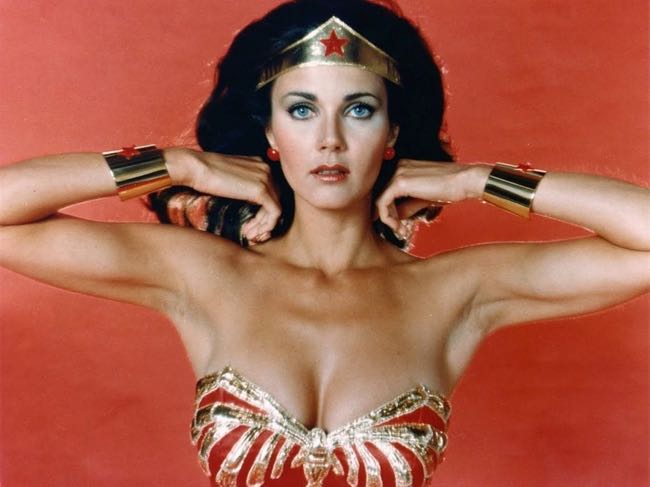 By Ray Bennett
LONDON – Lynda Carter, in her "Wonder Woman" prime, stepped naked and wet from the shower as I said "hello" to begin our interview about life after three seasons as TV's top female superhero.
Sadly, we were more than 2,000 miles apart; she at her ranch just north of Malibu in California, me in Toronto, Canada.  She chuckled as she explained why it had taken her so long to come to the phone. We were live on the radio but I dined out for a long time on my yarn about the time I interviewed Wonder Woman when she was in the nude and it's a fond memory as Lynda Carter celebrates her 65th birthday today.
It was Saturday Oct. 16, 1982, and I was on my regular weekly spot on the topic of television on Radio CJCL in Toronto with popular broadcaster Tom Fulton. He was the pro and I was the TV "expert" and since the radio station was owned by Telemedia, which also owned TV Guide Canada, where I worked, it was a good fit. Not least because I was able to get Hollywood stars live on the phone on a Saturday morning, most of them not in their birthday suit.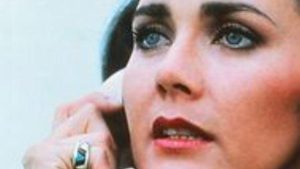 Carter had moved on from "Wonder Woman" after 60 episodes in 1979 and was busy making music specials and TV-movies about social issues such as "The Last Song" (1980), about pollution, and  "Born to be Wild" (1981), about illicit adoptions. Her latest, though, was a straightforward thriller called "Hotline" (right), which was to air the night we spoke. I suggested that she'd done it for the fun of it.
"That's exactly right," she said. "It was very hard to do but it was a lot of fun because it was really the first chance I've had with something like this. It's also the first time that I've ever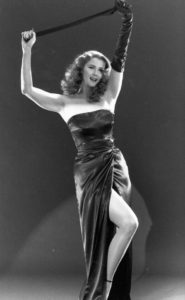 had a romantic interest on television in my entire career."
On "Wonder Woman", Diana Prince performed her derring do with Col. Steve Trevor Jr., played by Lyle Waggoner. He didn't count? She chuckled down the line and said: "Well, no. Not really."
Her career has continued to flourish with TV-movies, including the title role in "Rita Hayworth: The Love Goddess" (1983, left) and TV series such as the private detective show "Partners in Crime" (1984) with Loni Anderson ("WKRP in Cincinnati") and period drama "Hawkeye" (1994) with Lee Horsley. She played the U.S. President in the 2015 TV series "Supergirl" and she remains a very popular singer on the concert circuit with gigs at major venues (below left). She'll be at Hollywood's Catalina Jazz Club and the Apple Room, home of Jazz at Lincoln Center in New York in November.
Some stars who become so closely associated with a TV series on the order of "Wonder Woman" come to regret it later, but that's not been true of Carter. She said, "It's never been a problem with me. I've never felt like it was a problem. I think that actors generally can fall into stereotypes  no matter what series they've been on. People see you every week as one particular person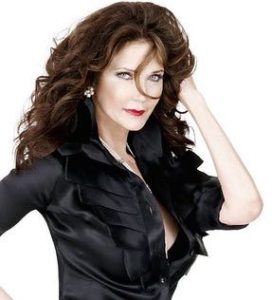 and they sometimes have a hard time readjusting. But they haven't done that so far. They've been tuning in to see pretty much everything I've done and I'm thrilled with that."
Was she concerned that whenever Wonder Woman was mentioned in the media there would be a picture of her in costume?
She said, "It doesn't bother me at all. It is something that I did and I certainly can't control the way that people remember me. I think it will be with my name probably for the rest of my life and afterwards. It'll be in reruns for a long time. It sold well overseas too, in more than 100 countries. There's really no place I can go in the world that hasn't seen it. It's been very good for me, though, because I have a diversified career so it has provided me with an opportunity to be very well known around the world."
Note: Tom Fulton, a terrific broadcaster who went on to become the morning host of CHWO Radio in Oakville, ON, died suddenly of an apparent heart attack in December 2002, aged 58. Radio CJCL is now Sportsbet Radio Fan 590. Read more about Lynda Carter the performer at Lynda Carter Sings