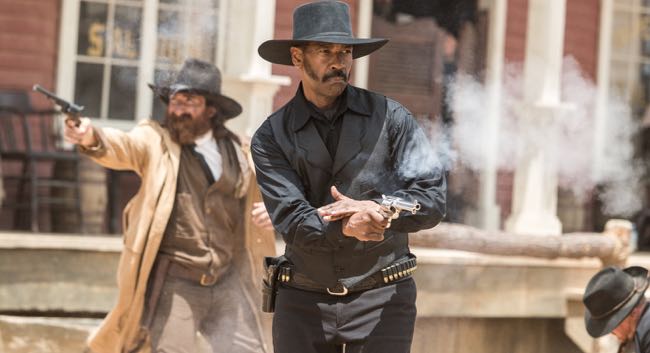 By Ray Bennett
TORONTO – Antoine Fuqua's "The Magnificent Seven" is a rousing Western adventure with stylish set pieces, interesting characters sketched quickly, and a great deal of carnage. It moves fast and loud and should please action fans and lovers of old Westerns.
The film had its world premiere today to kick of the 41st annual Toronto International Film Festival ahead of its Sept. 23 release.
Denzel Washington (pictured above), in his first outing as a period gunman, seems right at home in the saddle and his fellows in arms – Chris Pratt, Ethan Hawke, Vincent D'Onofrio, Byung-hun Lee, Manuel Garcia-Ruffo (pictured below) and Martin Sensmeier – add the right mix of cool, bravado and daring.
Writers Richard Wenk and Nic Pizzolatto draw from the screenplay by Akira Kurosawa, Shinobu Hashimoto and Hideo Oguni for Kurosawa's 1954 original, "Seven Samurai" although the script gives some knowing nods to the 1960 John Sturges version that starred Yul Brynner, Steve McQueen, James Coburn, Charles Coburn and Eli Wallach.
Fuqua wastes no time in establishing Bartholemew Bogue – played dripping with decadence by Peter Sarsgaard – as the embodiment of evil as he sends scores of gunmen to terrorise the hardworking folk in the small mining town of Rose Creek. He wants the gold and he's prepared to render the land and the townsfolk to dust in order to get it.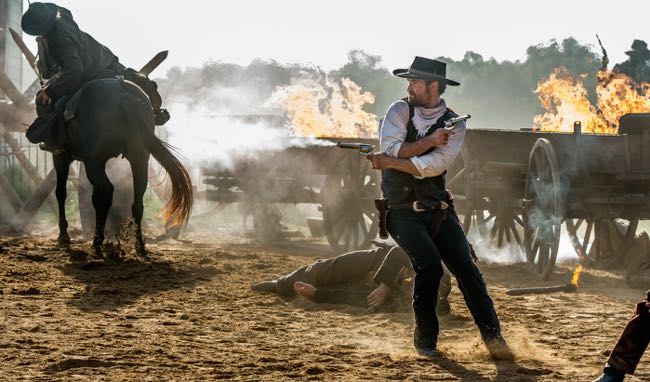 Washington plays a nomadic lawman named Chisholm whose prowess in dispatching a saloon full of bad guys impresses a young woman from the town – Emma, played with spirit by Haley Bennett – so that she persuades him to seek vengeance for the murder of her husband and confront Bogue.
As in the previous films, the first part follows Chisholm as he recruits an assortment of dangerously capable men to join him on his mission. There are echoes of the characters from the Sturges film including one who is very cool, a hothead, a gambler, a man very skilled with a blade, and a coward who flees the coming storm. There's no naive young peasant so Emma steps up impressively and diversity is ensured with a Latino gunman and a Native American expert with bow and arrow.
Once the team is assembled, the action moves to Rose Creek where the hardened veterans must prepare a non-violent population to take on Bogue's army of well-armed and ruthless killers. Their interaction adds to the human element as rifle training proves ineffectual but the locals are keen to help put into place some inventive and effective means of defense.
As good as the performers are, the real stars of the picture are all the stuntmen who carry off a blazing battle on horseback and off with fire, explosions and crashing buildings. Much of the action was filmed in camera with veteran stuntman Jeffrey J. Dashnaw as stunt coordinator and second unit director.
Derek R. Hill's production design and Mauro Fiore's cinematography are both first rate. Composer James Horner, who died last summer in an airplane crash, left behind a suite of themes he had written from the script and his frequent collaborator Simon Franglen completed the score for the picture. There's a full orchestra and it's strong on brass with guitar and flute mixed in for a musical feel that is a mix of traditional and modern. Fans of the late, great Elmer Bernstein, whose theme for the John Sturges film is one of the all-time greats, will not leave disappointed.
Venue: Toronto International Film Festival; Released: UK: Sept. 23 (Sony) US: Sept. 23 (Columbia Pictures); Cast: Denzel Washington, Chris Pratt, Ethan Hawke, Vincent D'Onofrio, Byung-hun Lee, Manuel Garcia-Ruffo, Martin Sensmeier, Haley Bennett, Peter Sarsgaard; Director: Antoine Fuqua; Writers: Richard Wenk, Nic Pizzolatto, based on the screenplay by Akira Kurosawa, Shinobu Hashimoto, Hideo Oguni; Director of photography: Mauro Fiore; Production designer: Derek R. Hill; Music: Simon Franglen, James Horner; Editor: John Refoua; Costumes: Sharen Davis; Producer: Roger Birnbaum, Todd Black; Production: MGM, Escape Artists; UK rating 12A; running time 132 minutes.