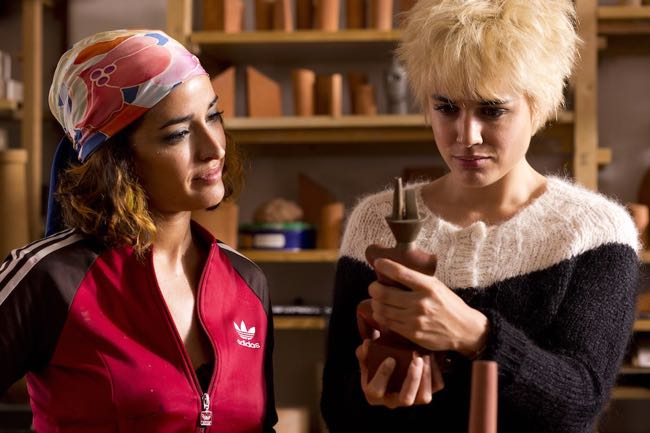 By Ray Bennett
TORONTO – Pedro Almódovar's sublime "Julieta" is a reminder of how, in the hands of a master, a lifetime's drama can be shown movingly and memorably in little more than an hour and a half of great cinema. It is sumptuous with great performances and a marvelous score by Alberto Iglesias.
A tale of motherhood and loss drawn from short stories by Canadian Nobel Prize-winner Alice Munro in her 2004 collection "Runaway", the film follows a melancholy middle-aged teacher in Madrid named Julieta (Emma Suárez, below) as she reflects on her marriage to a romantic fisherman, Xoan (Daniel Grau), and their daughter, Antia, from whom she has been estranged for many years.
Flashbacks show a vivacious younger Julieta (Adriana Ugarte, above right with Inma Cuesta) as she has fateful encounters with two men on a train journey, one whose death appears to foreshadow trouble ahead and one whom she will marry. Almódovar tells the story with such confidence, subtlety and style that the woman's poignant tale becomes moving and memorable.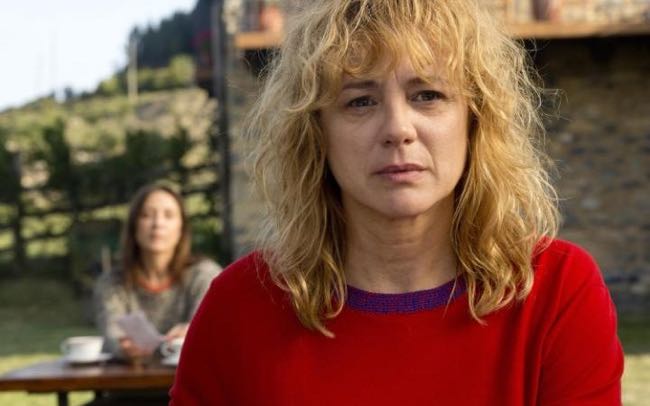 He makes the transition from the beautiful young Julieta to an older, more world-weary woman with a visual effect that is as simple as it is profound and both actresses are striking in their ability to portray the sensibilities of an intelligent but self-doubting woman. They are remarkable.
There's an array of strong female characters played admirably by Rossy de Palma, Michelle Jenner, Inma Cuesta and Susi Sánchez, amongst others, and the men are strong too, including Daniel Grau, Dario Grandinetti and Joaquin Notario.
Antxón Gómez's production design, Sonia Grande's costumes and Jean-Claude Larrieu's cinematography provide the means for Almódovar to create a work of art with rich and vibrant colours with changing moods of sensuality, passion and sadness.
Spanish composer Alberto Iglesias delivers one of the best film scores in years: jazz-inflected with classical influences. His music not only fits the movie beautifully but demands to be heard many more times just as the picture invites further screening for the sheer pleasure of it.
Venue: Toronto International Film Festival; Released: UK Aug. 26 (Pathé, 20th Century Fox) / US: Dec. 21 (Sony Pictures Classics); Cast: Ariane Ugarte, Emma Suárez, Rossy de Palma, Michelle Jenner, Inma Cuesta, Daniel Grao, Dario Grandinetti; Director: Pedro Almodóvar; Writer: Pedro Almodóvar, based on short stories by Alice Munro; Director of photography: Jean-Claude Larrieu; Production designer: Antxón Gómez; Music: Alberto Iglesias; Editor: Jose Salcedo; Costumes: Sonia Grande; Producers: Agustin Almódovar, Esther Garcia; Production: El Deseo, FilmNation; Rated: UK 15; running time 96 minutes.