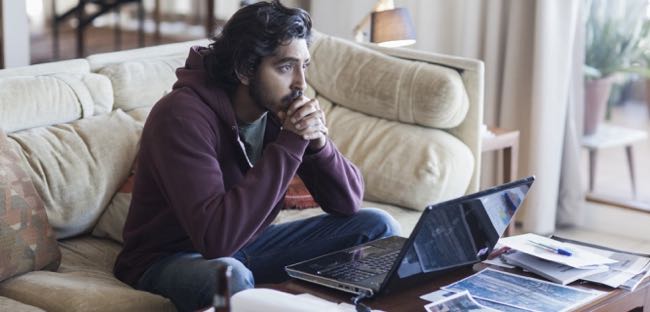 By Ray Bennett
TORONTO – "Lion" tells the incredible true story of a 5 year-old Indian boy named Saroo who gets lost and ends up 1000 miles away from his impoverished family, lands in an orphanage and is adopted by a couple in Australia.
Twenty years later, now a fine young man burdened with guilt over his great fortune, Saroo determines to find his mother and brother although he has no clear memory of where they live. It takes a very long time working with Google Earth to get enough clues to where that might be.
First-time feature director Garth Brooks delivers a sturdy and earnest account of the story with an ending that guarantees tears. He is blessed with the casting of an irresistibly charming and natural actor named Sunny Pawar as the young Saroo and the accomplished "Slumdog Millionaire" star Dev Patel when he is grown. Rooney Mara also is sympathetic as a fellow student, Lucy, who falls in love with him and Nicole Kidman gives a subtle and assured performance as a woman who would rather adopt a needy child than have one of her own.
Abhishek Bharate shines as Saroo's caring older brother in the deeply affecting early scenes of two boys who work hard for their desperately impoverished mother (Priyanka Bose, an indelible presence). When the lads are separated, Saroo falls asleep on a train that is going out of commission and it takes him far, far away to Calcutta. The big city is full of dangers both overt and deceptive and, under Davis's confident direction,  young Pawar makes Saroo's precarious fate worryingly suspenseful.
When he discovers that he is to begin a new life with a benevolent couple in Tasmania (Kidman and David Wenham), the boy's wide-eyed reaction to foreign objects such as an airplane, a television screen and a boat is captivating.
The film becomes more stolid when 20 years have passed and Saroo has grown into a likable young man who goes off the rails when he becomes haunted by the idea of his brother and mother yearning his loss in ignorance.
Davis and scriptwriter Luke Davies don't quite get the balance right as they explore the conflicts of a young man who, compared to hundreds of thousands of his peers in India, won life's lottery but cannot accept it.
A turgid and repetitive orchestral score by Dustin O'Halloran adds to the gloom and while Greig Fraser's cinematography, frequently aerial, makes clear the smallness of any of us in vast landscapes, there are numerous close-ups, especially of the grown Saroo and Lucy, that are simply dull.
The amazing qualities of the story carry the day, however, and the reunion that Saroo seeks offers an optimism that audiences will find endearing.
"Lion" had its world premiere today at the Toronto International Film Festival and will screen at the BFI London Film Festival on Oct. 12. It is due for U.S. release on Nov. 25 with a U.K. release still to be announced.
Venue: Toronto International Film Festival; Released: UK: TBA / US: Nov. 25 (The Weinstein Company); Cast: Dev Patel, Rooney Mara, Nicole Kidman, David Wenham, Pallavi Sharda, Sunny Pawar, Abhishek Bharate; Director: Garth Davis; Writers: Luke Davies based on the book "A Long Way Home" by Saroo Brierley and Larry Buttrose; Director of photography: Greig Fraser; Production designer: Chris Kennedy; Music: Dustin O'Halloran, Volker Bertelmann; Editor: Alexandre de Franceschi; Costumes: Cappi Ireland; Producers: Iain Canning, Angie Fielder, Emile Sherman; Production: See-Saw Films, Aquarius Films, Screen Australia, Sunstar Entertainment, The Weinstein Company; UK rating 12A; running time 129 minutes.