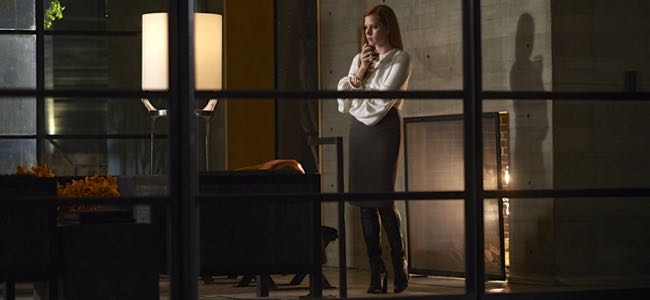 By Ray Bennett
TORONTO – Tom Ford's "Nocturnal Animals", starring Amy Adams and Jake Gylenhaal, is a handsome but fragmented drama about a woman in her 40s who feels alienated from life until a novel written by a former husband gives her hope of salvation.
The film had its North American premiere at the Toronto International Film Festival and it will screen at the BFI London Film Festival on Oct. 14 ahead of national release.
The designer turned filmmaker has adapted a novel called "Tony and Susan" by Austin Wright for his examination of a woman named Susan Morrow (Adams) whose early artistic creativity was warped by self-doubt so that she now curates exhibitions of bizarre modern art that she regards as junk.
Her handsome second husband (Armie Hammer) leads her to believe that his business is in trouble while he dallies in New York with another woman. Her gallery colleague (Andrea Riseborough) and her gay husband (Michael Sheen) worry that she doesn't get enough sleep and she explains that her first husband used to call her a "nocturnal animal".
She's drifting in high style when a package arrives from that first husband, Edward Sheffield (Gillenhaal) whom she hasn't spoken to in nearly 20 years, containing the draft of a novel titled "Nocturnal Animals". As she begins to read, she projects onto the story her own interpretation of events and we see the film that she imagines.
The film switches between a series of sequences from the novel, Susan's current life, and flashbacks to her earlier marriage. She finds the novel to be devastating but as rendered it is actually a piece of pulp fiction about a couple and their daughter who are harassed with dire consequences on a deserted road in West Texas.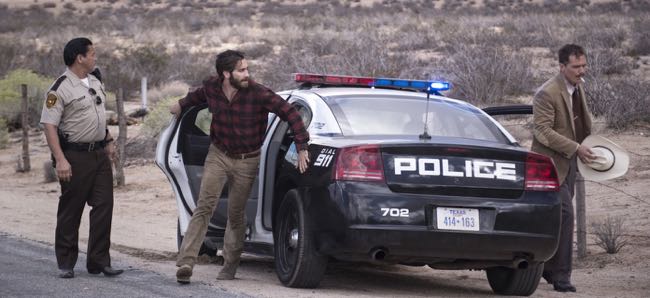 Susan casts Edward in the role of the husband, Tony, and so we see Gyllenhaal (above center) with Isla Fisher as his wife Laura and Ellie Bamber as his daughter India as they are caught up in a violent noir drama.
When three drunken rednecks run them off an isolated road, Tony proves ineffectual in defending his family and only when a complicated Texas detective, Bobby Andes (Michael Shannon) shows up to investigate does he gather reserves of strength.
Bobby Andes is the most interesting character in the movie, a sickly but resourceful man who might be more dangerous than the local toughs. Bobby has all the best lines and Shannon makes him so memorable that he should be in contention for major awards.
Director Ford gives Adams a mountain to climb in the opening sequence of the picture as a series of grossly obese naked women gyrate in slow motion and then lie on slabs to be scrutinized as part of an art exhibition that Susan has curated.
To win sympathy after staging such a cruel and unpleasant show means that Adams must bring all her considerable talents to bear and, of course, she does. She gives Susan more depth than there is in the script as the character reflects silently on her memories and the events of the novel. Her awards string is likely to continue.
Gyllenhaal defines two characters distinctly and while Susan sees Tony and Edward as much the same, they clearly are different men, as we see when secrets from the marriage are revealed. British actor Aaron Taylor-Johnson nails the accent and posture of the louche, grinning and ever-threatening leader of the rednecks. Riseborough, Sheen, Armie Hammer (as Susan's second husband) and Laura Linney (who has one scene as Susan's imposing mother) add colorful cameos.
Shane Valentino's production design is sumptuous in the elegant Los Angeles settings and all dust and poverty in the West Texas shacks while cinematographer Seamus McGarvey captures it all splendidly. Composer Abel Korzeniowski's orchestral score gives the picture a Forties feel generally with echoes of the great detective pictures of the period.
Venue: Toronto International Film Festival; Released: UK: Nov. 4 (Universal Pictures) US: Nov. 18 (Focus Features); Cast: Amy Adams, Jake Gyllenhaal, Michael Shannon, Aaron Taylor-Johnson, Isla Fisher, Ellie Bamber, Armie Hammer, Karl Glusman, Robert Aaramayo, Laura Linney, Andrea Riseborough, Michael Sheen; Director, writer: Tom Ford, based on the novel "Tony and Susan" by Austin Wright; Director of photography: Seamus McGarvey; Production designer: Shane Valentino; Music: Abel Korzeniowski; Editor: Joan Sobel; Costumes: Arianne Phillips; Producers: Tom Ford, Robert Salemo; Production: Focus Features, Universal Pictures; Not rated; running time 115 minutes.