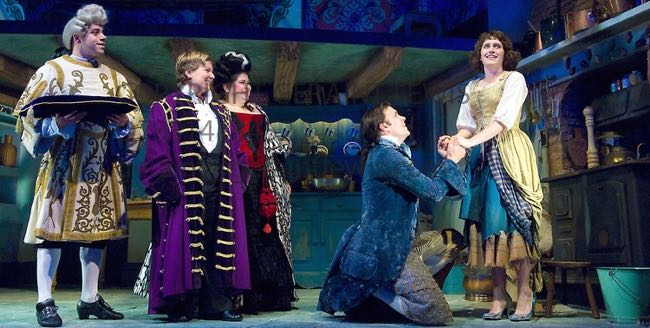 By Ray Bennett
LONDON – The traditional British pantomime, the seasonal romp that mixes fairy tales with broad comedy and lots of innuendo, is given a gay makeover by Stephen Fry in "Cinderella" at the Old Vic.
Many of the traditional elements are in place with men playing the Ugly Sisters, now named Dolce (Mark Lockyer) and Gabbana (Hal Fowler) and a flamboyant Fairy Godmother (Pauline Collins, pictured below).
But the principal boy, usually played by a woman, actually is a boy (Joseph Millson as Prince Charming), while Buttons (Paul Keating) has a crush not on Cinderella (Madeleine Worrall) but on the prince's aide de camp, Dandini (Oliver Chopping).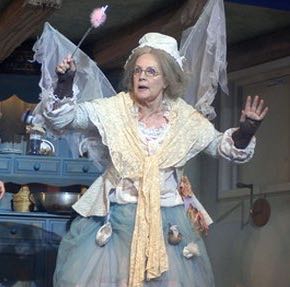 There are colorful sets and lively music by Oscar-winning composer Anne Dudley ("The Full Monty"), but the whole thing feels rushed, as if it were put together at the last minute.
Also, the tone of Fry's innuendo probably is too vulgar for little kids, with the emphasis on mispronunciation so that "her highness" becomes "her anus" and "West Virginia" becomes "west vagina."
Fry's erudition also is on display with references to Plato and terms like "pathological inanition" to describe Cinderella at her most pathetic, but it lacks his usual flair.
The character actually isn't that drab, as Worrall makes the mistreated heiress who does go to the ball quite chipper, and her scenes with Keating's Buttons are good fun.
The two share a love song but not for each other. While Cinderella sings of her longing for the prince, Buttons chimes in with a similar regard for the handsome Dandini. In Fry's panto world, such affections end up being fully requited, but a happy ending always is required.
The Ugly Sisters are appropriately hairy and gross, but a slapstick sequence involving custard pies appears to be done on the cheap and is staged quite poorly.
British radio personality Sandi Toksvig brings a bright insouciance to the role of narrator of the piece and Collins brightens the entire show whenever she appears as a Cockney Fairy Godmother.
Ian McKellen set the standard for pantomime at Kevin Spacey's Old Vic the past two years with his Widow Twankey in "Aladdin," but Fry doesn't come close to matching it.
Venue: Thee Old Vic, runs through Jan. 20; Cast: Pauline Collins; Madeleine Worrall; Paul Keating; Debbie Chazen; Mark Lockyer; Hal Fowler; Joseph Millson; Oliver Chopping; Matthew White; Penny Layden; Narrator: Sandi Toksvig; Book-lyrics: Stephen Fry; Music: Anne Dudley; Director: Fiona Laird; Set designer: Stephen Brimson Lewis; Lighting designer: Tim Mitchell; Choreographer: Francesca Jaynes.
This review appeared in The Hollywood Reporter.