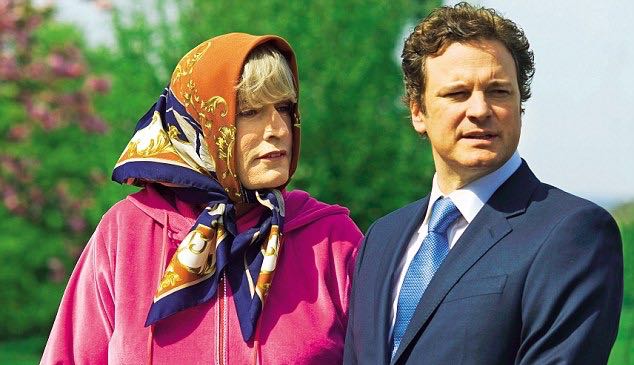 By Ray Bennett
LONDON – To remake eccentric English comedies is seldom a good idea, especially the ones from Ealing Studios with all those wonderful character actors. But against all odds, the new version of "St. Trinian's" almost pulls it off.
Based on characters created by cartoonist Ronald Searle as a distraction during World War II, the original films from the 1950s and '60s starred the incomparable Alastair Sim as headmistress of a girls' school whose pupils turn to anarchy. It was all stocking tops and hockey sticks with the likes of Terry-Thomas, George Cole and Lionel Jeffries ogling the wild young beauties while Joyce Grenfell, Beryl Reid and Hermione Baddeley tried to maintain order.
Directors Oliver Parker and Barnaby Thompson, who have tried their hands at Oscar Wilde, bring the St. Trinian's girls up to date with Rupert Everett (pictured left with Colin Firth), who apparently had the idea, taking the Sim role as Miss Fritton. It's like water off a duck's back even though no one could match the original actor's extraordinary comic gifts.
Everett's pretty good, though, playing off himself as the schoolmarm's conniving brother Carnaby and flirting outrageously with Colin Firth as Geoffrey Thwaites, the minister of education who is trying to close the joint down. The headmistress greets him carrying a small dog named Mr. Darcy.
Firth is in good form too, once again displaying his talent for physical comedy, as he becomes the victim of some aggressively silly pranks by the formidably inventive young ladies, who include the wonderful Gemma Arterton (pictured centre below).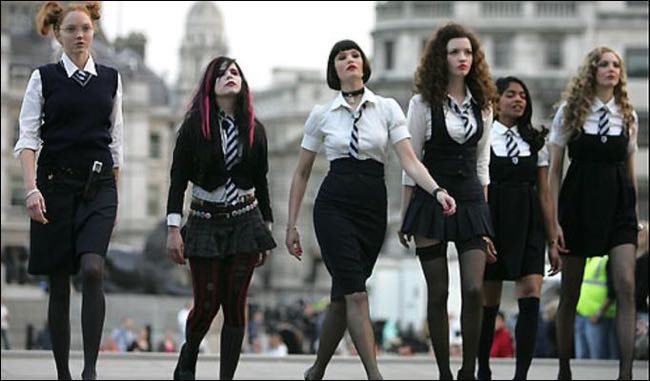 The semblance of plot follows Carnaby's daughter Annabelle (Talulah Riley) as she moves to St. Trinian's as part of her father's scheme to sell the school for the real estate. She quickly learns the outrageous rules and learns that the enterprising young women also manufacture specialty goods such as killer liquor and designer tampons for a local criminal named Flash Harry, played with assurance by hot British comedian Russell Brand.
When the education minister's plan to close the school meshes with Carnaby's desire to profit from its sale, Miss Fritton sets on a scheme to make enough money to carry on misbehaving in the school's tradition.
When a popular television quiz for schools is to be held at the National Gallery, they plot to enter the contest so they can steal a famous painting. Mischa Barton ("The O.C.") and Stephen Fry have small cameos as the film turns into a reasonably entertaining caper film featuring lots of very appealing young women, which makes a pleasant change from the usual sweating heavies.
Cast: Rupert Everett; Colin Firth; Jodie Whittaker; Lena Headey; Russell Brand; Talulah Riley; Celia Imrie; Gemma Arterton; Toby Jones; Mischa Barton; Stephen Fry; Directors: Oliver Parker, Barnaby Thompson; Writers: Piers Ashworth, Nick Moorcroft, based on the Ronald Searle cartoons; Director of photography: Gavin Finney; Production designer: Amanda McArthur; Director of photography: Gavin Finney; Music: Charlie Mole; Costume designers: Rebecca Hale, Penny Rose; Editor: Alex Mackie; Producers: Oliver Parker, Barnaby Thompson; Executive producers: Rupert Everett, Nigel Green, James Spring; Production: Entertainment Film Distributors (U.K.), Ealing Studios, Fragile Films; No rating; running time 101 minutes.
This review appeared in The Hollywood Reporter.