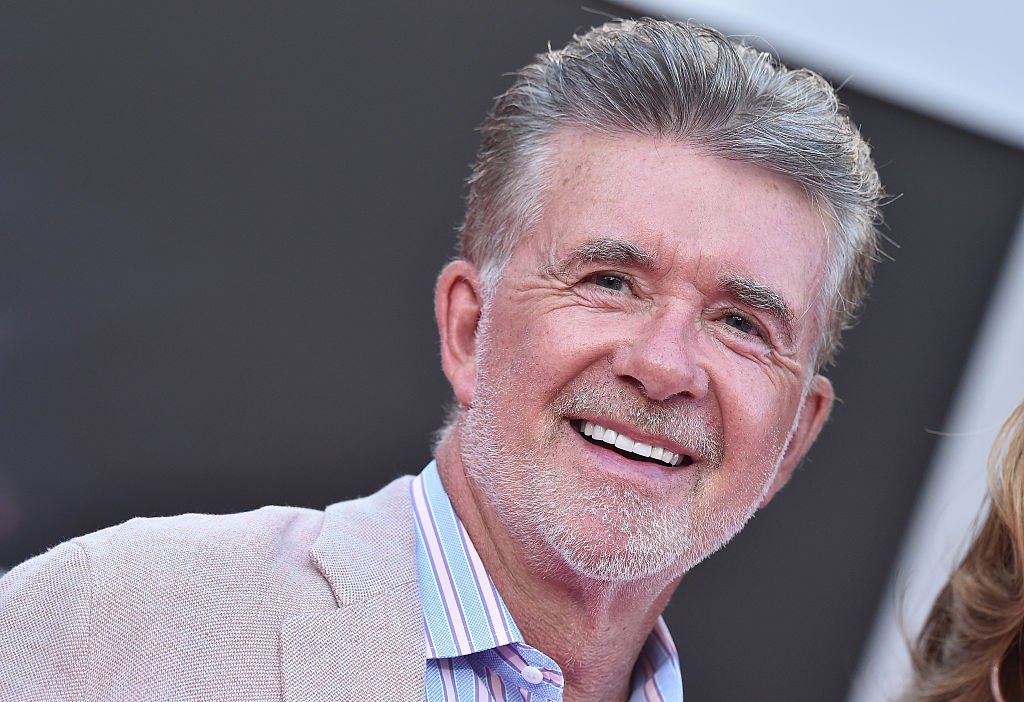 By Ray Bennett
Canadian writer and performer Alan Thicke, who died on Tuesday aged 69, was one of the good guys. He found lasting fame on the Eighties sitcom "Growing Pains" but he was multi-faceted and he had to overcome one of the most public failures in TV history.
As he told me once, "nothing succeeds in Hollywood like failure, as long as you fail big."
A popular daytime talk-show host on Canadian TV as well as a busy writer and producer, Thicke was hired by former network wunderkind Fred Silverman to front a U.S. late-night talk-show that aimed to challenge Johnny Carson.
Silverman touted "Thicke of the Night" so enthusiastically that by the time it launched in syndication via MGM Television in September 1983, it was too hot not to cool down. Fast. With regulars such as Richard Belzer, Arsenio Hall and Gilbert Gottfried, it featured new acts including the TV debut of the Red Hot Chili Peppers and it was an entertaining program.
The problem was that it was in syndication. Carson was never threatened and without a strong network lead-in ratings faltered. Stations across the county began to bale and it was cancelled after one season.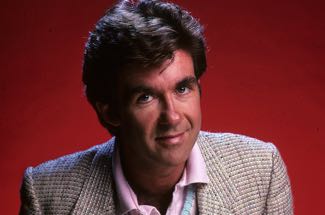 I met Thicke first in February 1984 on the set of "Winter Carnival in Quebec", a TV special starring Anne Murray, for whom he was a regular writer. Even in the freezing cold of a Quebec City winter, Thicke was warm and friendly despite the turmoil of his career.
Almost two years later, I interviewed him in Los Angeles for a cover story in TV Guide Canada and he was as candid as always.
It ran just before Christmas and a few days into the new year, I received an unpretentious card from him that read:
"Many thanks for the upbeat, encouraging tone of your TV Guide piece. My grandmother was very proud. (She worries when she reads the vicious and/or depressing stuff.) Your story was a happy ending to an otherwise difficult '85. All the best to both of us in the New Year! sincerely, Alan Thicke
P.S. Sorry for the non-Gucci stationery but I got it in Kirkland Lake where the choices are limited!
Here's my TV Guide story from Dec. 27, 1985.
CHRISTMAS COMES EARLY FOR ALAN THICKE
By Ray Bennett
Then: Alan Thicke stood on a barren soundstage in the ashes of the much ballyhooed but now cancelled "Thick of the Night" talk show, the syndicated series that was hyped to knock "The Tonight Show" off its heralded thronw.
Taping of the final show was complete and the bandstand was being dismantled. Thicke's youngest son, Robin, now 8, looked up at his father. "Well, Dad, did we beat Johnny Carson?"
Thicke sighed. "No, son, I'm afraid we didn't." Brennan, his older brother, now 10, said glumly, "You know, maybe we should have stayed in Vancouver."
Now: It smelled and sounded like Christmas. The door opened to the unpretentious neighborhood dwelling not far from the San Diego freeway in what Hollywood disdainfully calls "the Valley".
From the doorway, the dinner table was visible where Thicke and his sons were munching on chicken. The chatter was about homework and what TV viewing was to be allowed that night.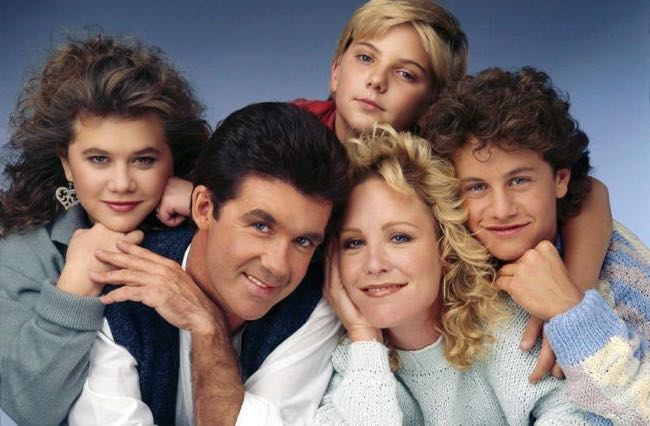 It was a routine family evening for the Thicke family but Christmas was in the air because "Growing Pains" (ABC and Global), the comedy series that has seen Thicke's resurrection, was taping its Christmas episode. Not only that, but "Growing Pains", despite the dire predictions of many critics before the season began, has turned out to be a resounding hit.
The show, positioned handily between two of ABC's few hits – "Who's the Boss?" and "Moonlighting" – is one of this year's highest-rated new shows. Christmas came early for Alan Thicke and nobody mentioned Vancouver.
The Kirkland Lake, ON, boy, who became a jack-of-all-trades television writer, producer, compser, host and actor and parlayed success on CTV's Vancouver-based daytime program "The Alan Thicke Show" into a shot at full-blown U.S. fame only to to meet with the ultimate pie in the face, is back on his feet.
"I don't say I'm having the last laugh at this point," Thicke says, "because I hope I still have a lot of laughs left, but I was humiliated and embarrassed this past year. In many ways, I'm starting life over."
Not only was Thicke's trumpeted talk show cancelled, but his 14-year marriage to singer and "Days of Our Lives" soap star Gloria Loring ended. The double-whammy knocked Thicke sideways. "I retreated," he says. "I locked myself away in my little house and wrote. I didn't know what else to do. I'm too old to play professional hockey. I went right back to work."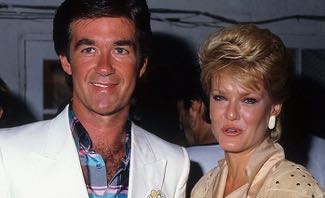 Loring (with Thicke, left) had the long hours of "Days of Our Lives" to concentrate on while Thicke set about finding work. While readying the small Valley house that had been his company office for himself and the boys to move into, Thicke spurned Hollywood society and retreated at night to the luxury Thicke/Loring home before it was sold in the aftermath of divorce. His friends called him "The monk of Brentwood".
In the process, Thicke made two important discoveries. One was that he found out who his true friends were. He says pals such as hockey star Wayne Gretzky, record producer David Foster and singer Anne Murray never wavered. The other was that nothing succeeds in Hollywood like failure, as long as you fail big.
"'Thicke of the Night' was an unproducible, unmanageable experiment," he says. "I don't think you'll see anything like it tried for a while."
Which, for him, is a shame. He loved the variety his career allowed him: "I've always referred to myself as a kind of minimalist, a master of B-talent, a sort of renaissance fast-food artist. I would have been perfectly happy to just float through life indulging in all the things that I enjoyed. That was the fun of my life and work."
Instead, he had to stop spreading himself thin and focus on one thing. He wrote three series pilots, each of which is now in development at different Hollywood studios, and then settled on acting. ABC offered him three different shows before "Growing Pains". The producers had seen and tested more than 100 actors the show before Thicke's name came up.
"It was not a vehicle created for me. Nobody handed it to me," Thicke says. "I'm proud to say I studied the script and developed an approach to it. I went in and read for it and earned it."
What the show's creator and co-producer Neal Marlens liked about him was his accessibility as an actor and the fact that Thicke is an active parent. Marlens based "Growing Pains" on his own childhood memories. His mother is a psychologist and his father a newspaper reporter and editor. On the show, Thicke plays psychiatrist Jason Seaver with Joanna Kerns as his reporter wife Maggie. She has returned to work and Jason has moved his practice home to take of their three children.
Marlens says he wasn't concerned about the failure of "Thicke of the Night": "The public is much more forgiving than you might think. They're willing to take each new work in its own light."
When the show's announcement brought forth derisive speculation from critics, Marlens says it merely strengthened everyone's resolve. But when the show proved a hit, he says, "you could see Alan relax".
Co-star Joanna Kerns, whose first regular series was "The Four Seasons", says that Thicke warned her of the possible critical reaction. "He was wonderful," she says. "He took me aside and said, 'I want you to be prepared. There are people out there who don't like me.' When we went on and saw the numbers, there was a big sigh of relief from all of us."
Everyone on the show acknowledges that it was Bill Cosby who showed that family comedies were still in demand but Thicke denies that "Pains" is a Cosby show clone: "You could say 'Cosby' was a clone of 'Father Knows Best' or 'Ozzie and Harriet'; these are all simple family situation comedies and we are one more family on the block."
He feels close to the role because he takes fatherhood very seriously: "The one thing I was never negligent in was the raising of the children and the time I spent with them. I parent on the buddy system, which is liberal and trusting, and in another 10 years we'll know whether that worked or not, if they're still out of jail."
Thicke says that he and Loring woke up one day and realized that with all their business interests they were communicating through secretaries: "We got so busy with our successes that we lost time with each other. You kind of shrug and say, 'Gee, you and I haven't been doing the same things for a while.' It's sad."
Thicke knows what sad is. Son Brennan has juvenile diabetes, which is one reason Thicke and Loring work so hard with the Juvenile Diabetes Foundation: "When you live through that and the changes in your life and your dreams and goals for your child are compromised by a chronic disease, things can come and go and you learn to live with them."
And so, in spite of the divorce, the Thicke family Christmas tradition carries on this year. The boys spend Christmas Eve with their dad, Christmas Day with their mother, and then it's off to Canada. "No matter where we've lived," Thicke says, "Christmas has always meant Kirkland Lake with my grandparents."
There, Thicke will reflect on his own growing pains: "There have been some hard lessons learned but there are some great opportunities in prospect and friends and family in support. We'll just hope that there's no looking back now."
Photo of Alan Thicke and Gloria Loring: Getty Images