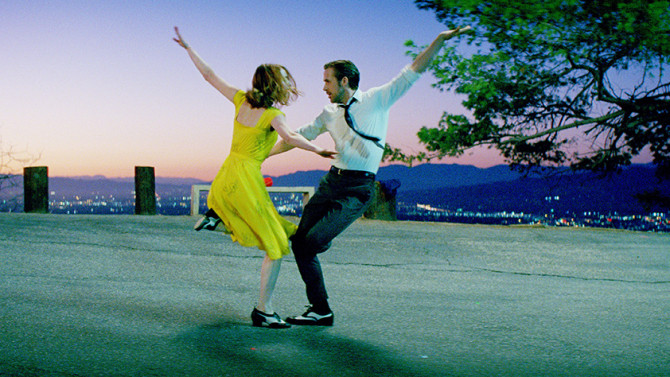 By Ray Bennett
Damien Chazell's musical fantasy "La La Land" starts badly but evolves into a sweet little film for romantics thanks largely to winning performances by Emma Stone and Ryan Gosling.
A tale of two dreamers whose ambitions in Hollywood are at odds in many ways but dovetail when it comes to romance, it's a shame that the director's love for musical overkill threatens to swamp a charming story.
"La La Land" begins with such aggressively appalling musical numbers that when I went to see it at the Toronto International Film Festival, I fled after 20 minutes. Only when film lovers I trust  urged me to stick with it did I discover something genuinely pleasing.
The film starts with a protracted scene in which brightly coloured people in brightly coloured cars, all stalled in a traffic jam on a Los Angeles flyover, emerge to prance about, leaping on and off vehicles, belting out a banal number about another sunny day. I hoped to see Steve Martin drive up ready for some freeway gunplay as in his "L.A. Story", but no such luck.
There's a lame meet-cute when Mia (Stone) fails to start her car immediately the jam breaks up and Sebastian (Gosling) behind her honks his car horn impatiently so she gives him the finger.
Mia wants to be an actress so she works at a coffee-shop on the Warner Bros. lot where she can go to auditions and then go home to the kind of apartment that only a production designer could provide for a penniless wannabe. She shares her home with three beautiful girls who also dream of Hollywood success and the four of them like to dress up, look at themselves in mirrors, and dance and sing in the streets on their way to the kind of fancy parties seen only on "Entourage".
On her way home from one such shindig, Mia walks unmolested down a dubious street where she hears the tinkling of a piano, which turns out to be Sebastian sneaking one of his jazz pieces into a lounge set of Christmas tunes ignored by restaurant diners.. Fired as a result, he barges past Mia as she attempts to praise his playing, and that's meet-cute number two.
Sebastian is a serious piano player whose ambitions to open a serious jazz club have to wait while he plays in hotel lounges and in hapless cover bands at those same fancy parties where Mia runs into him again. Another loud and unpleasant musical number ensues and that's when I walked out the first time.
It transpires, however, that the film is much like an airplane ride where the first 20 minutes is horrible turbulence but then it settles into a comfortable flight toward a pleasing destination.
Mercifully, we never see the freeway performers or the flatmates again as the film focuses entirely on Stone and Gosling. Besides their established acting talent, they prove to have gifts in song and dance entirely up to the limited challenges they are offered and while the songs they perform are average at best, they do it well. Gosling also is a splendid pianist although his form of jazz is of the easy-going type.
As the film progresses, Chazelle ("Whiplash") hits his stride with increasingly delightful fantasy sequences that capture the kind of dreamy ambition that echoes old musical romances. The exception is a solo by Stone in which the director has her stand meek and expressionless with her arms at her sides. Chazelle really should take a look at what Woody Allen achieved with another actress turned singer, Diane Keaton, in two magical scenes in "Annie Hall". Even with her tiny voice, Stone could do that.
Thankfully, the Stone-Gosling chemistry is intoxicating and there's much more to enjoy. The rapturous romance is tempered with a very smart bitter-sweetness that lingers pleasantly long after the music is forgotten.
Opens: Dec. 16 U.S. (Lionsgate) / Jan. 13 U.K. (Lionsgate); Cast: Ryan Gosling, Emma Stone; Director, writer: Damien Chazelle; Director of photography: Linus Sandgren; Production designer: Davi Wasco; Music: Justin Hurwitz; Costume designer: Mary Zophres; Editor: Tom Cross; Producers: Fred Berger, Gary Gilbert, Jordan Horowitz, Marc Platt; Production: Black Label Media, Gilbert Films, Impostor Pictures, Marc Platt Productions; Rated: PG 13 U.S. / 12A U.K. ; running time, 128 minutes.