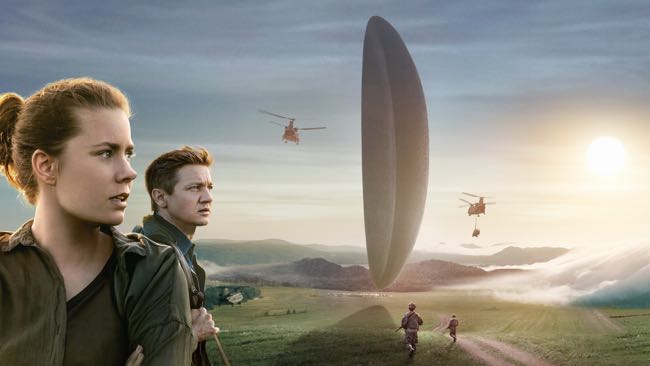 By Ray Bennett
LONDON – Repeat screenings of the Academy Awards nominees serve to reinforce original impressions so while I doubt that it will win, my choice for best picture remains Denis Villeneuve's profound sci-fi picture "Arrival" (pictured).
Kenneth Lonergan's "Manchester by the Sea" is a haunting and ultimately life-affirming story of grief and guilt and I would not be displeased if it were to win.
The same goes for David Mackenzie's terrific modern Western "Hell or High Water" and I would smile if Theodore Melfi's warm and rewarding "Hidden Figures" took the top prize.
Garth Davis's "Lion" is what soccer fans call a game of two halves – the first section is captivating and thrilling while the second is pedestrian.
Denzel Washington's talkathon "Fences" captures August Wilson's stage play in a manner not much different from the way the National Theatre and others capture their stage productions for cinemas – in other words, it's not really a movie so much as a play caught on film. The problem is too much reverence for Wilson's dialogue. They cut Shakespeare, don't they?
Mel Gibson's "Hacksaw Ridge" also has two distinct parts, one labours over establishing a young man's religious conviction, the second is a zombie war picture with the Japanese depicted as soulless and extraordinarily agile ghouls. Leaves a nasty taste in the mouth.
Damien Chazelle's "La La Land", on third viewing, is a celebration of mediocrity in story and execution as two not very talented people pass on happiness to find a degree of fame. Some dreamy sequences are let down by unmemorable music.
Another viewing of "Moonlight" fails to reveal all the great things that so many other people appear to find in the film with its main failing simply that it's extremely dull.
Here are my choices in some of the other categories:
Director: Denis Villeneuve ("Arrival") for creating a sci-fi movie that is both thrilling, thoughtful and deeply involving. Runner-up: Kenneth Lonergan for "Manchester by the Sea".
Actor: Casey Affleck ("Manchester by the Sea") explores a complex character without sentiment and the choices he makes serve the film brilliantly. Ryan Gosling does well to make a jerk look like a great guy in "La La Land". Denzel Washington deservedly won the right prize for his splendid performance in "Fences": a Tony Award. I have great regard for Viggo Mortensen but I hated "Captain Fantastic" from the opening scene to the last.
Actress: Amy Adams delivered the two best performances of the year in "Arrival" and "Nocturnal Animals" but she is not nominated. I hope Isabelle Huppert wins.
Supporting actor: Michael Shannon has the best lines in "Nocturnal Animals" and, boy, does he nail them. I love Jeff Bridges ("Hell or High Water") but these days he appears to speak with a mouthful of marbles. Lucas Hedges does splendid work in "Manchester by the Sea" but all the acclaim for Mahershala Ali in "Moonlight" remains a mystery to me.
Supporting actress: Michelle Williams doesn't have a lot of screen time in "Manchester by the Sea" but she is heartbreaking. Viola Davis deserves an Oscar, period. But she also has a Tony for "Fences"..
Music: Mica Levi does so much of the heavy lifting in "Jackie" that were Natalie Portman to win as best actress she should give the composer half of her prize.
Original screenplay: Kenneth Lonergan for his deeply affecting "Manchester on Sea". Fine work too by Taylor Sheridan ("Hell or High Water") and Mike Mills for "20th Century Women", a shaggy tale with great performances by Annette Bening and Greta Gerwig. It's a sort of female "Wonder Boys" with a similar rich vein of observation and humour.
Adapted screenplay: Eric Heisserer for exploring aspects of time and wonder in a cinematic and accessible form.