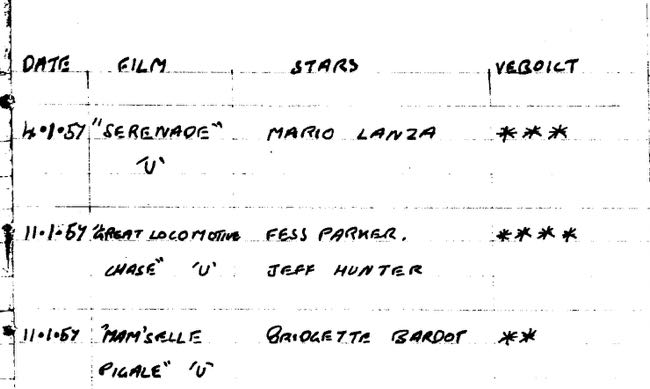 By Ray Bennett
LONDON – My life as film critic began 60 years ago with a log of movies I saw along with my verdict on each one. I was 11.
The first movie image I recall seeing was of a man with curly white hair in a battered top hat who reaches deep into a pocket of his baggy overcoat and when he draws out his hand, his fingers and thumb are lighted candles.
Harpo Marx in "A Night in Casablanca". Harpo tries to comfort a girl named Maggie on a park bench. He pretends that his eyes are made of glass and he mimes removing them, cleans them and puts them back. He plays "Happy Birthday" on his harp and does the magic with the candles.
The first movie I saw on my own was the musical "White Christmas", with Bing Crosby, Danny Kaye, Rosemary Clooney and Vera-Ellen, when I was 9. The Odeon cinema in Ashford, Kent, was packed and I entered right in the middle of the picture. One of the usherettes led me down the aisle with a torch to find a seat and I had that amazing sensation of going from daylight into the darkened corridor of a cinema to emerge in a crowded auditorium with a giant, glittering screen.
I've loved it ever since. My professional career commenced 55 years ago when I was 16 as a trainee reporter on the Gravesend Reporter in north Kent and over a long career on newspapers and magazines in the U.K., Canada and the United States, I have always found a way to write about the cinema.
The first feature in my movie log, which I kept from January 1957 to January 1959, was a musical titled "Serenade" starring Mario Lanza. It was based on a novel by James M. Cain although even with Anthony Mann as director it didn't retain much from the noir writer. The opera was fine, though, and I gave it three stars.
I learn now that director Michael Curtiz ("Casablanca") optioned the novel originally and he used a similar approach when he adapted "A Stone for Danny Fisher" by Harold Robbins into an Elvis Presley vehicle titled "King Creole", which earned a full five stars in my movie log.

I was a big Elvis fan and so "Loving You" and "Jailhouse Rock" also received five stars although an exploitation quickie titled "Don't Knock the Rock", featuring Bill Haley and Little Richard, got only three.
I'm pleased to see that the five-star accolade went to "The Fastest Gun Alive" with Glenn Ford, "Mister Roberts" with Henry Fonda and Jack Lemmon, "Fear Strikes Out" with Anthony Perkins, "Enemy Below" with Robert Mitchum, "Teacher's Pet" with Doris Day and Clark Gable.
"The Vikings" with Kirk Douglas and Tony Curtis also had five stars along with "Indiscreet" with Cary Grant and Ingrid Bergman, "The Young Lions" with Marlon Brando, Mongomery Clift and Dean Martin, "The Defiant Ones" with Sidney Poitier and Tony Curtis, and Hitchcock's "Vertigo" with James Stewart and Kim Novak.

I'm amused to see that I gave Lewis Allen's wartime romance "Another Time, Another Place" three stars and mentioned Lana Turner, Glynis Johns and Barry Sullivan but not future 007 Sean Connery.
When I turned 12, I began to add a comment or two to some entries. Martin Ritt's black-and-white drama of marital strife "No Down Payment" earned five stars and the comment: "Brilliant acting, amusing and highly dramatic". Set in a California sub-division, its ensemble cast included Joanne Woodward, Tony Randall, Sheree North, Jeffrey Hunter and Canadian-born British actress Patricia Owens, with whom I was in love at the time, which probably accounts for the rating.
Even with Patricia Owens, however, the original "The Fly" rated just three. "The Fiend Who Walked the West" starring Hugh O'Brian and future producer Robert Evans was "amusing at times" with three stars. Raoul Walsh's film of the Norman Mailer World War II novel "The Naked and the Dead", which I had read, was deemed "slightly too long" with four stars. I'm pleased that along with Aldo Ray and Cliff Robertson in the cast I noted William Campbell, Richard Jaeckel and James Best.
War pictures "Ice Cold in Alex" and "Dunkirk", both with John Mills, were "typically British" with four stars apiece. Anthony Mann's swampy sex tale "God's Little Acre" with Robert Ryan and Tina Louise, was "weird" with three stars.
Arthur Penn's Western "The Left Handed Gun" with Paul Newman as Billy the Kid based on Gore Vidal's play, had "good acting" at four stars. My favourite childhood star Roy Rogers had played William Bonney in "Billy the Kid Returns" (1938) and another favourite of my youth, Audie Murphy, played him in "The Kid From Texas" (1950).
That led to two lifelong literary interests, first tales of the Old West, which resulted in discovering the wonderful novels of Larry McMurtry, and then, after Audie Murphy starred in "The Quiet American" (1958), discovering Graham Greene, whose novels I re-read every 10 years.
My parents said that when I was little and they asked me what I wanted to do in life, I said, "I want to be a reporter and go to Hollywood and meet Roy Rogers." And that's what I did.