By Ray Bennett
VENICE – Movies with the name Casanova in the title have almost always been stinkers so it's bold of Lasse Hallstrom to call his film simply "Casanova", but it turns out to be a welcome exception to the rule as it's a smart and sophisticated comedy romp.
It has been a while since a sensible sex comedy of this entertaining sharpness has been around, but Hallstrom's film is a genuine crowd-pleaser that should have exhibitors everywhere smiling along with huge numbers of moviegoers.
The city of Venice has never looked so scintillating onscreen and the glorious setting is the perfect background for a tale of love and lust and mistaken identity that never stoops to the ludicrous posturing and leering typical of most period farces.
Richard Lester's excellent Musketeer movies come to mind along with a little Monty Python but the screenplay by Jeffrey Hatcher and Kimberly Simi, from a story by Simi and Michael Cristofer, borrows cleverly from Shakespeare too in its pleasing symmetry.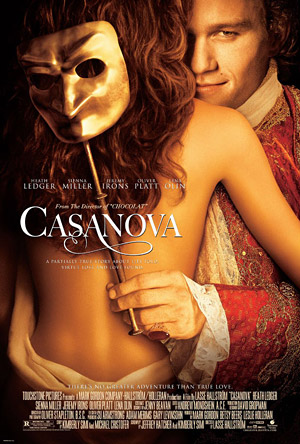 The film delights in a time when even in so flourishing a city as Venice, individuals are known only by their names and not their faces. It's happily foreign to today's world where image is everything and it allows for deception at the highest level, which the film exploits to the full.
Many of the principal characters in "Casanova" pretend to be someone else for assorted reasons, mostly lust, and it's a source of great merriment that their undoing is an early version of one of the most ubiquitous institutions of modern times: advertising.
It is 1753 and Casanova (Heath Ledger) is so celebrated a lover that he is lampooned by players in St. Mark's Square and puppet shows all over Venice. The Inquisition has him on its most-wanted list for debauchery and when they raid a nunnery in pursuit of him, Casanova flees his complicit noviciate and every nun in the place blows him a kiss on his way out.
His protector, the Doge (Tim McInnerny) tells him that to be saved from the Inquisition, he must leave Venice forever or get married and so Casanova and his manservant Lupo (Omid Djalili) go in search of the perfect bride.
Meanwhile, Francesca Bruni (Sienna Miller) is awaiting the arrival of her fiancé, Paprizzio, the mogul of Genoa, whom she has never met but must marry at the desperate wish of her mother (Lena Olin). Francesca's brother Giovanni (Charlie Cox) spends his time ogling the local virgin, Victoria (Natalie Dormer), but cannot bring himself to approach her.
When Casanova and Victoria meet, she blossoms with a lust so pulsating that she snaps thick wood with her fingers, and the two become engaged. Annoyed by this development, Giovanni challenges Casanova to a duel although he does realise he is the notorious seducer.
Knowing her brother is not good with a sword, at least not one with a blade, Francesca takes his place and fights Casanova to a draw. Only when the duel ends is she revealed as a beautiful woman and Casanova is smitten immediately. When he discovers that she favours the writing of a philosopher whose books espouse a woman's point of view, he employs that philosophy to pursue her, little knowing that she is in fact the writer of those books using a nom-de-plume.
In the tradition of great farces, the story then tumbles delightfully along its eccentrically logical path with wonderful figures showing up including Paprizzio (Oliver Platt) and the chief inquisitor Pucci (Jeremy Irons), and there's many a twist before the tale is finally told.
Ledger provides a well-measured comic counterbalance to his grimly gay cowboy in "Brokeback Mountain," and Miller finally emerges from the publicity furore of her relationship with Jude Law to show that she is a beautiful and highly capable screen actress for whom stardom clearly beckons.
Irons is an ice pick of drollery and Pratt has great fun mimicking Orson Welles in his Mr. Creosote period while the remainder of the cast – including veteran Paddy Ward, with a couple of lovely Edward Everett Horton moments – take advantage of a clever script and a director having the time of his life. Jennie Beavan's costumes are a delight and Alexander Desplat's sprightly music adds greatly to the sumptuous feel of the film.
Venue: Venice International Film Festival, screened Out of Competition Sept. 3 2005; Released: Jan. 6 2006, U.S. (Buena Vista), Feb. 17, U.K. (Buena Vista); Cast: Heath Ledger, Sienna Miller, Lena Olin, Natalie Dormer, Charlie Cox, Jeremy Irons, Oliver Platt, Phil Davies, Stephen Greif, Omid Djalili, Paddy Ward, Ken Stott, Tim McInnerny, Helen McCrory, Leigh Lawson; Director: Lasse Hallstrom; Writers: Jeffrey Hatcher, Kimberly Simi; Story: Kimberly Simi, Michael Cristofer; Director of photography: Oliver Stapleton; Production designer: David Gropman; Music: Alexandre Desplat; Costumes: Jennie Beavan; Editor: Andrew Mondshein; Producers: Mark Gordon, Betsy Beers, Leslie Holleran; Executive producers: Su Armstrong, Adam Merims, Gary Levinsohn; Production: Touchstone Pictures, Mark Gordon Company-Hallstrom/Halleran; UK rating: 12; running time 108 mins.