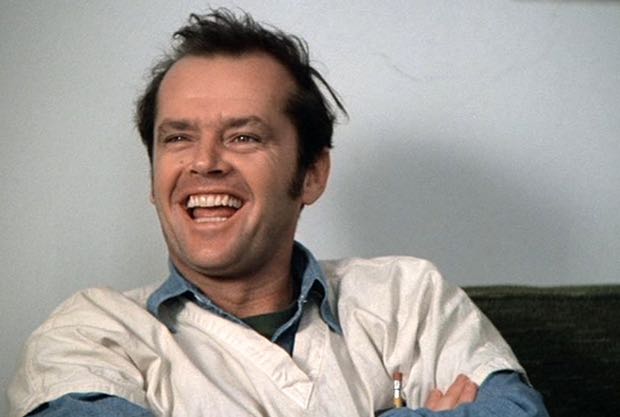 By Ray Bennett
NEW YORK 1975 – Jack Nicholson appears in the breakfast room of a fancy Manhattan hotel on a Saturday morning in a baggy brown suit, no tie, his dark shirt collar inside his jacker, and dark glasses. He lights a Marlboro and scrounges coffee and says "You mean you guys actually got up for breakfast?" He curses lazily, shaking his head. "I'm wrecked."
It's the morning after the launch party for Milos Forman's long-awaited film version of the Ken Kesey novel "One Flew Over the Cuckoo's Nest". [The film is back in U.K. cinemas April 14, a BFI release to mark Nicholson's 80th birthday on April 22.]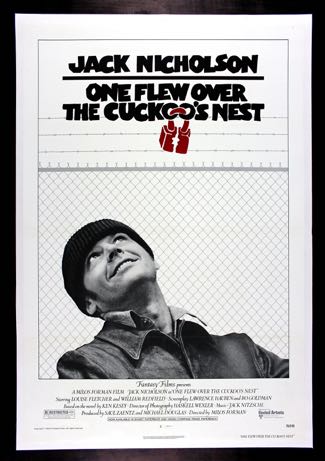 That morning 40-odd years ago, Nicholson is relaxed with the kind of confidence that $1-million a picture will give a man. The fact that his new film is one of the best American movies in years doesn't hurt either.
Nicholson plays Randall Patrick McMurphy, a streetwise loudmouth who lands in jail for fighting in bars and a slight case of statutory rape. "She told me she was 18 but she was 15 going on 35," McMurphy says.
To get out of a jail sentence, he feigns craziness and is removed to the Oregon State Hospital, which he sees as a sure, swift and cozy route to freedom. Things turn out a little differently as he gets to know the other men on the ward and comes face-to-face with the only authority they know – the self-righteous and unyielding Nurse Ratched, played icily in the film by Louise Fletcher (below left).
The actress had been virtually retired for 10 years before Robert Altman cast her in "Thieves Like Us" (1974). Some writers at the press event complain that Fletcher softened the role from the hard-nosed character in the novel. Director Forman disagrees: "The fanaticism of the righteous is much more convincing than a black-and-white villain. It's much more tragic if a person is doing wrong while believing that she's doing good. In the book, she's one-dimensional."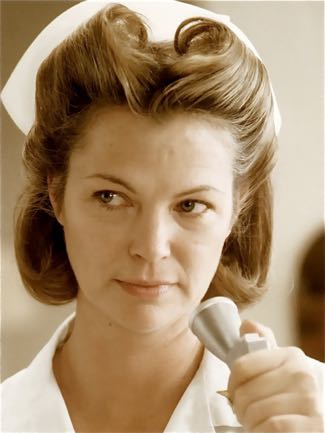 Kesey tells his story, as Nicholson sees it, "through the ideas of a schizophrenic Indian poet. Forman takes a more objective viewpoint, which is almost mandatory in order to render the work on film. But the riotous comedy and ultimate tragedy of the book are intact thanks to great performances by the two leads and a terrific cast that includes Danny DeVito, Christopher Lloyd, Vincent Schiavelli, Brad Dourif, Will Sampson and Scatman Crothers. Jack Nitzsche's score, which features a musical saw, is haunting and unforgettable.
Nicholson says, "When I first read the book, just after it came out in the Sixties, I thought what a fabulous part it would be for an actor but I was too young at the time."
Kirk Douglas agreed. The "Spartacus" star bought the property and starred for six months (1963-64) on Broadway in a theatrical version by Dale Wasserman. But a movie never materialised as Douglas could not persuade a Hollywood studio to take it on.
In 1971, his actor son Michael Douglas took it over and while Kirk, at 60, was now too old for the role, he promised he would make good his father's investment.
[At the New York junket, Michael Douglas gives me an exclusive: he's going to quit his hit TV series "The Streets of San Francisco". It's one of my very few scoops.]
Nicholson, at 38, was exactly right for the role. There have been many stories about the actor's personal research into mental hospitals but he says that is not so: "Milos did most of the research during the time of writing the script [by Lawrence Hauben and Bo Goldman]. Most of my performance comes from that research. I didn't do a lot. It all came from the script and discussions."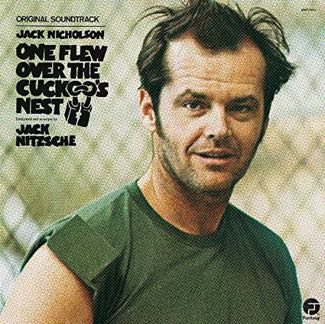 The actor says he never thought the strength of the story was in its milieu: It's a story of an individual who, if he was more sophisticated, would realise where the actions were taking him. He's a street guy who's trying to beat a jail-rap and he changes into someone concerned about what's happening to the other men on the ward. That's why he's so let down by the others not telling him that they are voluntary patients while he's committed to treatment. The real strength is not about mental institutions; it's simply a human story."
Nicholson knows that he has a problem with each movie he makes. It's called fame following great acclaim for his performances as the alcoholic lawyer in "Easy Rider" (1969), the disillusioned pianist in "Five Easy Pieces" (1970), the sarcastic sailor in "The Last Detail" (1973) and the cunning private eye in "Chinatown" (1974).
At the preview screening in New York, there is applause as soon as he appears on screen. It's as if the audience felt, ah, here's Baddusky or J.J. Gittes to set everything straight.
Nicholson says, "As you become better known, that is a problem. Audiences tend to have expectations based on what you've done previously and what they know about you. I try not be become too well-known. I've been very lucky as an actor. I've thought for a while that it's not to an actor's credit to be too successful too soon. No-one's that good at acting in films until he's done it for a while. In my case, it was learned by doing.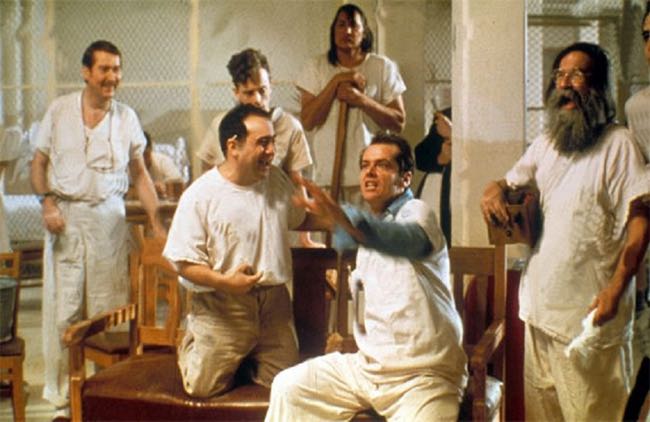 "As a result of not being well-known for much of my career, my instincts are aesthetic more than for the money. It's the challenge of what I can with a character that I look for. If you're not growing as an actor, it's not too much fun to do."
Although he has worked with other European directors – Antonioni, Polanski, Ken Russell – Nicholson says he doesn't do it deliberately: "I think everybody makes creative decisions on a specific basis but I don't choose a project because the director is American or European. I do go to school on all the directors I work with, though.
"I get an average of two scripts a day to read but at the present I'm in the happy position of not being committed to anything. I've cleared the boards so I can direct. Next June, I want to make 'Moontrap', a western set in Oregon in the 1850s about fur-trappers. It's a novel by Donald Berry. He's a history professor. It's a mystically tinged wester, really."
He says television does not interest him but if 'Cuckoo's Nest' had been planned for TV the role might have been strong enough to attract him: "I don't like my movies on television. What I'm attempting to do doesn't read on TV. I don't think any ground has ever been gained by selling an inch to television. The idea of showing 'The Last Detail' on TV is absurd. I've done television in my time but I'm not too good at it.
"If I could, I would stop all of my films being shown on TV but it's out of my hands. And I'm not disposed to doing a sequel to 'Chinatown'. I'm asked a lot about that I feel it smacks too much of cashing in on something."
With the press conference over, I have one small question for Nicholson. In Kesey's book, McMurphy dreams of escaping to Canada. I want to know if Nicholson feels that was an accident of geography since the story is set in Oregon or, in light of all the Vietnam draft evaders, if it has a deeper significance.
Nicholson grins his killer grin: "I think it's the traditional refuge, isn't it? Ever since the days of Sitting Bull."
• "One Flew Over the Cuckoo's Nest" was a major hit and went on to win five awards at the 48th Oscar ceremony: best picture, best actor and actress, best director and best adapted screenplay. Nicholson has won two more Academy Awards (best supporting actor for "Terms of Endearment" (1983) and best actor for "As Good as it Gets" (1998) and Forman picked up a second Oscar for "Amadeus" (1985), which won eight awards including best picture. Bo Goldman won a second Oscar for his original script for "Melvin and Howard" (1981). Fletcher's success did not lead to stardom and when I asked Forman about that at the time of "Amadeus", he smiled regretfully and said, "Bad choices, sadly." Jack Nicholson never managed to get "Moontrap" made but he did direct and star in a sequel to "Chinatown". Titled "The Two Jakes" (1990), it was a flop.
Here's the new BFI trailer for "One Flew Over the Cuckoo's Nest" http://www.bfi.org.uk/whats-on/bfi-film-releases/one-flew-over-the-cuckoos-nest?gclid=CN7X-NeYmtMCFUu6GwodTlwCVg