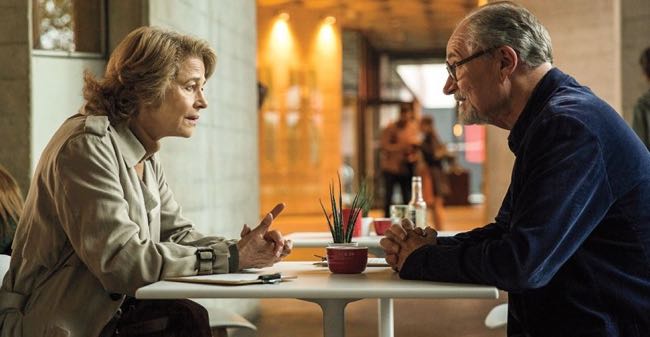 By Ray Bennett
LONDON – The problem with Ritesh Bafra's new film "The Sense of an Ending", which opens in the U.K. today, is that it makes very little sense and it has no ending.
Reviews of the Man Booker Prize-winning novel on which the movie is based suggest the same is true of the book but no doubt it is saved by the fine writing of Julian Barnes.
On the same basis, the film is worth seeing for the pleasure of watching Jim Broadbent, Harriet Walker, Emily Mortimer, Michelle Dockery and Charlotte Rampling (pictured top with Broadbent) at work.
Broadbent plays Tony Webster, the second most boring man in the world, as he delves into an incident 50-odd years ago about which he has a very faulty memory. Tony is in his 70s and has somehow made a very comfortable living selling and repairing Leica cameras.
A solitary and crotchety fellow, his only friends, whom he sees rarely, are from his schooldays. Otherwise, it's just the ex-wife (Walker) and a very pregnant lesbian daughter (Dockery).
His anonymous life is disturbed when he receives the bequest of £500 and a mysterious package following the death of a woman named Sarah (Mortimer) whom he knew at college in the Sixties. Tony was in love with the woman's flighty daughter, Veronica (Freya Mavor) and in flashbacks we learn of their awkward romance.
We also see young Tony (Billy Howle) in class with a handsome young man named Adrian, who becomes his best friend. There's an odd weekend visit to Veronica's posh family home where he meets the most boring man in the world, her father, and an aggressive brother, neither of whom play any further role in the story.
The issue at hand is a diary kept by Adrian that Veronica (now Rampling) declines to hand over. There was also a vicious letter that Tony wrote to Adrian when his best friend betrayed him by becoming engaged to the young Veronica. Suicide ensued.
There's another character who might be somebody's son or brother or something: it's not clear and the casting doesn't help as the age of the character does not seem right.
Tony spends a lot of time rehashing everything with his ex-wife, supposedly a Queen's Counsel, and his daughter and then finally with Veronica. What happened all those years ago remains shrouded in mystery in Nick Payne's adapted screenplay.
Broadbent carries the film with lugubrious flare and Walker chimes in with typical wit. Rampling mostly remains inscrutable but utterly watchable in her few scenes. The young ones are pretty but bland although Mortimer makes the mother flirty and enjoyable.
What it's all about, though, is very hard to say and the characters are so dull that it's difficult to muster much interest.
Released U.K. April 14 (StudioCanal); Cast: Jim Broadbent, Charlotte Rampling, Harriet Walter, Michelle Dockery, Freya Mavor, Billy Howle, Joe Alwyn; Director: Ritesh Bafra; Writer: Nick Payne, based on the novel by Julian Barnes; Director of photography: Christopher Ross; Production designer: Jacqueline Abrahams; Music: Max Richter; Editor: John F. Lyons; Costumes: Odile Dicks-Mireaux; Producers: Ed Rubin, David M. Thompson; Executive producers: Glen Basner, Ben Browning, Peter Hampden, Milan Popelka, Aaron Ryder; Production: Origin Pictures, BBC Films, FilmNation Entertainment; Rating: U.K. 15; running time, 108 minutes.