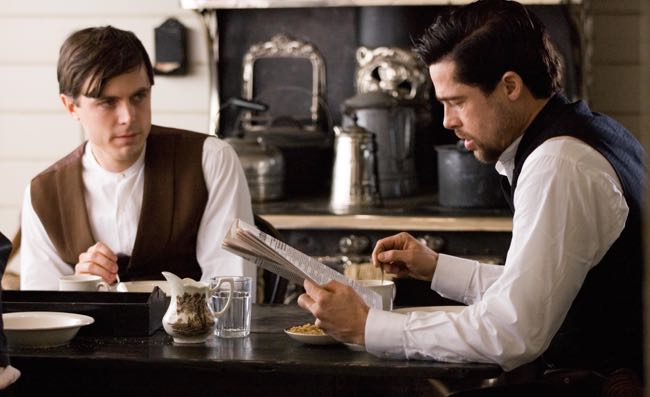 By Ray Bennett
Top 10
1. The Assassination of Jesse James by the Coward Robert Ford
2. The Band's Visit
3. I Served the King of England
4. The Diving Bell and the Butterfly
5. Atonement
6. Michael Clayton
7. The Bourne Ultimatum
8. The Savages
9. 4 Months, 3 weeks and 2 Days
10. Zodiac
"The Assassination of Jesse James By the Coward Robert Ford" is easily my choice as best film of the year with Andrew Dominik best director. It is an epic Western, elegant, detailed and profound, with an evocative production design by Patricia Norris, beautiful images by cinematographer Roger Deakins and expert editing by Curtiss Clayton and Dylan Tichenor. Dominik's screenplay, adapted from a novel by Ron Hansen, gives a fine cast topped by Brad Pitt and Casey Affleck (pictured) plenty to work with.
My Top 10 list above for The Hollywood Reporter was restricted to films released in the United States. Otherwise Nikita Mikhalkov's wonderful Russian remake of "Twelve Angry Men," titled simply "12," would be in there.
Other non-English language films I liked very much this year include Spanish director Jose Luis Guerin's lyrical "In the City of Sylvia," Marc Forster's moving Afghan tale "The Kite Runner," Samuel Benchetrit's nutty French comedy "I Always Wanted to be a Gangster," Russian director Alexandre Sokourov's somber war story "Alexandra," Nae Caranfil's enthralling Romanian period epic about filmmaking, "The Rest is Silence," Austrian director Stefan Ruzowitzky's offbeat concentration camp tale "The Counterfeiters," and German/Turkish director Fatih Akin's story of ethnic strife, "The Edge of Heaven."
English-language movies close to the Top 10 include Julie Delpy's smart comedy "2 Days in Paris," Jason Bateman's hugely appealing "Juno," Werner Herzog's riveting POW picture "Rescue Dawn," and Wong Kar-Wai's first English-language film, the romantic "My Blueberry Nights."
Best director:
Andrew Dominik (The Assassination of Jesse James by the Coward Robert Ford, pictured above)
Elan Kolirin (The Band's Visit)
Jiri Menzel (I Served the King of England)
Joe Wright (Atonement)
Nikita Mikhalkov (12)
Honourable mentions: Jason Bateman (Juno), David Fincher (Zodiac), Paul Greengrass (The Bourne Ultimatum), Jose Luis Guerin (In the City of Sylvia), Tamara Jenkins (The Savages), Cristian Mungiu (4 Months, 3 Weeks and 2 Days), Julian Schnabel (The Diving Bell and the Butterfly), Alexandre Sokourov (Alexandra).
Disappointments:
"No Country For Old Men" because the Coen Bros. refused to accept that they'd made a thriller, and only a thriller.
"There Will Be Blood" for being crazily operatic.
"American Gangster" for looking nothing like a Ridley Scott film.
"Ratatouille" because everyone said it was a treat but it wasn't half as funny or interesting as "Bee Movie"
Dire:
"Knocked Up," "The Darjeeling Limited," "Lust, Caution," "Into the Wild," "Walk Hard: The Dewey Cox Story."