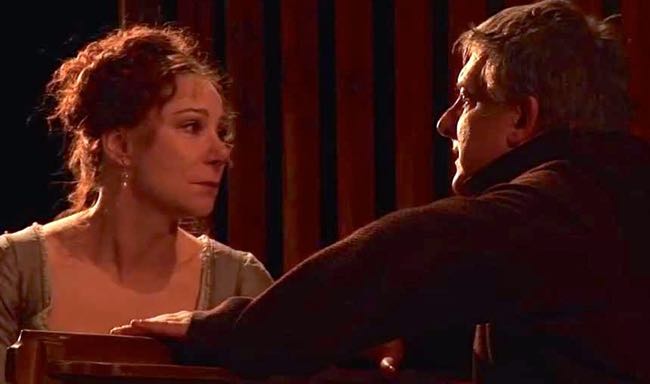 By Ray Bennett
LONDON — Simon Russell Beale and Zoe Wanamaker (pictured) breathe new life into the roles of belated lovers Benedick and Beatrice in Nicholas Hytner's warmly enjoyable production of "Much Ado About Nothing" at London's National Theatre.
Clearly not youngsters, Beale and Wanamaker find the irony and humor in a couple that once shared something like love but lost it along the way. Encouraged by mischievous friends and family to believe that each is smitten with the other, they convey their characters' loneliness and misgivings about contemplating happiness.
Their love story is a subplot in another Shakespeare play dealing with sexual jealousy spurred by envy and hunger for power. But where "Othello" is dark and pessimistic, "Much Ado" takes a happier path.
The "nothing" of the title derives from a word meaning "misperceptions," and that's what the "much ado" is about, with hotheaded Claudio (Daniel Hawksford) persuaded that his betrothed, the angelic Hero (Susannah Fielding), has misbehaved ahead of their wedding day.
This causes much grief between their respective fathers, Don Pedro, the Prince of Aragon, (Julian Wadham) and Leonato (Oliver Ford Davies), while the prince's bastard brother Don John (Andrew Woodall) conspires to ruin the match.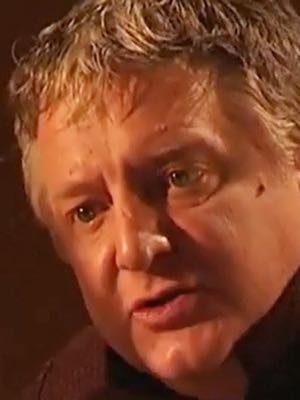 The set is made up of wooden beams of the kind to be found in a sauna bath, but it rotates serviceably to create the Sicilian setting of Leonato's extended family. Hytner uses it to comic effect as Benedick and Beatrice eavesdrop on the conversations that lead them back to romance.
Beale (right) is hilarious as a man who has accepted bachelorhood with some regret but who now rediscovers the possibilities of a life with a partner. Ducking behind beams too narrow to hide his girth and at one point diving fearlessly into a pool to avoid being found makes his physical comedy as rich as the wordplay.
Beale finds new ways to declaim familiar sentences to mine the querulous joy Benedick experiences as passion is renewed. Wanamaker matches him to create a truly grown-up love affair.
Hawksford's Claudio and Woodall's Don John add bite to the proceedings, and Davies makes the dismayed father of the bride deeply moving. Mark Addy gives the nitwit patrolman Dogberry added dimension, while Oscar-winning composer Rachel Portman drapes the production in her elegant score.
Venue: National Theatre, runs through March 29; Cast: Simon Russell Beale; Zoe Wanamaker; Mark Addy; Oliver Ford Davies; Julian Wadham; Andrew Woodall; Daniel Hawksford; John Burgess; Susannah Fielding; Zoe Wanamaker; Trevor Peacock; Playwright: William Shakespeare; Director: Nicholas Hytner; Set designer: Vicki Mortimer; Costume designer: Dinah Collin; Lighting designer: Mark Henderson; Music: Rachel Portman; Choreographer: Struan Leslie; Sound designer: John Leonard.
This review appeared in The Hollywood Reporter.