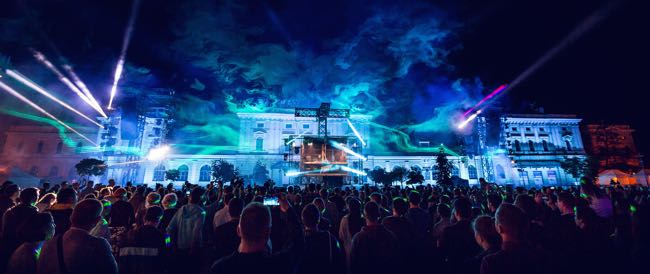 By Ray Bennett
KRAKOW – Composer and music producer Giorgio Moroder showed that he has lost none of his steam at 77 as he was the special guest dee-jay at an Eighties-style late night street party as part of the Krakow Film Music Festival.
Dance2Cinema: Midnight Express Party was a free show on Jan Nowak-Jeziorański Square next to the city's train station that attracted a huge crowed eager to disco-dance the night away.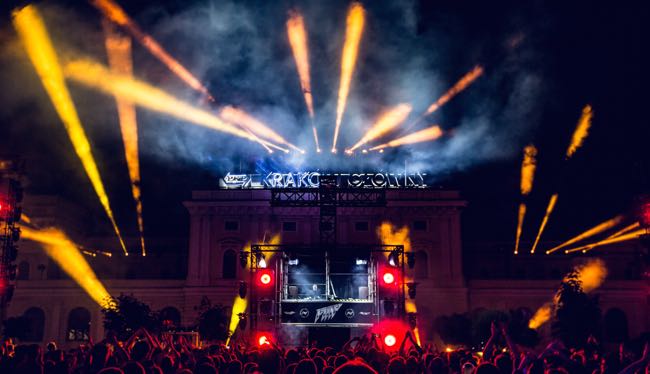 The Italian musician has won three Academy Awards – one for best original score for Alan Parker's drugs drama "Midnight Express" (1978) and the others for best song: "Flashdance … What a Feeling" (lyrics by Keith Forsey and Irene Cara) for Adrian Lyne's "Flashdance" (1983) and "Take My Breath Away" (lyrics by Tom Whitlock) from Tony Scott's airforce thriller "Top Gun" (1986).
His set at the street party included his own music including his contribution to the North American release of Wolfgang Petersen's "The Neverending Story" (1984) plus hits by David Bowie, Cher, Kylie Minogue and Daft Punk.
Documentary producer, actress and vocalist Maria Sadowska opened the night's entertainment. Her 2006 jazz album "Tribute to Komeda" celebrated the work of Polish film composer Krzysztof Komeda who scored Roman Polanski's films "Knife in the Water" (1962), "Cul-de-sac" (1966), "The Fearless Vampire Killers" (1967), and "Rosemary's Baby" (1968).
Polish dee-jay, composer and producer Wojtek Urbański, who has composed music usually with a techno beat for animation, theatrical performances, films and fashion shows, closed the outdoor show.