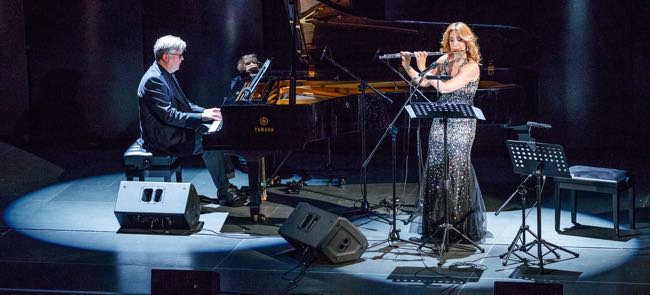 By Ray Bennett
KRAKOW – With charm, skill and a good deal of wit, French pianist, composer, educator, orchestrator, and music producer Jean-Michel Bernard provided a fresh perspective on a range of well-known movie and television themes on Thursday night.
Highlights included Lalo Schifrin's beautiful theme for Stuart Rosenberg's prison picture "Cool Hand Luke" (1967) featuring the peerless Sara Andon (pictured above) on flute, sparkling renditions of Schifrin's themes for the Sixties TV shows "Mannix" and "Mission: Impossible", Alex North's inspired music for Stanley Kubrick's epic "Spartacus" (1960) and Jerry Goldsmith's wonderful score for Paul Verhoeven's racy "Basic Instinct" (1992)
The two-hour recital in the Theatre Hall at ICE Krakow was part of the Krakow Film Music Festival series Cinematic Piano in which recognised artists are invited to present original interpretations of film music.
Alone at the keyboard, Bernard displayed great virtuosity with a winning command of a wide variety of movie cues, themes and melodies gained from classical training and playing the blues. He said, "After four years playing with Ray Charles, maybe I can play some blues."
"To play at the best film music festival in the world is a great honour," the Frenchman said and he began with a selection of pieces by French composers: the music from Phillipe Sarde's song "La Chanson d'Helene" sung by Romy Schneider in Claude Sautet's romantic drama "The Things of Life" (1970); Francois de Roubaix's principal theme for Jose Giovanni's crime drama "Scoumone" (1972) starring Jean-Paul Belmondo and Claudia Cardinale; and Francis Lai's theme from Claude Lelouch's drama "Live for Life" (1967) starring Yves Montand, Candice Bergen and Annie Girardot.
A handful of themes illustrated his own talent for writing movie scores as a cue from Anne Giafferi's romantic comedy "Ange et Gabrielle" (2015, a.k.a. "Love at First Child), starring Isabelle Carre and Patrick Bruel, led to his opening title theme for Michel Gondry's comedy drama "The Science of Sleep" (2006) starring Gael Garcia Bernal and Charlotte Gainsbourg.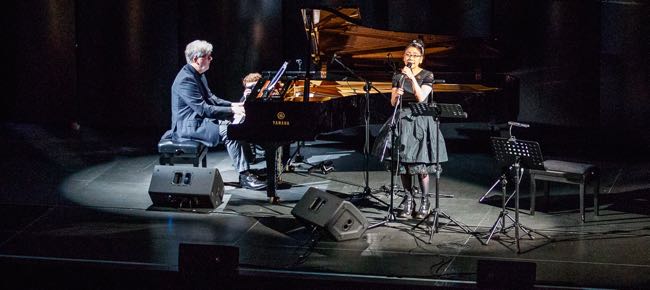 Bernard's wife Kimiko Ono (pictured above) lent her restrained and lovely voice to his song "Here With You" (lyrics by Charlie Kaufman) from Gondry's "Human Nature" (2001) starring Tim Robbins, Rhys Ifans and Patricia Arquette, who sang it in the picture. Ono stayed for Bernard's "Golden the Pony Boy" (for which she wrote the lyrics), the end-title song from "The Science of Sleep". They were joined by cellist Jan Stoklosa, who remained to accompany the piano on a radio program theme written by Bernard titled "Je vous écris du plus lointain de mes rêves".
Bernard ended the set with the music from his plaintive song "Mr. Fletcher's Song" (lyrics by Paul Barman and Michel Gondry) from Gondry's "Be Kind Rewind" (2008) starring Jack Black, Yaslin Bey and Danny Glover, who played Mr. Fletcher. The song was performed in the film by Bernard and the late blues singer Moe Holmes.
Moving to the Hollywood greats, Bernard treated the audience to inventive examinations of familiar themes that included John Williams's "E.T. The Extra Terrestrial" (Steven Spielberg, 1982) and "Schindler's List" (Spielberg, 1983), Bernard Hermann's "Taxi Driver" (Martin Scorcese, 1976), Bill Lee's "Mo' Better Blues" (Spike Lee, 1990), Ennio Morricone's "The Fifth Day of Piece" (Giuliano Montaldo, 1970)  and Ryüchi Sakamoto's "Merry Christmas Mr. Lawrence" (Nagisa Ôshima, 1983).
Bernard has also collaborated with Lalo Schifrin and he praised the great Argentinian composer for his influence on film music. He followed Schifrin's "Cool Hand Luke" theme with a suite from his scores for Richard Lester's "The Four Musketeers" (1974) and Richard Fleischer's "Che!" (1969) that Bernard called "The Cheketeers", and the TV themes "Mannix" and "Mission: Impossible".
Kimiko Ono performed delightfully Schifrin's song "That Night" (lyrics by Norman Gimbel), which Sally Stevens sang in Mark Rydell's drama "The Fox" (1967), and following "Spartacus" and "Basic Instinct", Bernard ended the evening with a typically cheeky impromptu Chopin fantasy.
After prolonged standing applause for an evening's entertainment during which the pianist sometimes ventured successfully into Victor Borge territory, Bernard returned to the piano to sign off with a piece he called "Rappel (Recall): A Handful of Keys" in tribute to Fats Waller's 1938 album of that name.