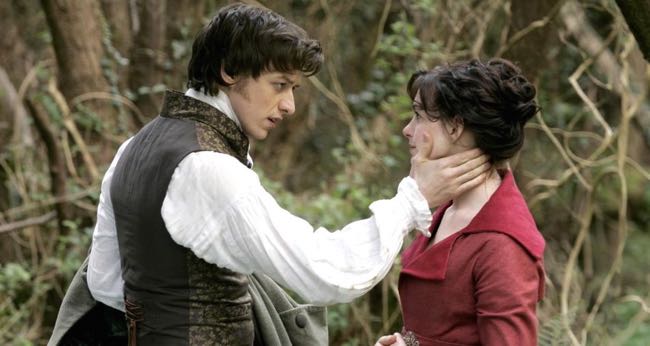 By Ray Bennett
The new Austen biography, "Becoming Jane," provided the lone oasis of moderate pleasures in the Top 5 U.K. box office at the weekend.
Eddie Murphy's latest embarrassment, "Norbit," claimed the top spot with $3.8 million with noisy cop comedy "Hot Fuzz" still a cash magnet in second place while "Ghost Rider" plummeted 53% in third.
Julian Jarrold's period romance starring Anne Hathaway and James McAvoy (above) claimed $1.3 million, however, just beating Nick Love's absurd vigilante shoot-'em-up "Outlaw."
Here's how my review of "Becoming Jane' begins in The Hollywood Reporter:
It's a beguiling fancy to portray Jane Austen as the heroine of one her own stories, but Julian Jarrold's "Becoming Jane" does just that.

The result is a charming romantic drama that draws on the author's observant prose and elegant wit and boasts winning performances by Anne Hathaway as Austen and James McAvoy as the love of her life.
The film will please its natural audience of fans of English costume dramas and should also draw moviegoers seeking respite from violent epics and rowdy comedies.

With its handsome look and polished contributions from reliable performers including Julie Walters, Maggie Smith and James Cromwell, "Jane" will take its place alongside the best screen versions of Austen classics.

Buena Vista International releases it in the U.K., and Miramax Films aims for an Aug. 3 U.S. release.