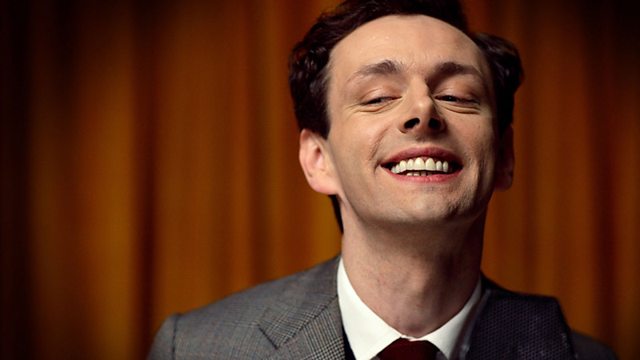 By Ray Bennett
LONDON – Kenneth Williams, whose sucked-in cheeks, rolled eyes and stretched vowels were known best internationally from the cheerfully vulgar "Carry On" comedies, was born a princess who longed for a Prince Charming but was far too fastidious to act out his dreams.
That is according to a poignant new BBC biopic, "Kenneth Williams: Fantabulosa!", which airs on BBC4 on Monday. Screenwriter Martyn Hesford has drawn from the late comic actor's diaries to depict a tortured soul who could never escape his own fussiness long enough to get close to anyone other than his indulgent mother.
Michael Sheen is on track for the top British acting awards for his incisive portrayal of a man who made homosexuality sound like fun on TV and radio in the days when it was illegal in the U.K. An accomplished entertainer in West End revues, he bought routines from the very young Peter Cook, before "Beyond the Fringe" made Cook a star.
Williams became a household name in England thanks to his outrageous antics on such BBC Radio comedies as "Hancock's Half Hour" and "Round the Horn", and he was a stalwart in the long-running "Carry On" pictures.
Director Ben Evans sticks very close to Williams in an 80-minute biography that will work better with those who know Williams's story than those who don't.
In the insufferable days before the laws were changed, gay men led harshly closeted lives and even Williams's dear old mum, Louisa (Cheryl Campbell, in a fine performance) was convinced her son was "asexual, none of that mucky stuff".
He wasn't alone on the "Carry On" gang with Charles Hawtrey (David Charles) there, but he found he could speak openly only to gay friends such as playwright Joe Orton (Kenny Doughty) and his lover Kenneth Halliwell (Ewan Bailey). That relationship, of course, did not end well, although the film does not dwell upon Orton's murder.
On camera and especially in the narration, Sheen captures Williams's flamboyance and uniquely exaggerated manner of speech. Williams was so lonely and self-involved that he didn't care to stick around to take care of his doting but increasingly senile mother. The film doesn't shrink from the man's selfishness but it captures his dogged wit and illuminates his sadness with great compassion.
Airdate: March 13 2007 (BBC4); Cast: Michael Sheen, Cheryl Campbell, Peter Wight, Beatie Edney, Kenny Doughty, Ron Cook, Martin Trenaman, David Charles, Ewan Bailey, Rachel Clarke, Stephen Critchlow, Guy Henry, Ged McKenna; Director: Andy de Emmony; Writer: Martyn Hesford, based on "The Diaries of Kenneth Williams"; Director of photography: David Odd; Production designer: Janice Flint; Art director: Keith Slote; Music and sound: Norwell & Green. Producer: Ben Evans; Executive producers: Richard Fell, Sally Woodward Gentle; Producer: Ben Evans; Executive producers: Richard Fell, Sally Woodward Gentle; Production: BBC Drama.
This review appeared in The Hollywood Reporter