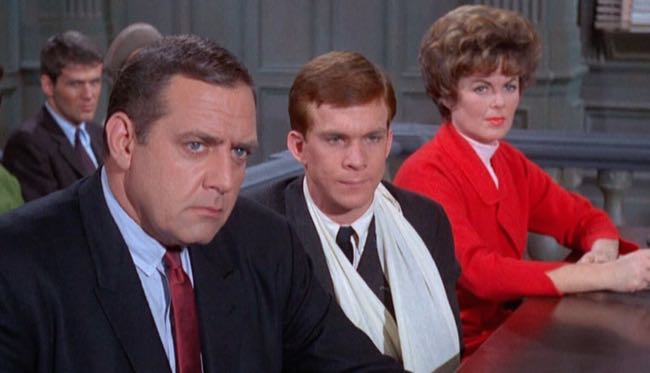 By Ray Bennett
LONDON – Anyone who recalls "Perry Mason" or "Ironside" will recall Raymond Burr, who was born 100 years ago today. He was one of the biggest stars on television from the Fifties through to the Nineties … in more ways than one.
"When I was born, I was called a 'potato baby'. I weighed 12 and a quarter pounds. Weight has been a problem all my life," he told me in 1986. "I was born during the famine right after World War I. Canada was really hit very hard because they sent everything they had to England.  It devastated the country. All the rose bushes were dug up and people planted potatoes. You lived on potatoes, macaroni and rice. Starch, all starch."
Many of us who are not stick figures admired the way that Burr carried his girth so handsomely. Others were not always so agreeable. "It completely destroys people when I get too heavy," he says. "But my blood pressure is the same as when I was 20 and I can still get up a hill faster than most people. I'm beginning to take it off, though. I've lost about 30 pounds and it takes a lot before it shows on me. It's never been a consideration. Whatever I weighed, that was what I weighed."
Burr, who died in 1993, was a world traveler, a gardener, a gourmet, and a philanthropist. He was a wine expert, an authority on forestry, a grower of orchids, and principal owner of a newspaper. He also was one of the most recognisable actors in the world.

His two long-running series, "Perry Mason" and "Ironside" were immensely popular and he made 30 Perry Mason TV-movies between 1985 and 1995. They were re made in Canada for the cost benefits the Canadian dollar allowed but there was a much deeper connection for Burr. He was born there, in New Westminster, British Columbia, and although he moved to the United States when he was six, the time and place of his birth had a profound impact on the man he would become.
As a result of playing commanding screen characters for so many years, Burr found that he was expected to be just as capable offscreen. "People expect a great deal of me," he said. It is a measure of Burr's strength as an actor that a lifetime of sometimes harsh experience was captured in his expressive countenance and emerged as something that people wanted to lean on."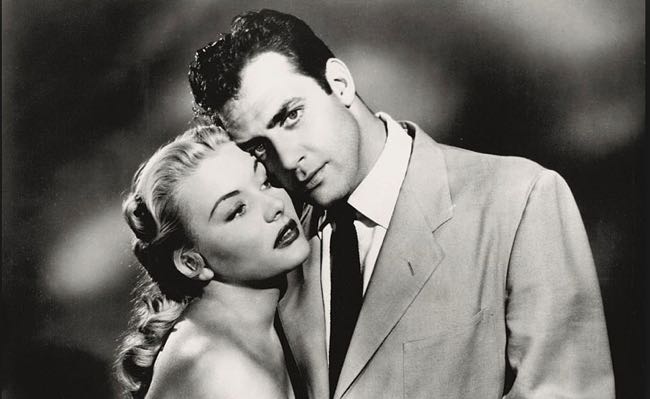 His mother, Minerva Smith Burr, was a celebrated concert pianist locally. She would play the huge Wurlitzer pipe organ with the San Francisco Symphony every Christmas. The little attic apartment was the scene of many parties with the great composers, musicians and opera stars who visited San Francisco in attendance. Young Burr dreamed of of a musical career for himself. "I wanted to study with my mother because she was the best teacher but I never pushed her because I'd hear her working still at 8 o'clock at night, teaching somebody, and I thought, hell, let her have her time off."
After breaking into theatre in New York and finding success on radio he became a busy film actor, usually playing cops or villains in movies such as "Rear Window" (1954, above), "A Cry in the Night" (1956) and "Bride of the Gorilla" (pictured below with Barbara Payton, 1951)
When "Perry Mason" came along in 1957, Burr immersed himself in the show. In those days, each series had 39 episodes a season. As the title character, Burr was in almost every scene. He lived at the studio. "Fortunately, I was not married and I wasn't a parent," he says bluntly. "I would have been the worst parent in the world and I would been unmarried very shortly. I lived in the studio six days a week for nine years. I wanted to take out ads in the Hollywood trades to warn actors:  "If you're the name of the show, don't do it. You'll kill yourself.' It depends on your family, your love life, your hopes for a life that is fairly well balanced. If you have no need of any of those things then go ahead and do the television show. But if you need those things, you should not do the show. Ever. Because if you have a family, you will break it apart. Or, you will not have a successful television show. One or the other. It cannot be both ways."
Still, after nine years as Perry Mason, Burr stepped back into another title role one year later in "Ironside", which ran from 1967 to 1975. This time, he also was a co-producer and he made sure his co-stars (Dan Galloway and Barbara Anderson) saw plenty of action. He never spent a night at the studio. He did, however, have to change some things. "When I saw the first script, I thought it was a dreadful idea," he said. "It was a sort of cross between 'Batman' and something. Ironside had a van with a complete forensic laboratory that you could solve any crime from. He had a wheelchair with weapons in the arms. It took a while to get it around to being a good human story."
In the years after "Ironside", Burr had one short-lived series ("Kingston" in 1977), made seven movies, 10 TV specials and toured England on the stage. "I have not stopped working at any time," he said. He turned down the notion of remaking "Perry Mason" for many years because it was always suggested as a new hour-long weekly series. "I had no interest in doing another weekly show," he said. "But I said I would the show anytime if it were feature-length. Fred Silverman and Dean Hargrove came up with the the plan of doing an occasional series of TV movies, and I said as long as they got Barbara Hale (who played Mason's secretary Della Street in the original show, pictured top), then I'd do them."
Burr was pleased that the 2-hour movies left room for some of the humour, an element that the original series sadly lacked. "Earle Stanley Gardner [who wrote the Mason novels] and his wife both had great senses of humour but our producers did not so you saw very little humour from Mason at all," he said. "This time, I imagine you will see more humour with each succeeding show."
His great sorrowful eyes crinkled merrily: "People forget that my first Broadway show was a musical. I sang and danced and said funny things. Shakespeare isn't all 'Macbeth'. Shakespeare is the Fool, too."
Even with a smile on his face, Raymond Burr looked like a man you could count on.
A version of this story appeared in Satellite Orbit magazine.