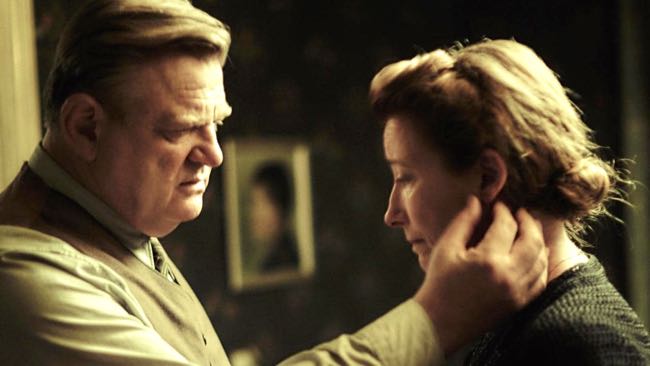 By Ray Bennett
LONDON – For those who have not read Hans Fallada's terrifying novel "Alone in Berlin", Vincent Perez's film version is probably a mildly absorbing drama about two people bucking the odds. For those who have read it, the film is hugely disappointing.
Fellada was a deeply troubled writer whose description of life in the German capital under the Nazis during World War II is bleak, misanthropic and thoroughly alarming. Only a few strains of humanity shine through his story of how everyday people were corrupted and ruined by life under a brutally repressive totalitarian state.
The film takes one thread of his tale, a plan put into action by a worn-down couple who write and distribute across the city postcards with indictments of Hitler, his cronies and the tools with which he holds the people of the nation in subjugation and terror.
Brendan Gleeson plays Otto Quangel, a singularly dry and self-contained foreman at a carpentry factory that used to make furniture but now, because the demand is so high, manufactures only coffins. Emma Thompson (pictured top with Gleeson) plays his long-suffering and dried-up wife, Anna.
As Fellada tells it, they have barely made an impression on life as Otto keeps almost totally to himself even as he shares a home with Anna, who does as she's told. They have made no attempt to either join or resist the Nazi movement, content to accept Hitler's promises that the terrible conditions of the Weimar Republic would end and Germany would be rich again.
Perez starts his film with the death in a remote and freezing forest of a frightened young German soldier. That turns out to be the son of Otto and Anna and only in their anger and grief does it occur to them to protest.
In the film, Otto travels the city to drop his subversive postcards and before very long they have attracted the attention of the authorities. A policeman named Escherich (Daniel Bruhl) is put on the case and the drama plays out as he is bullied by S.S. officers to make an example of the propagandist.
The film becomes the tale of two plucky people fighting the system but it in no way conveys the absolute horror that Fallada describes. Scenes lack suspense and even a sense of place. Composer Alexandre Desplat does much of the heavy lifting.
Life under the Nazis was wretched beyond imagination and threats emerged from every corner. To even think that Hitler was bad was a risk. To give voice to criticism meant someone, a family member, a neighbour, a work colleague, or a stranger would seek to enhance their own safety by being an informant.
No one was safe from the Gestapo and the S.S. For Otto to have even dreamed about what he did was dangerous in itself. To pull it off meant grave danger – imprisonment, torture, and death – for almost everyone he or Anna knew.
Robust and powerful, Gleeson is miscast as Otto, who in the novel is round-shouldered with pinched and bird-like features. Thompson is fine but she is given very little to do in the film whereas Anna plays a major role in the novel. Bruhl also is miscast as the point of his Gestapo officer is that he is an old-time Berlin policeman unused to the ruthlessness of the S.S.
More than that, the novel is populated with many more disturbed, harassed and crooked characters that are simply ignored in the movie. The novel is tense, thrilling and remorseless and it remains an important warning about the horrors of a police state while the pedestrian film sadly is none of those things.
Released: UK: June 30 2017 (Altitude Film Entertainment); Cast: Emma Thompson, Brendan Gleeson, Daniel Bruhl, Mikael Persbrandt, Monique Chaumette, Joachim Bissmeier; Director: Vincent Perez. Writers Achim von Borries, Vincent Perez, from the novel by Hans Fallada: Director of photography: Christophe Beaucarne; Production designer, Jean-Vincent Puzos; Music, Alexandre Desplat; Costumes: Nicole Fischnaller; Editor, Francois Gedigier; Producers: Stefan Arndt, Uwe Schott, Marco Pacchioni, James Schamus, Paul Trijbits, Christian Grass; Executive producers: Michael Scheel, Alison Thompson, Norman Merry, Peter Hampden; Production: X Filme Creative Pool, Master Movies, Filmwave in co-production with Pathe, Buffalo Films, Alone in Berlin Ltd., WS Film in association with Lipsync. Rating: UK 12A; running time 102 minutes.